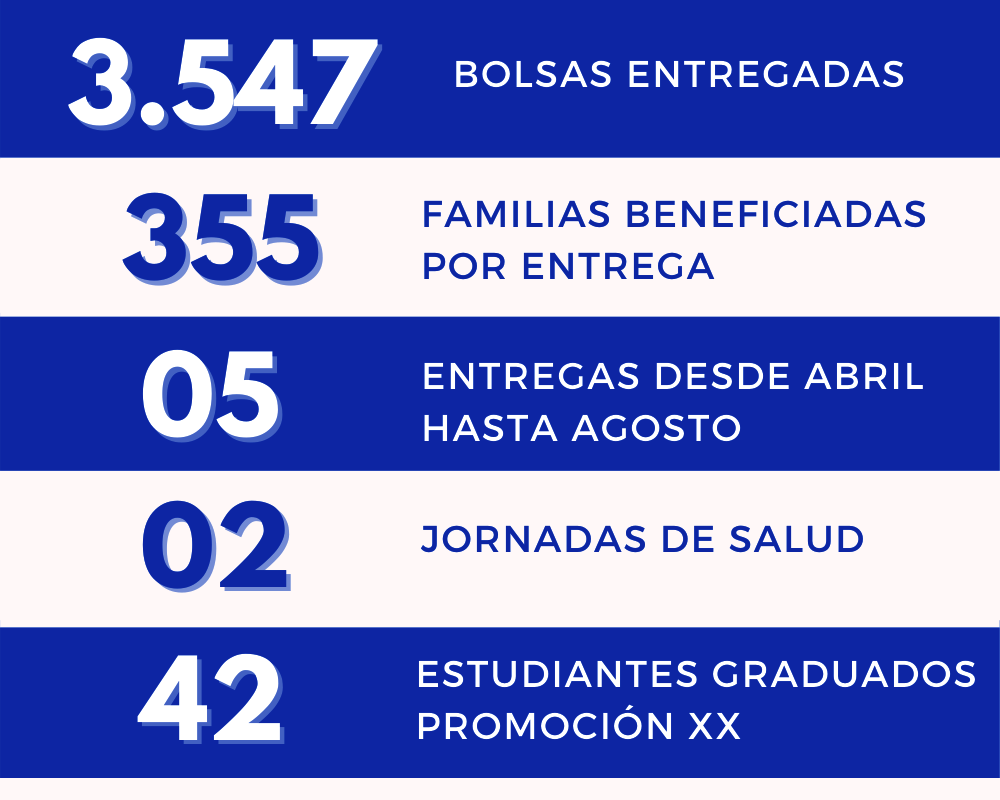 Versión en Español / Spanish version
Tu importante aporte durante estos tiempos complejos de COVID-19, ha sido fundamental para continuar con la educación, alimentación y salud de los 400 estudiantes, sus familiares, el personal de la escuela y la comunidad del Barrio 24 de Marzo de Petare. Por ello, queremos compartir contigo un resumen de los logros obtenidos desde el inicio de la pandemia. Nuestro ámbito de acción social se concentró en las áreas de educación y salud a distancia; así como en la entrega de 3.547 bolsas de alimentos, útiles escolares, productos de higiene personal y del hogar, distribuidas como se especifica a continuación:
En general:
5 entregas efectuadas desde abril hasta agosto 2020
355 familias beneficiadas por entrega
Alimentación
1757 bolsas de alimentos entregadas, incluyendo: pollo, harina pan, arroz, pasta, avena, lentejas, caraotas, leche líquida, suplemento alimenticio
Salud
1422 bolsas con artículos de higiene personal y del hogar entregados, incluyendo: Tapabocas, alcohol, cloro, champú, jabón de baño, detergente, pasta de dientes, pastillas purificadoras, toallas sanitarias
2 jornadas de salud brindando atención médica y suplemento nutricionales a 77 alumnos de la escuela con problemas importantes de desnutrición
* 55 bolsas de salud lograron ser entregadas a los profesores y personal de la escuela, gracias al programa "hardship microgrant" (ayuda puntual en adversidad) de GlobalGiving
Educación
368 bolsas de útiles escolares entregadas a alumnos de preescolar y primaria, incluyendo: block de dibujo, cuaderno, lápices, goma de borrar, creyones, plastilina, sacapuntas, tijera, regla, goma de pegar, block papel lustrillo.
Continuaron las clases a distancia y de manera digital para todos los grados hasta finalizar el año escolar, con comunicación vía Whatssapp.
Graduación de la Promoción XX: 42 estudiantes se graduaron de 6to grado recibiendo un certificado virtual por su exitosa culminación de la etapa básica. 16 estudiantes obtuvieron una beca a través de FMMLC para continuar sus estudios de bachillerato.
Contexto: Pandemia + Inestabilidad Económica
Actitud: Trabajo en Equipo + Adaptación + Flexibilidad + Comunicación
El equipo de la fundación MMLC y personal de la escuela Jenaro Aguirre se mantienen en constante comunicación para tomar decisiones adaptadas a los nuevos y cambiantes desafíos, que surgen como consecuencia de la pandemia y de la inestabilidad económica: aumento de número de contagios en la ciudad, sistema de flexibilización y cuarentena radical, contexto de hiperinflación, incertidumbre sobre el suministro de gasolina, entre otros. Hemos encontrado soluciones que nos han permitido sobreponernos a los obstáculos para continuar cumpliendo con nuestro compromiso con la comunidad del Jenaro Aguirre y zonas aledañas
Los alumnos y sus familiares estan muy agradecidos por tu ayuda en estos momentos arduos, donde la pandemia vino a recrudecer la difícil realidad económica y social en la que ya estaban sumergidos.
English version / Versión en Inglés
Your important contribution during these complex times of COVID-19, has been fundamental to continue with the education, feeding and health of the 400 students, their families, the school staff and the community of Barrio 24 de Marzo in Petare. Therefore, we want to share with you a summary of the achievements since the beginning of the pandemic. Our social action scope was focused in distance learning and health; as well as the delivery of 3,547 bags of food, school supplies, personal and household hygiene products, distributed as specified below:
In general:
5 deliveries made from April to August 2020
355 families benefited by delivery
Food
1757 bags of delivered food, including: chicken, flour bread, rice, pasta, oats, lentils, beans, liquid milk, food supplement
Health
1422 bags with personal and household hygiene items delivered, including: face masks, alcohol, bleach, shampoo, bath soap, detergent, toothpaste, purifying tablets, sanitary napkins
2 health days providing medical care and nutritional supplements to 77 students in the school with significant problems of malnutrition
* 55 health bags were delivered to teachers and school staff, thanks to GlobalGiving's "hardship microgrant" program

Education
368 bags of school supplies delivered to preschool and elementary students, including: drawing pad, notebook, pencils, eraser, crayons, play dough, pencil sharpener, scissors, ruler, glue, block of shining paper
Distance learning and digital classes continued for all grades until the end of the school year via WhatsApp
Graduation of the XX Promotion: 42 students graduated from 6th grade received a virtual certificate for their successful completion of the basic stage. 16 students obtained a scholarship through FMMLC to continue their high school studies.
Context: Pandemic + Economic Instability
Attitude: Teamwork + Adaptation + Flexibility + Communication

The MMLC Foundation team and the Jenaro Aguirre School staff are in constant communication to make decisions adapted to the new and changing challenges that arise as a consequence of the pandemic and economic instability: increase in the number of infections in the city, system of flexibility and radical quarantine, context of hyperinflation, uncertainty about gasoline supply, among others. We have found solutions that have allowed us to overcome the obstacles to continue fulfilling our commitment to the community of Jenaro Aguirre and surrounding areas

The students and their families are very grateful for your help in these difficult times, where the pandemic has come to intensify the already difficult economic and social reality in which they were already immersed.