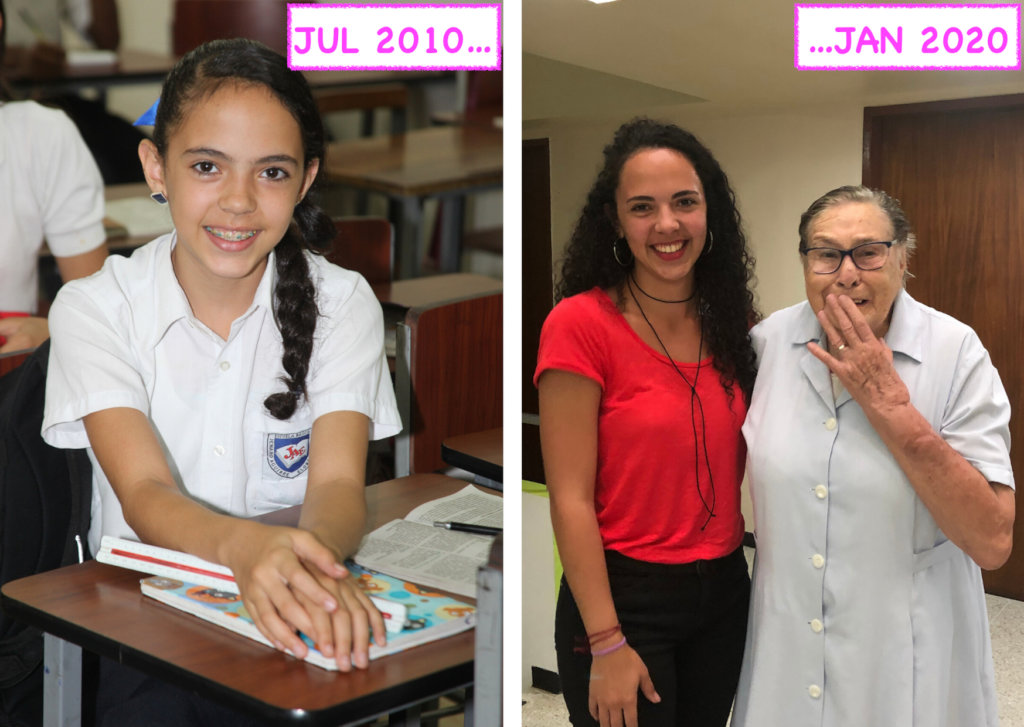 Versión en Español/ Spanish Version
¿Qué pasa después de finalizar en el Jenaro Aguirre?
Frecuentemente nos preguntan, ¿qué pasa con los estudiantes que se gradúan cada año de sexto grado en la Escuela Jenaro Aguirre Elorriaga? Y al respuesta es ¡LOS SEGUIMOS ACOMPAÑANDO!
María Angélica es una ex alumna de la promoción XI. Ya han pasado 8 años y medio desde su graduación y le pedimos que nos contara su historia. Para esto, hicimos una cita con ella, la pasamos buscando al final de la tarde por su trabajo y nos fuimos a las oficinas de la Fundación. Lo primero que nos contó con orgullo es que esta trabajando y estudiando:
"Tengo 21 años, estoy en 7mo semestre de Licenciatura en Ciencias Fiscales y estoy trabajando en una consultoría jurídica como analista".
María Angélica se levanta cada mañana a las 5:30am, se arregla, se lleva la comida que le prepara su mamá y se va a la parada del autobús. Éste, la lleva del Barrio 24 de Marzo a la parada de metro mas cercana. En metro llega a su trabajo un poco antes de las 8:00am y sale a las 4:00pm. Se va a sus clases en la Escuela Nacional de Administración y Hacienda Pública que son de 5:45pm a 8-9:00pm.
Cuando le preguntamos por su colegio nos contó:
"Es el mejor colegio! la mejor educación, yo me sentía cómoda con todo el amor y el apoyo que recibí de mis profesores, auxiliares y amigos. Recuerdo los almuerzos, los regalos de diciembre y las actividades extracurriculares. Estudié desde 1er grado hasta 6to grado en la Escuela. Varios de mi primos también han sido estudiantes de la escuela y mi mamá y mis tías han trabajado ahí. Recuerdo cuando hice en la escuela mi Primera Comunión y Confirmación, y cuando participé de las actividades de Semana Santa. Formé parte de la Coral desde muy pequeña hasta 6to grado, así como en las actividades extracurriculares: percusión, baile, pintura y cocina"
Para ella el diferenciador de la escuela es la educación integral junto con la alimentación y el dispensario medico. "Parte de la educación era colaborar con la hora del almuerzo, en varias oportunidades me tocó fregar los platos y ordenar. Recuerdo el arroz, la ensalada y el jugo que me daban. También recuerdo cuando me tomaban la talla y el peso, las jornadas de vacunación y las veces que me atendieron cuando me sentía mal, cuando me dolía una muela"
María Angélica nos confesó con emoción: " Mi primera vez en el cine fue cuando estaba en 2do grado, con unas entradas que nos dieron en la escuela"
Nos relató que gracias a las alianzas de la Fundación Madre María Luisa Casar con otras instituciones y sus buenas calificaciones, fue becada para cursar bachillerato:
"Me ofrecieron una beca para cursar bachillerato la cual me dió la oportunidad de graduarme como bachiller" Se graduó con el 3er mejor promedio de su promoción.
Gracias a su sobresaliente examen de admisión, puede estudiar su licenciatura.
Le preguntamos la clave de su éxito: "La buena educación, mi familia y mi esfuerzo. En la Escuela Jenaro Aguirre me enseñaron a perseverar y a dar los mejor de mi"
Para María Angélica esto es solo el comienzo, sobre su futuro nos dijo: "quiero culminar mi licenciatura, continuar con un post-grado, aprender Portugués, jugar voleibol y trabajar para lograr ser independiente, tener mi propio apartamento y un carro, eso si en Venezuela porque es donde me encanta vivir"
English Version / Versión en Inglés
What happens after finishing at the Jenaro Aguirre?
We are often asked, what happens to the students who graduate each year from the Sixth grade at the Jenaro Aguirre Elorriaga School? And the answer is WE KEEP ACCOMPANING THEM!
Maria Angelica is a graduate of class XI. It's been eight and a half years since her graduation and we ask her to tell us her story. For this very special interview, we met with her after work and together we went Foundation's headquarters. The first thing she proudly told us was that she is currently working and studying:
"I'm 21 years old, I'm in my 7th semester of my bachelor's degree in Tax Sciences and I'm working in a Legal Consultancy Office as an Analyst".
Maria Angelica gets up every morning at 5:30am, gets dressed, takes the lunch her mother prepares for her and goes to the bus stop. The first bus takes her from Barrio 24 de Marzo to the nearest subway stop. She arrives to work by subway a little before 8:00am and leaves at 4:00pm. She then goes to class at the National School of Public Administration and Finance from 5:45pm to 8-9:00pm.
When asked about school she told us:
"It's the best school! The best education, I felt comfortable with all the love and support I received from the teachers, assistants and friends. I remember the meals, the presents in December, and the extracurricular activities. I attended the school from 1st grade to 6th grade. Several of my cousins have also been students at the school and my mom and aunts have worked there. I remember when I had my First Communion and Confirmation at school, and when I participated in the Holy Week activities. I was part of the Choir from very young and up until 6th grade, I also participated in other extracurricular activities such as: percussion, dance, painting and cooking".
For her the factor that makes the school stands out is the holistic education, along with the meals they offer and the medical dispensary. "Part of our school duties was to help with the lunch hour: several times I had to wash the dishes and prepare orders. I remember they gave me rice,salad and juice. I also recall when they took my measurements, vaccination days, and the times they took care of me when I felt sick, like when I had a toothache".
Maria Angelica confessed to us with emotion: "My first time in the cinema was when I was in 2nd grade, with tickets they gave us at school"
She told us that thanks to the alliances of the Madre María Luisa Casar Foundation with other institutions and her good grades, she was given a scholarship to attend high school:
"I was offered a scholarship to attend and graduate high school" She graduated with the 3rd best score of her class.
Thanks to her outstanding entrance exam, she was able to pursue her Bachelor's degree.
We asked her the key to her success: "Good education, support my family and my effort. At the Jenaro Aguirre School they taught me to persevere and give my best"
For Maria Angelica this is just the beginning. About her future, she told us: "I want to finish my degree, continue with a post-graduate course, learn Portuguese, play volleyball and work to become independent, have my own apartment and a car, but in Venezuela because that is where I love to live".