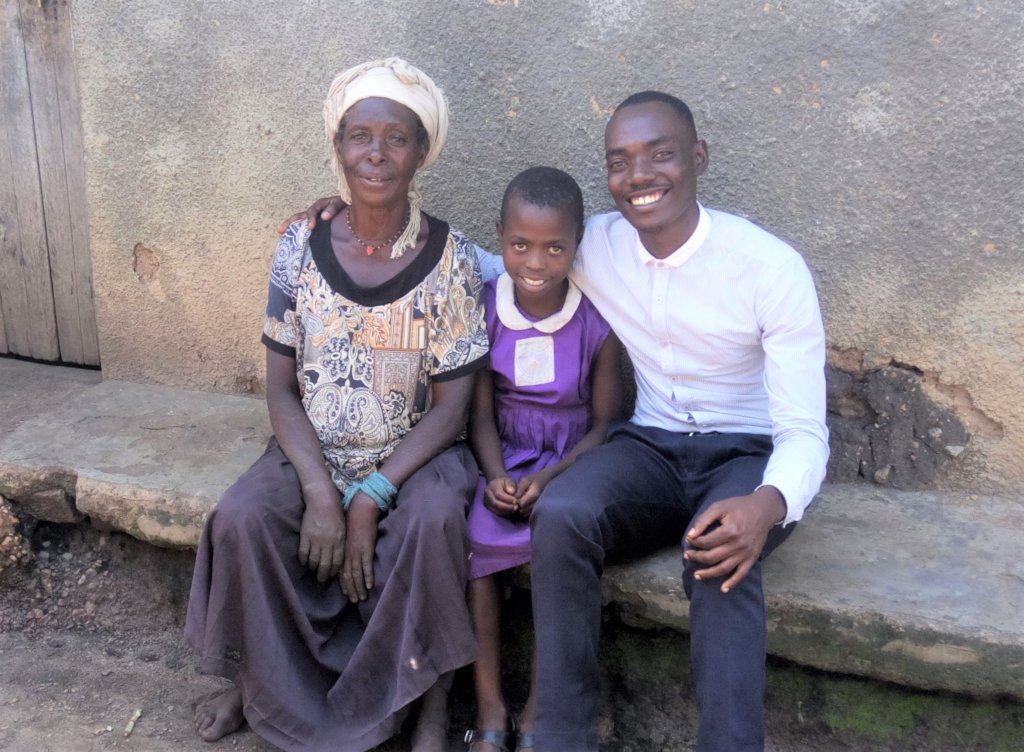 Have you ever been woken up by a bad dream?
You realize there is nothing to worry about, it was just a dream. You're safe, warm, and comfortable in your home with your family sound asleep in the next room. You peacefully fall back asleep for the night. It was just a bad dream. It wasn't real.
Many are not as fortunate as you and I. Young children, like Bruno, have had to actually live their worst dream because HIV/AIDS robbed them of their families. Bruno describes his loss,
I was only eight years when my dad passed away from AIDS and left my mum to take care of me and my elder brothers. I remember, it was a Saturday morning when one of our neighbors came to our home and informed my mum about the Nyaka AIDS Orphans School. My mum didn't hesitate. She took me to the school on registration day and I was admitted as one of the pioneer pupils in 2003.
Unfortunately, my mum also passed away after two years, leaving me with my two elder brothers to take care of ourselves. This forced my brothers to drop out of school and start wandering in the village looking for anything the family could feed on. They reached a point where they could not manage to come back home on a daily basis. Most of the time they could only visit our home once a week leaving me all alone.
Sleeping through the night was a struggle for Bruno. He would often wake up from a bad dream feeling scared and alone. When he couldn't sleep, Bruno would recite his homework in his head.
Homework got Bruno through those tough, lonely, nights by distracting him from his fears. School was a blessing for him. Generous donations, like yours, not only gave Bruno an education, but also restored his belief that the bad dreams would one day stop.
Today, Bruno has graduated with a professional Accounting certificate and recently started his first full-time job with Nyaka AIDS Orphans Project as the Assistant Education Coordinator. He is helping other children that face the same hardship as he did. Bruno says, "In just a tickle of an eye, a once miserable boy is now filled with happiness, joy, and sunshine."
Ritah is one of the many children that Bruno mentors. She is ten years old in P.4 (similar to 4th grade) at Nyaka Primary School. Bruno's success has proven to her that school will make a real difference in her life. She has been studying hard and wants to be a nurse one day because she sees all of the good work that the nurses at the Mummy Drayton Clinic do when taking care of her sick mother. Your support will keep Ritah in school so she can become a nurse.
Bruno strives to be the same kind of role model for Ritah that Peace, a grandmother who lived near Bruno when he was a boy, was for him. Peace would keep an eye on Bruno and encourage him anyway she could. She didn't have anything to give to support him financially, but her spiritual and emotional support has had a great impact on his life. Peace is still a mentor to Bruno and is incredibly proud of the young man he has become. Grandmothers are the cornerstones that ensure your children are cared for and loved.
Every day, your children and grandmothers are one step closer to rising above poverty and improving their lives because of YOU. Thank you for all of your love and support. Continue changing lives by making a gift today.
Links:
Attachments: