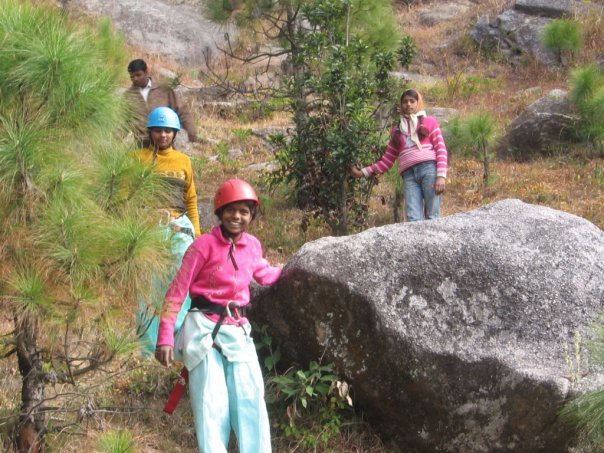 New Year Celebrations
At Pardada Pardadi, New Year is always welcomed with new endeavors and resolutions. Endeavors and resolutions set up by the girls themselves. What meaning does a New Year have for the Girls? Well! Before joining PPES, this day was like any other for the girls. They might work in the fields, sweep the floors of their houses, or help babysit a sibling. Now, they mark the day in style. On another note, staff members encouraged girls to make a resolution to help someone else for the coming year. With this in mind, the girls made altruistic pledges for 2010. A cultural program was set up by the girls where they performed on songs, recited poems and ate special sweets for the day. The New Year is a day that instills happiness and joy among the girls who celebrate it in full swing.
Excursion Trip to Almora
Our Girls can climb not only the trees but also trek mountains. And they had such fun doing that. In Jan, I Discoveri sponsored an excursion trip for about 20 PPES girls. One can't imagine the great joy and a little anxiety that these girls had when the ropes were tied to them and they just had to fall freely. That is just what PPES wants them to learn: Break away from the shackles of discrimination against Girl Child. The pictures say it all. PPES girls had a great time reveling in the trip. This adventure is going to remain etched in our girl's lives for a long long time.
Training on Traffic
Sonu is a bright young boy with a disarming smile. In 2008, when in grade 4, he met with a road accident where a vehicle plying precariously on the road hit him. He lost his left leg and now walks with the help of a prosthetic one. This incident led PPES to train its students on road safety measures sooner. The alleys of the village although empty most time of the day sees vehicles at a high speed just because there are no traffic rules to be obeyed. On January 26, ITC paired with PPES and innovated with lessons in 'Road Safety' by arts competitions and drills. The parents also joined the kids to ensure that their kids are safe while on the road. The training was made hi-tech by using computer supported programs.
New School
In the state of Uttar Pradesh, more than 85% girls do not have access to primary education. Pardada Pardadi added 250 girls from most marginalized and disadvantaged communities of Anupshahr in February 1, 2010. These girls belong to families who have never seen a school in their lifetime. They are literally ostracized to communities where there is apparently no family of a higher caste in their neighborhood. Their source of income is temporary jobs like burying corpses, masonry,, and menial labor among others that are looked down upon by the so called higher castes. Pardada Pardadi concentrated more on the Muslim communities segregated by the name of 'Fakir Tribe': Families with virtually no means of income generation and who resuscitate on alms from communities higher up in the social-economic hierarchy. The new school caters more to the belongingness needs of these girls. It's literally an experience of a life time to see them riding the school bus, queuing up for the morning prayers, watching movies, learning lessons in English, math, and others.
We are proud of the fact that they are the first generation school-goers in their families. In years to come, they will be the change agents valuing the need for education for their children. The change has come starting the 250 girls. We are set to reach out to every girl to make sure her basic right to free and compulsory education is not ignored.
School Exchange Program
The Global Youth Connect (GYC) is a non-profit based in New Jersey, U.S. Its is to significantly impact the development of youth worldwide by providing them exposure to their international peers, and expanding their perspective, awareness, and appreciation for others. GYC and PPES partnered in Oct 2009 for a cultural enrichment program between PPES girls and PS/MS282(Park Slope 282) school at Brooklyn in New Jersey.
Sports, activities, study material, and other things were exchanged between both the schools. The PPEs girls made great friends with kids from far off on the globe. GYC made it such an exciting program for them. The program finished in February 2010. May 2010 is the 'Happy Ending' month where PPES girls will get a party from their friends in New Jersey.
Holi at Pardada Pardadi!
The festival of colors couldn't have been more colorful at Pardada Pardadi. The girls were colored in all possible colors: Dark red, purple, blue… You name it and they had it on them. What real fun it was! On March 1, Pardada Pardadi looked like a Disney Land of Anupshahr. Not only did the girls color themselves, they didn't let anyone miss reveling in the festivities. If you want to be part of Holi celebrations, you got to come to Pardada Pardadi.
Woman's Day at Pardada Pardadi
The Women's Day was a house full of activities! March 8 every year holds a special meaning for PPES. Our girls were happily summoning the day as "The Mahila Diwas" in Hindi and English too.
So, what did the girls have in store for us? Ms. Poonam Natarajan, Chairperson, National Trust, was the chief guest for the event. Sandhya Raman, the woman behind Dismania (Fashion Brand) and Chitra, a leading social activist added more meaning by being there with the girls. Well, there were field games, dance show, a song especially penned down for PPES by the girls, and folk anecdotes. The men teachers took charge of the kitchen and catering. And they proved equally good at that with the nice meals they brought from the hot kitchen. Just that the tea had salt instead of sugar for an unusual change. The girls listened rivetingly to Ms. Natrajan's speech. She told personal stories of courage and inspiration.
What an amazing and fun packed day the PPES students had!
29 PPES Girls sit for state level grade 10 Exams
In 2010, 29 girls finished taking their State Level Board Exams for grade 10. Their first exam was on March 6 and the last on March 31. They took exams for Hindi, English, Social Science, Science, Home Science and Drawing. Almost all of them are now readying themselves for admission in higher grade. They are excitingly waiting for their results which will be out by June.
Best of Luck Girls!
Volunteer Marie Louis joins PPES
Marie-Louise became part of Pardada Pardadi in December 2009. She is from Washington, D.C, U.S.A.
How excited was Marie to be at Pardada Pardadi??
Well very as she also volunteered to spend her Christmas with the girls breaking literally the custom of celebrating it with her family that she's been doing so ritualistically since a little child in the U.S. And she has no regrets as last Christmas with PPES was one of her best! She is currently giving English lessons to the PPES teachers and staff at the school. She also gives lessons to grade 8 and 9 girls. She is taking every effort to make English a second language in the school other than Hindi. The difference is quite visible when you see the girls flocking around a visitor and confidently greeting her/him in English. Marie has committed a full year to PPES.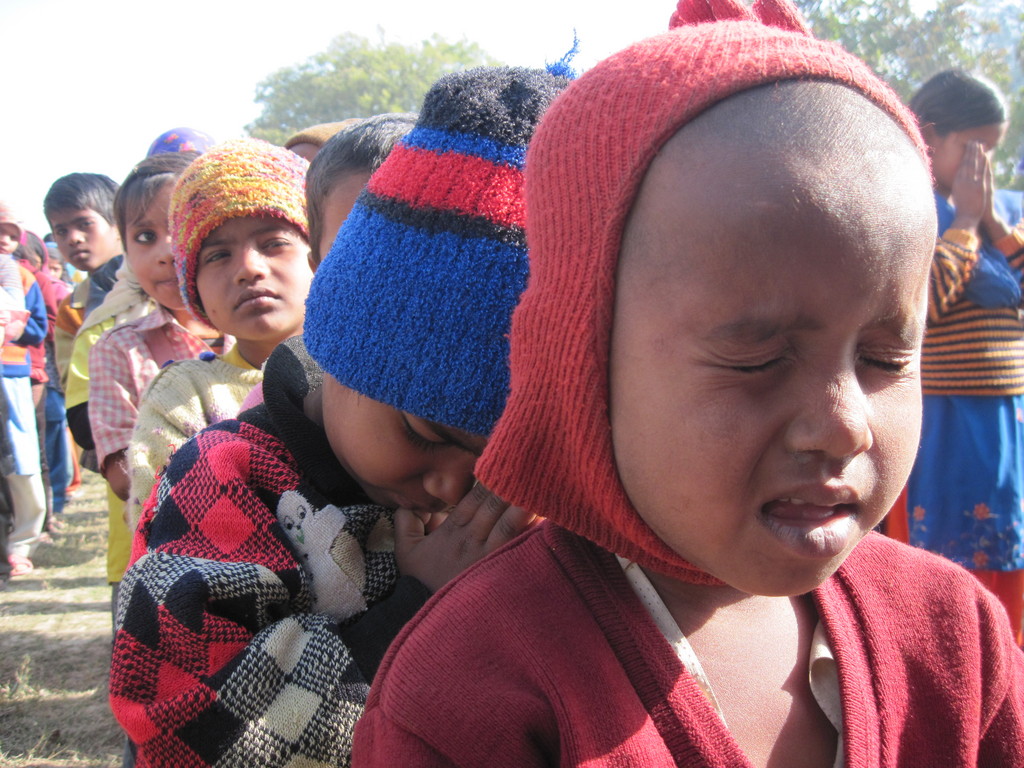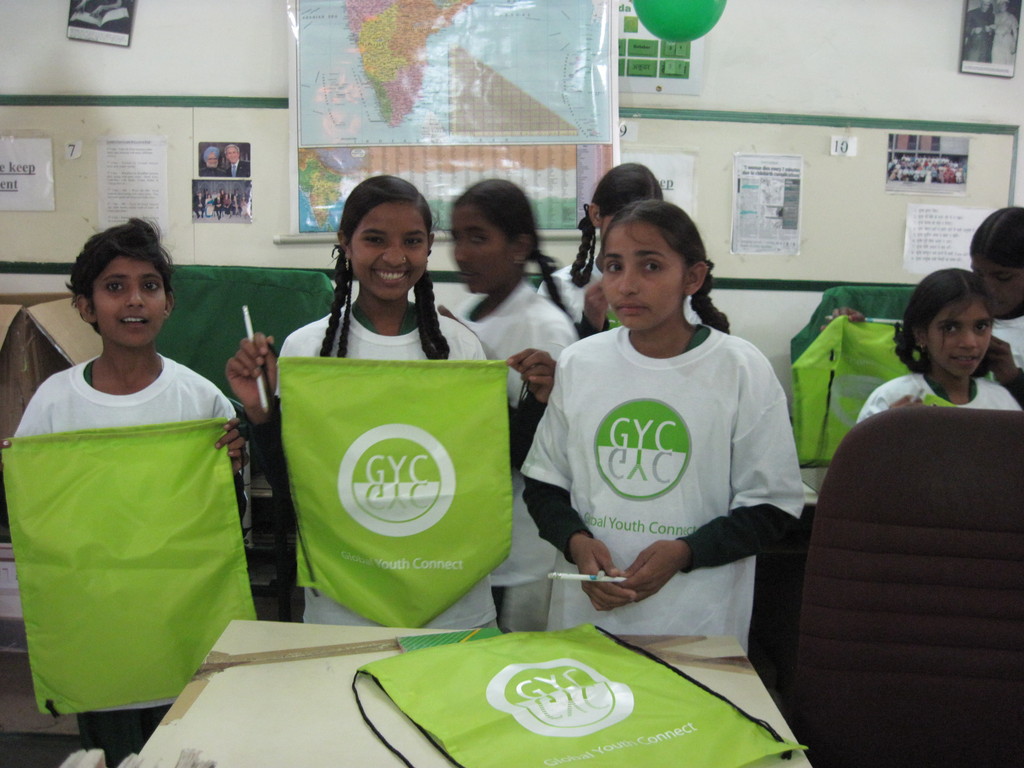 Links: