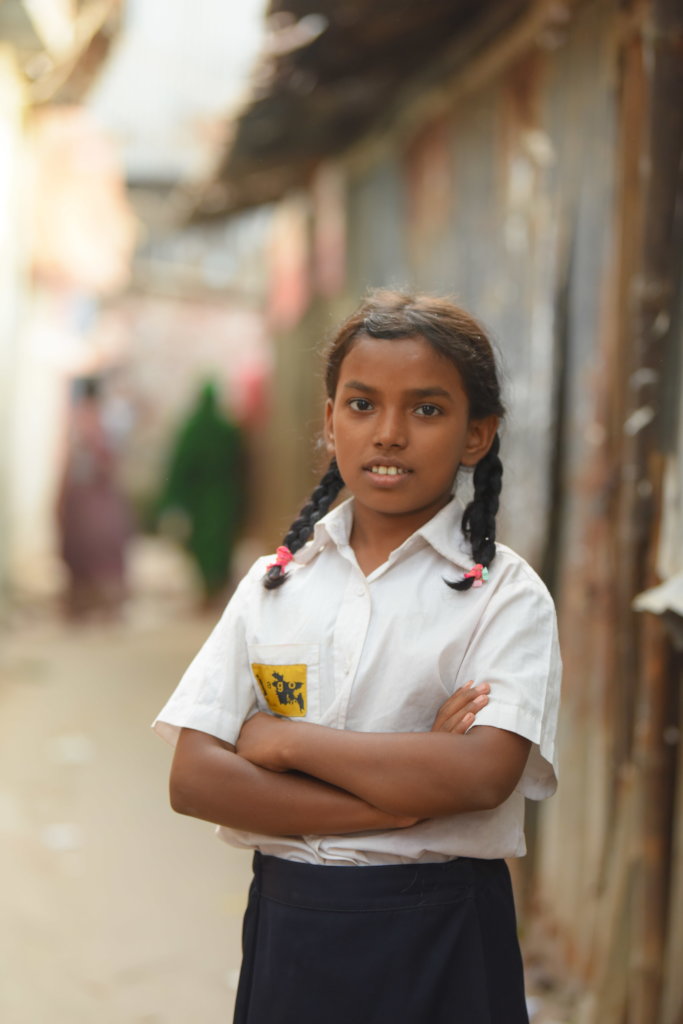 Little Mokaroma* studies in Kindergarten in JAAGO Foundation School. A few months ago, she was hit with the most devastating news of her short life; she was diagnosed with Thalassemia. However, nothing could stop Mokarama from pursuing her dreams, and she continued to excel in her studies despite her sickness through the JAAGO Foundation.
Many children like Mokaroma look to be sponsored to receive the basic right to education and dream beyond their limits and break free from the shackles of poverty. However, through your sponsorship or donation, female children receive opportunities that they are not born to. Help change lives by donating and educating a girl child like Mokaroma.
As you know, in the marginalised community, internet and smartphone penetration are very limited. It has not yet reached the high saturation rates of many countries. This includes thousands of students, for whom a basic internet connection is considered a luxury, let alone a computer; this alternative approach of online education is not possible. Moreover, girls are more likely to be cut off. In our society, where even boys receiving an education is not guaranteed, hoping that each and every girl will be educated is all but a pipe dream. Therefore, JAAGO has been working to break this barrier since 2007 by working towards achieving Sustainable Development Goal 4, "Quality Education". Using the digital platform, JAAGO is taking quality education to the most rural parts of the country. All students from our 11 schools receive education digitally, under the Bangladesh Government's National Curriculum in English Version, including the 53% female students.
But more girls need your support. With the sponsorships, underprivileged girls at JAAGO schools will have a greater chance of escaping poverty, raise the standard of living of their communities, and have healthier and productive lives. With proper education, they will acquire the knowledge and skills to make wise decisions and be self-sufficient.
Thank You Note
We wish to express our sincerest gratitude to the wellwishers and donors of this project as they are not only giving female children the opportunity to receive quality education but also pave the way for them to bring about sustainable change within their communities, in turn supporting the nation in the future. With your donations for girl's education, we dream about bringing a positive change in this world. We dream of a better community, a poverty-free country, a healthier nation, and a safe abode for all of our women. And your donations are definitely going to be the first step towards bringing this positive change.
*Under the safeguarding policy to protect the child's rights, either the name or the picture, or both, have been changed.