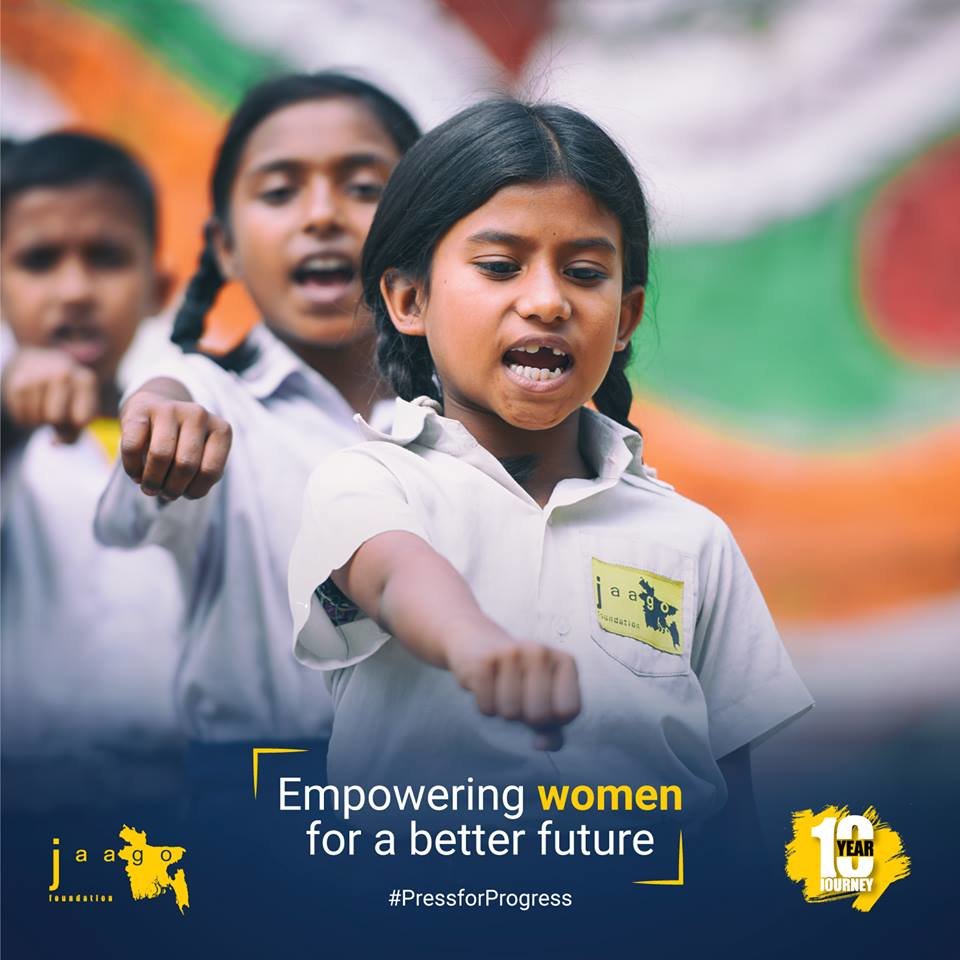 The sustainability and progression of all regions depends on the success of women across the globe. Education is the backbone for any nation and to cope up with the current World, it is very important to equip the better half with education as more than half of the population is women.
Since 2007, JAAGO has gradually grown as an organization with the support from individuals like you and helped us continue this great initiative of eliminating poverty by quality education. Today, on the verge of our 12th year journey we have made a small effort to share our journey with you and let you be our judge. Till date, we have 3500 students in 12 districts of the country who had came from an economically disadvantaged background. We are in a mission of eradicating poverty by free of cost quality education and we realized the importance of equipping the better half of nation as well with quality education. Thus, among all of the students we have, more that 51% of the students are female, keeping their marks and promisingly moving forward to chase their dreams.
Female Students Keeping Their Marks in PEC
"Primary Education Completion" Examination also known as PEC, which is taken under National Curriculum Board of Bangladesh to the students while getting into grade 5th to 6th. This year on 2018, 2 of JAAGO Foundation's School participated on the exam and passed with excellent results. We have attained a 100% passing rate including 13% A+, 75% A & 12% A- in Banani School and 81% A & 8% A- in Rayer Bazar School. And we are pleased to uplift the fact, among all, 55% students are female.
Eliminating The Concept of Early Child Marriage
JAAGO believes in gender equality as well as women empowerment as they are the better half for the nation. Here at JAAGO, we always welcome a stakeholder who fights against the social odds like child marriage. Recently, Zonta Club who is an international service organization with the mission of advancing the status of women empowerment had visited JAAGO and took the initiative to teach and spread the awareness of early child marriage where our JAAGO children and their parents participated. This was an awareness workshop that taught the parents and students about eliminating the early child marriage from the society. We believe female have the potential to shine and let them to conquer the world, thus we welcome this kind of initiatives.
Cherishing The Girls Success on Report Card Day
We follow a holistic approach of education, thus we celebrate report card day in every quarter. With immense pleasure, we noticed the fact that female students are doing promisingly well despite of many challenges faced by them in the society. Each Year during the report card day, JAAGO teachers personally meet with our JAAGO children and their parents to show their current academic status and encourage every parents to educate their daughter so that in future these girls can achieve what they dreamed for.
Activities Reflecting Women on Leadership
Here at JAAGO, we organize many events in different occasions to inspire the students for their active participation in School. Every year, we organize class party where JAAGO kids are very enthusiastic to organize and host the program. Most of the kids who manages the program are female and they take the leadership on organizing, managing and to create a fun environment and entertaining for everyone. These are small initiative that helps equipping the women with the quality of organizing and leadership.
Thank You Note
We are grateful to individuals, our NGO partners, corporates, donors and supporters for their generous support on "Educate A Girl" project. On behalf of all the students and parents who are related with JAAGO, we would like to express our heartiest gratitude. Without your contribution and support, our journey would not have progressed and prospered in changing lives of these children who came from an economically disadvantaged background. We request you to continue your love by supporting this project of empowering girls with education.