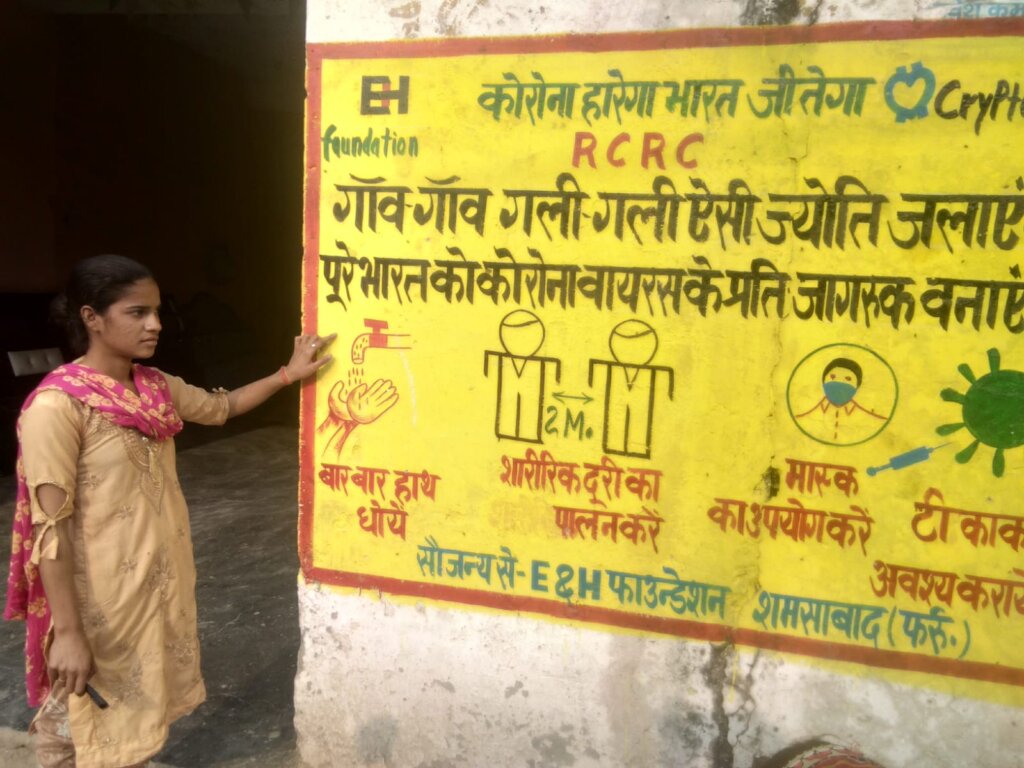 1. Context
Post an intensive and testing second COVID wave that raged havoc in the lives of community members, local healthcare systems such as PHCs/CHCs and other village and block level clinics proved overburdened to cater to the proliferating needs of the rural populations. Furthermore, there was a lot of vaccination hesitancy, scepticism and fear within local communities in the slums of Shamsabad. Many villagers had to deal with ill-health, grief and loss while navigating limited resources and access to quality healthcare systems between May and June. While the foundation was continued its efforts of raising awareness and working on improving local governance in healthcare delivery by setting up oxygen plants, collaborating with AHSAs, CHCs, PHCs, district hospitals in facilitating access to critical supplies and medical equipment, there was an imminent need to work on vaccination hesitancy. On-ground circumstances revealed the urgency to generate the demand for vaccinations at the village levels and motivate and mobilize local communities to fight a possible third wave by getting vaccinated.
2. Intervention
E&H Foundation launched a large-scale intervention in July, to promote COVID-appropriate behaviour, address vaccination myths and hesitancy and facilitate access to vaccination within bastis, building upon its existing right-based interventions and expanding operations to cover 100 villages across two - Shamshabad and Nawabganj in the Farrukhabad district of UP. Kits of medicines, masks and dry rations and are also being distributed to the most vulnerable households including parent communities where classes are running.
3. Implementation and Strategy
The project is being implemented by the current field team comprising of 20 Community Resource Persons (CRPs) and a cadre of about 80 volunteers from these 100 villages. Large scale mobilization drives are being conducted within these villages to counter vaccination disinformation and promote COVID appropriate behaviour and mobilize the adult populations to get their vaccine doses. This is being done through door-to-door awareness campaigns, Public Safety Announcements (PSAs) through Religious leaders at Mosques, Temples and recurring E-Rickshaw drives within bastis; distributing IEC materials like Pamphlets; placement of multiple Posters, Banners and Wall Murals to build the narrative and encourage vaccination at large. To continue the momentum and meet the demand, engagement with local stakeholders (CHCs, PHCs, ASHAs etc) is being undertaken to work in collaboration and identify, motivate and mobilize 18+ individuals to participate in government-organized vaccination drives. In many areas, we directly intervened to set up vaccination camps partnering with local CHC, MOIC, doctors and ASHA workers.
4. Impact
Since July, E&H Foundation has motivated and mobilized over 40,000 individuals across 100 villages to get their first dose of the COVID Vaccine and is now undertaking mobilization activities to get these individuals their second jab. In the last three months, teams have conducted large-scale awareness campaigns in 100 villages.