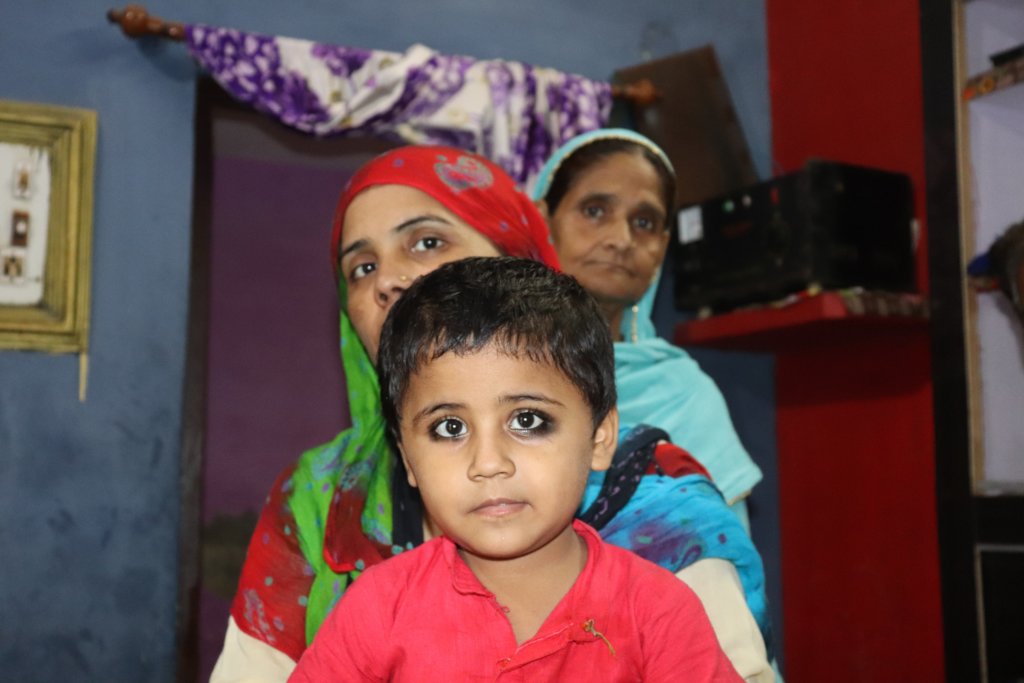 One Family, two rays of Sunshine: Following First Generation Learners in Farrukhabad, Uttar Pradesh
Sister duo Shifa (5 years) and Ifa (7 years) live with their mom, dad and grandparents in Farrukhabad, Uttar Pradesh. Their family is a traditional Muslim family, with deep cultural values and a progressive mindset. Shifa is currently enrolled in Std 2 and joined our program a year ago, when she started studying for the first time in her life, making her the first generation learner of her family.
Her favorite subject is English and hopes to be fluent in it one day. Being a first-generation learner in the family, Shifa is still adjusting to her new routine and has even made new friends in school in the past one year, whom she looks forward to meeting every day.
On some days, she is, however a bit reluctant to go to school and often has new tricks up her sleeve every morning to skip school but her grandmother Jameela is very active in making sure her granddaughters get good education even if that means bribing them with candy sometimes.
Shifa is the youngest one in her family and also the most loved one especially by her Badi Ammi (Grandmother). Shifa's teacher, Nisha claims Shifa to be a shy student who mostly keeps to herself. However, according to Jameela, she is the life of their house and keeps everyone on their toes with constant chatter. Jameela often is the one who drops and picks up Shifa from her class and often is regular with taking her feedback from Nisha, Shifa's class teacher.
Ifa, the older one on the other hand is calm and soft spoken. Until last year, she was also studying in the 1st standard of Blue Dart supported classes but now has been mainstreamed into one of the private schools close by. Her school is a kilometer away from her house, so her father drops her every morning while going to his Kaarkhaana (workshop). According to Ifa, she did face a few difficulties in the beginning at her new school but enjoys going to the school now, so much so that she wakes up every morning without any alarm.
The family has one goal - Educating the Girls
The girls' father, Raees, is the eldest of 3 brother and 2 sisters. His father was the sole earner in his family, so due to financial constraints, he couldn't study much and had to help out the family financially. Currently, him and his brothers are all involved in Zardozi work and earn an average of Rs. 8000 each.
The girls' mother, Irfaana only studied till class 8 and is a housewife now. However, now she realizes the importance of education in one's life, that is why she constantly motivates her daughters to study well. Every evening, she helps them with homework and on days they don't have homework, Irfaana revises with them the topics that were done in class that day.
The Siddiqui's have high hopes for their daughters in the future. They motivate them to be serious towards their education as well as have fun with their friends. They realize that they lacked receiving a 'quality education' in their life and want to make sure their daughters have it all.
In the absence of our ongoing program, there is high probability that both Shifa and Ifa would not have been able to access quality education in their localities in the last two years.
In the long run, more support is needed from like-minded individuals and organizations to advance our efforts of reaching out to more such first-generation learners and households in the state of Uttar Pradesh. We aim to support the education of 1 Lakh students in the next five years.
In the academic year 2019-20, we are supporting the education of about 7500 students in partnership with high impact and proven models. You can also become a part of their journey. To know more about our work, visit https://enhfoundation.in/
Please note that disbursements to this project from GlobalGiving are facing substantial delays. If you wish to contribute towards the cause of quality education of underprivileged children in India, you can visit Our Give India Campaign