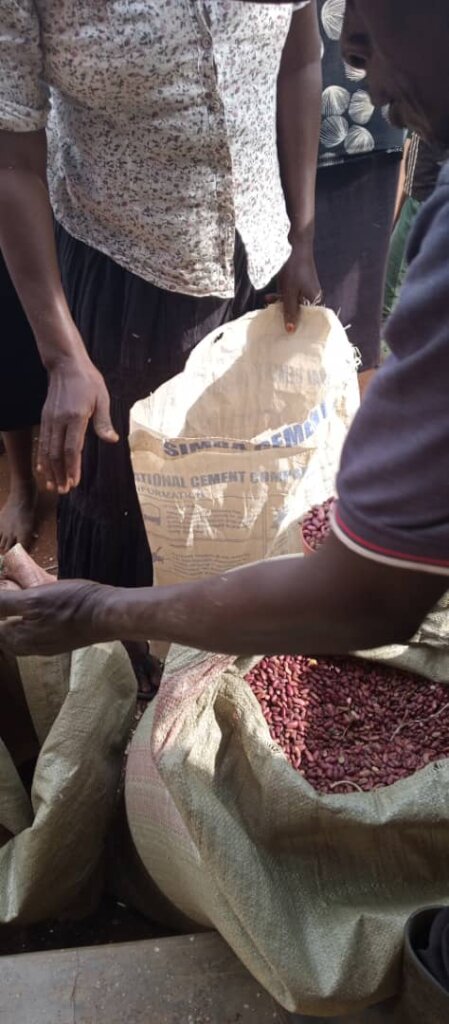 RWEN:
WOMEN'S REPORT 0F 23RD /JAN /2022
The report comprises four groups of women.
Tororo–102
Bugiri–64
Amon–51
Rwen–132
Total: 349
OUR ACTIVITIES:
Care for elderly women
Education
Care for child headed families(OVC)
HIV/AIDS (Long term survival skills
Drama for community sensitization.
Agriculture
Treeplanting
Home visits /child headed.
Daycares
OTHERS:
Challenges
Developments /benefits
Suggestions

CARE FORELDERLY WOMEN:
Most of these old women are widows. They have lost their sons and daughters and they take care of orphans.
We make sure their orphans feed well. We give them maize and beans and take care of them.
Life has been hard during the COVID period but we have tried to secure them wherever possible especially when we receive funds from our dear donors.
EDUCATION:
We make sure our children go to school. There has been a lot of disturbance during COVID period for two years and there has no smooth learning of children for allthat period. Some children have grown so big and girls have found it hard despitethe fact boys have also grown but are vulnerable. Most of them have reported to school.
We received funds through Riverfund in December; we have tried to provide scholastic materials, uniforms and food as required
HIV/AIDS (LONG TERM SURVIVAL SKILLS):
We love this group. There is special attention for this group. The councilors visit and encourage them to take their drugs in time and attend clinics' days regularly.
We have always trained them to live positively, avoid stigma, avoid stress and get early treatment whenever sick, eat food in time to keep healthy and strong.
DRAMA:
This is our tool for sensitization in our communities. Most people have over come stigma and stress. People have very keen interest in testing themselves to know more about how they live in connection with HIV/AIDS using the practice of long term survival skills of the great Linde who trained women in the skills.
T-shirts were provided for the drama group. We have made our drama group very smart on these shirts and it now part of (we serve people in need) the motto on theT-shirts.
AGRICULURE:
It is our base in our groups. We bought seeds like beans, maize, ground nut, green vegetables for women in the second season 2021. The season was very poor no rains from August to November.
It was a very dry season and we lost all the seeds. Right now it is raining but we have no seeds to plant this first season of the year and we expect hunger in our people which has already started.
TREE PLANTING.
It is a practice in the members' homes. It helps the members to get firewood, charcoal sell and get some little income.
HOME VISITS:
We visit our elderly women we go and check on their well being and the children they live with (OVCS) and provide them with whenever necessary.
CHILD HEADED FAMILIES.
These difficult group children head their fellow children and it is not easy. This group needs greater attention; provide food, get drugs for them, the positives among them should drugs in time. Sometimes, they need money for transport and it is not easy.
DAYCARE:
During COVID, It was to take care and maintain daycares but we struggled on to give them food in our own ways fully as the struggle went on for 2 yrs of COVID.
We are trying to catch up and go through with them through this fair period now as we move on.

CHALLENGES:
There has been a very long drought in the second season of three months and all planted seeds dried up as rains were realize in late November.
There are no seeds for our women for planting.
We are expecting famine/hunger in the nearest future as a result of a long drought in our catchment areas of our members in our groups.
Our friend Rose, the leader of Tororo group is very sick since last November 2021 to date. It has been found out by the medical technicians that it is meningitis the deadly disease.
DEVELOPMENTS.
Our children are back in school.
We have been able to provide scholastic materials to our children.
We have been able to provide food to 242 families and 556 children including ourchild headed families.
We have dressed our drama group with T-shirts. We are grateful.
SUGGESTIONS.
When funds are realized, I suggest that seeds be bought for our 4groups for planting.
If transport is got for the group it will be easy for drama group to move for sensitization to the communities concerning HIV/AIDS.
God bless you.
CompiledbyTeopistaC/PersonRWEN
Secretary for the 4 groups.