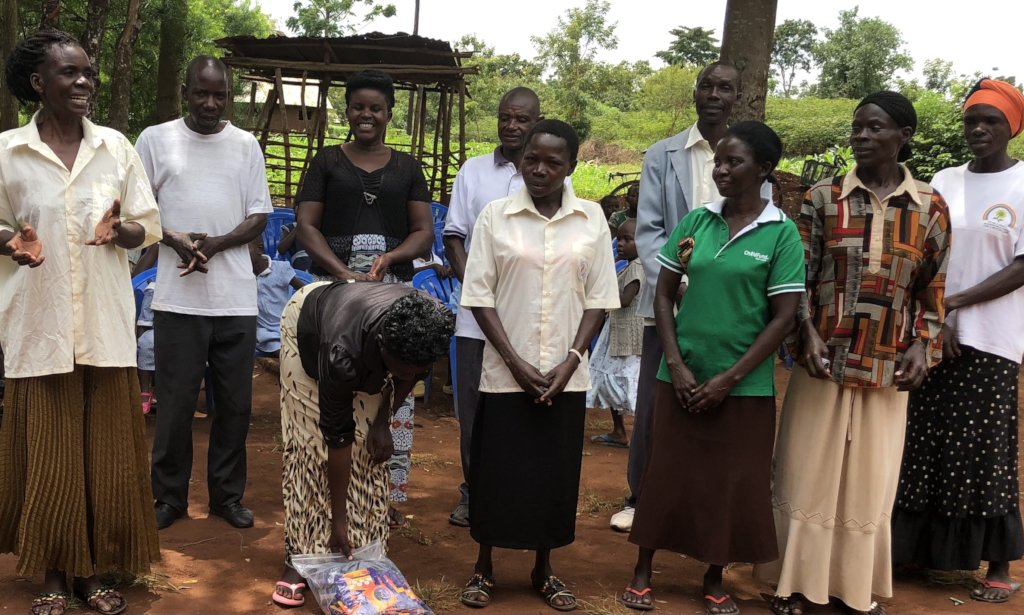 Women's report of 30th May 2021.
The report comprises of four groups:
Rwen, Tororo, Bugiri, Amonikakinei
Rwen 135
Bugiri 65
Tororo 102
Amonikakinei 52
Total 354
Our activities:
Care for the OVC (Orphans and Other Vulnerable Children)
Child headed families
HIV /AIDS (Long term survival skills)
Care for the elderly women
Drama group for the sensitization (HIV/AIDS)
Health
Agriculture
Local poultry
Local goat rearing
Tree planting
Saloons
Sex workers
Development
Challenges
Suggestions
Care for the OVC
We take care of the orphans and vulnerable
Children and make sure they go to school.
When we receive funds from our kind donors:
We provide scholastic materials, uniforms and buy them maize and beans to feed at school and at home.
This year it has been hard because children have not gone to school at the same time due to covid-19. It is in June when all children will be in school. P.1 to P.3 and also other secondary classes.
Child headed families.
These have to be provided with food all the time to feed at school and at home.
HIV/AIDS (Long term survival skills)
All our group leaders in the four groups are well informed of long term survival skills because they were trained. They keep counseling the positive living women and children.
Care for the elderly.
We love them and take care of them
We provide food (posho and beans) and see to their well being
Drama group
This is our tool for sensitization in HIV/AIDS, through drama, singing and miming. We are proud of them.
Health
Our women live healthy and living on a balanced diet, get early treatment whenever sick especially those, HIV/AIDS positive livers they practice long term survival skills.
It is covid-19 scaring our people.
Agriculture
It's the most practical for our women because every one of us depends on agriculture to live strong and healthy.
The members grow cassava, Irish potatoes, maize, beans, groundnuts, peas, onions green vegetables, sim sim (sesame), garlic, sweet potatoes.
They have also picked interest in growing matooke (bananas) which they can sell for little income and eat some.
Weather is not being favorable to the women because rain delayed to begin and the seeds given to them for growing, like beans, maize, ground nuts, sukuma, garlic may not do well because it stopped. In early May the crops are flowering without rain and the yield may not be good.
Local poultry.
Every member practices local poultry to eat and sell at a low scale.
Local goat rearing
This is done by most of our members but at a small scale. One can sell at a small scale in our groups.
Tree planting
Most women are now awake. They all plant trees at least not below 20 trees. This helps in firewood for cooking, charcoal and building.
Small saloons.
Some youth women we trained, they now own their small saloons due to covid-19 they are not doing well people are still scared. Hair salons.
Day care.
They are not doing but resuming slowly, you see some still fear of Covid-19. There are cases of Covid-19 in other places.
Sex workers
Their work is not on well they have been told to pay tax, money is scarce and it is hard for them to practice this activity as before since there is also fear covid-19. This group is very un-happy but we are with them, they need a lot of assistance because some fatherless children who need care like any other child.
Developments
We received funds through River Fund and managed to buy food for our children and elderly.
We have given seeds to women for planting maize, beans, gnuts, sukuma, garlic and onions and tomatoes.
We have provided food for the very needy families
We have been able to provide scholastic materials for our children who are about to begin learning
We are yet to take care of the group beginning on 27th June 2020 and we shall provide for their needs as we did to the others next week.
Challenges
Now there is drought and the planted plants are not doing well. We are worried of having food problems.
There are still some cases of covid-19 realised and detected at the health centres. There is a big worry.
Suggestions
We did not buy uniforms for our children because of learning in beats. We suggest that since all children, all classes will be in school in August, that is when we shall buy uniforms for them when realise funds at that time through donations.
Compiled by
Teopista
God bless you