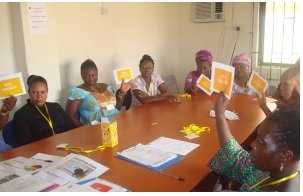 We have continued to interact and strengthen our relationship with women through our one-on-one consultations and noting down their challenges. We await the moment when we are able to raise a good percentage of the funds needed to re-start the Empowering Women into Sustainable Earnings (E-WISE) program.
Our list is growing fast and we have a good number of women from the three-senatorial districts of Edo State, waiting to be signed-up to the program. We have recently renewed registration with our State Ministry of Women Affairs & Social Development to re-aflame our commitment in working with women in Edo State.
Furthermore; our E-WISE program has been described, by women who have had the opportunity to work with us, as useful and beneficial to overcoming financial struggles. The program has been accepted by this community as a useful and beneficial package in developing, educating and assisting small scale business women.
In addition, we are continuing our plans to hold our first conference/convention. You will be properly informed nearer to the time.