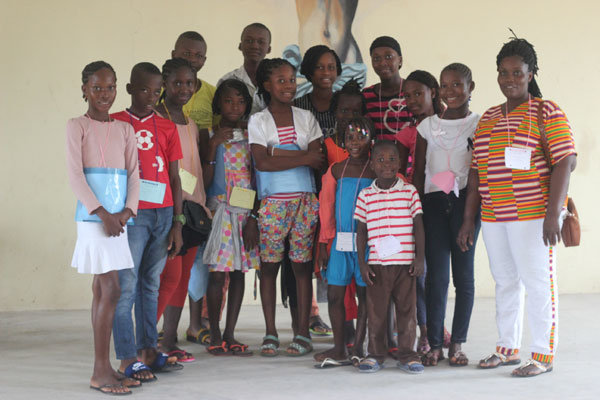 Our nonprofit partners in West Africa remain hard at work three years after the Ebola outbreak in 2014, building more resilient, prosperous communities, strengthening health infrastructure, and empowering children orphaned by the epidemic.
As part of the long-term recovery effort in Liberia, improving public health literacy has been a priority of Imani House. A grassroots organization operating one of the only health clinics serving communities on the outskirts of Monrovia, Imani House recently published and distributed a free 63-page "Liberian Women's Health Manual" throughout local villages, and trained a cohort of local women to be public health instructors for their communities. They're also planning to expand their community development work bringing public latrines to villages without sanitation facilities and launching a new vocational training project.
Seeds Programs International has been supporting small-scale farmers in Liberia as they recover from the long-term economic disruption caused by the outbreak. They've recently focused on helping their partner farmers become more efficient by stocking 11 local "tool banks" with appropriate, reliable farming implements while continuing their longstanding seed distribution program.
In Sierra Leone, Partners in Health's work to rebuild a health infrastructure system devastated by Ebola continued this year, as they opened three new, no-cost birth waiting homes to ensure expecting mothers receive the prenatal care they need and decrease potentially dangerous at-home births.
Develop Africa's 'Dream Home', located in Freetown, Sierra Leone, continues to provide a loving home and quality education to children who lost both parents to Ebola. Six Dream Home residents are now in high school and 17 of the 22 children were promoted to the next grade level this year.
In recent months, Kidsave International has placed 65 children orphaned during the Ebola outbreak in Sierra Leone with either host or foster care families and reunited another 14 children with family members. Kidsave has also launched a program called "Empower Moms", which is providing cash grants of $75 to 114 working mothers to better support their families.
Alix Halloran, our West Africa Field Traveler, visited Kidsave International in June and had the opportunity to see firsthand the inspiring work their team does every day. "I was so impressed by the Kidsave team because they go the extra mile towards helping these kids," reported Alix.
Many of our nonprofit partners in Sierra Leone, including those continuing to support Ebola survivors and their communities, were impacted by the mudslides that occurred in and around Freetown in August, claiming an estimated 1,000 lives and leaving more than 3,000 people homeless. If you're interested in supporting relief efforts, we've launched a Sierra Leone Mudslide Relief Fund that's supporting immediate needs of survivors and long-term recovery.
We look forward to sharing more inspiring stories from our partners in the coming months. Until then, thank you for your commitment to helping communities across West Africa continue to recover and become more resilient.
Warmly,
Britt Lake + the GlobalGiving Team