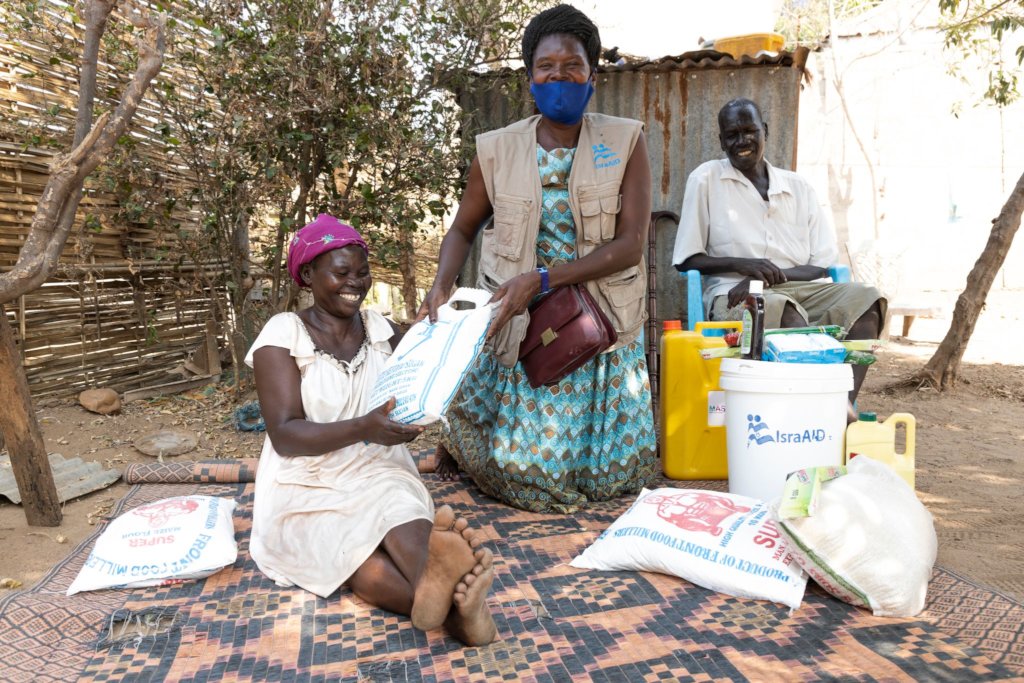 Since 2011, IsraAID has been active in South Sudan working to combat and prevent extremely high rates of Sexual and Gender-Based Violence (SGBV). IsraAID's model establishes Women and Girls Friendly Spaces in communities, offering case management services integrated with psychosocial support programming, livelihood development opportunities, and regular communal activities to promote awareness of the key challenges facing women and girls in these contexts.
In order to ensure community ownership and long-term sustainability toward truly creating a culture of prevention, IsraAID established community emergency councils, trained by IsraAID staff, and tasked with leading community engagement to prevent SGBV: these councils are made up of key leaders from within the community such as chiefs, religious leaders, teachers, and more. In addition, the daily function of Women and Girl Friendly Spaces is led by community focal points.
In light of the current difficulties and context due to the COVID-19 pandemic, each and every program aspect is integrated with COVID-19 prevention messaging. In addition, daily programming at each space is conducted in line with local guidelines, in small groups, and in outdoor spaces.
PROGRAMMATIC UPDATES:
Over the last months, the IsraAID team has achieved the following:
Reached 3,258 people (1,784 females and 1,474 males) with key preventive messaging on both COVID-19 and SGBV. This included addressing the intersection of the two: the ways in which domestic violence and child marriage has increased as indirect consequences of the pandemic.
Trained 13 Community Emergency Council members in Urban Juba.
Provision of case management services for 129 survivors of SGBV—including psychosocial support, referrals for legal support, and some basic material items.
Follow-up training for 100 Community Focal Points on advanced case management and the critical importance of a multi-sectoral approach to SGBV prevention and response.
Ongoing, daily schedule of programming at each of our centers across South Sudan including activities such as: individual and group psychosocial support sessions; singing; dancing; handkerchief making; bedsheet knitting; basic literacy; bead making; and more.
These activities are ongoing on the ground, where additional support is urgently needed to ensure their continued implementation. Thank you for your support!
STORY OF IMPACT:
Achol is a 14-year-old girl living in Lemon Gaba, where she lives with her uncle after becoming displaced from Malakal in the 2016 crises and her father being imprisoned.
In February 2020, Achol's uncles married her without her consent to a 40-year-old army officer who was believed to be a rich man by the family and agreed to pay a high dowry.
Achol experienced severe abuse through her husband, including physical assault, insults, economic violence & sexual violence, until her husband died after a few months of marriage. Achol had nobody to take care of her. She decided to join the psychosocial support sessions facilitated by IsraAID at the Women and Girl's Friendly Space. According to Achol, she benefited from the psychosocial group sessions which include activities like bedsheet making, social gathering, individual sessions, tea talk session, music, dance, and drama. The activities and the sense of community she experienced at the WGFS gave Achol confidence and enabled her to develop positive coping mechanisms. Encouraged through the other women, Achol started a tea place to generate an income. She benefited from IsraAID's business skills training and in- kind support.
Achol expressed her appreciation for IsraAID for empowering women and girls who experienced Intimate Partner Violence. She continues to operate her small tea place and is hoping to join school in 2021.
*names have been changed to protect the individuals' identities.