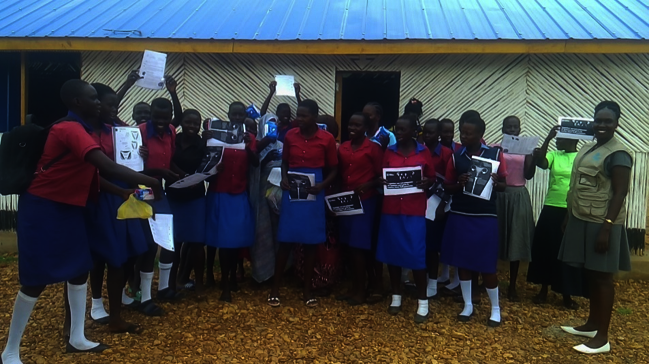 Today, conditions in South Sudan are dire: 80% of the country's population lives on less than a dollar a day; 7.1 million people are in need of aid; and 1.83 million are internally displaced persons (IDPs). Women in South Sudan are among the most vulnerable groups. When fighting breaks out, women are deliberately targeted: rape is used as a weapon of war; domestic violence rates spike in part due to emotional distress; and weak reporting mechanisms leave survivors with inadequate support.
Overwhelming instability and consistent mass movement exacerbates service provision, buckling under a renewed stream of survivors in desperate need of basic services. The region's long history of violence and displacement, as well as high levels of food insecurity, malnutrition, and potential for the spread of disease, leave these communities with overwhelming emotional distress and limited access to urgently needed support.
Each of IsraAID's 12 WGFS offers a core set of services complemented by additional activities based on requests from community members; these include:
Case management

for survivors of GBV, including emergency support, individual counseling, and access to referral pathways.

Women's groups

focusing on trauma relief, psychosocial support activities, livelihood training, and literacy and numeracy classes.

Community strengthening activities

focusing on bolstering structures that can mitigate the risk of GBV, and advocate for a culture of prevention. These awareness raising activities seek to break down stigmas and taboos, encourage use of reporting mechanisms, and end harmful practices such as child marriage, forced marriage, domestic abuse, sex trafficking, and rape.

Menstrual Hygiene Management workshops

reach out to women and girls of reproductive age, providing them with reusable sanitary pads, training them on production of sanitary pads, and teaching sexual and reproductive health modules.
IsraAID social workers first met Faizah during a March 2019 awareness-raising session. 25 years old, she has been separated from her parents since 2016, when they fled from South Sudan to Bidi-Bidi refugee camp in Uganda. Faizah was left to support herself. Despite working hard, she could no longer afford to pay for her basic necessities - even lunch.
Faizah decided to marry Asim, a man of around 40 years old, in August 2018. She hoped to settle down and ensure that her needs, such as food and medicine, were provided for, despite the deteriorating economic conditions in South Sudan.
Quickly, Faizah's marriage became the cause of new problems. She was subjected to daily physical violence by her husband, even losing two teeth and suffering serious back injuries from the beatings. She had hoped to travel to Uganda to reunite with her parents, but could not afford the cost of the journey.
Faizah joined IsraAID's Women Group sessions. She received both medical and psychosocial support, facilitated by IsraAID. She soon described a new sense of hope, self-belief, and regained strength. She has now started to move on with her life away from Asim.
Through support and guidance from the social workers, Faizah was empowered to return to work, starting a small-scale tea business in a village. She has escaped the violence and the control of her husband, renting her own tukul and living independently.
Faizah continues to attend the IsraAID Women's Group, and has committed to empowering fellow women who find themselves in similar situations to her own.
Thank you for supporting this program!