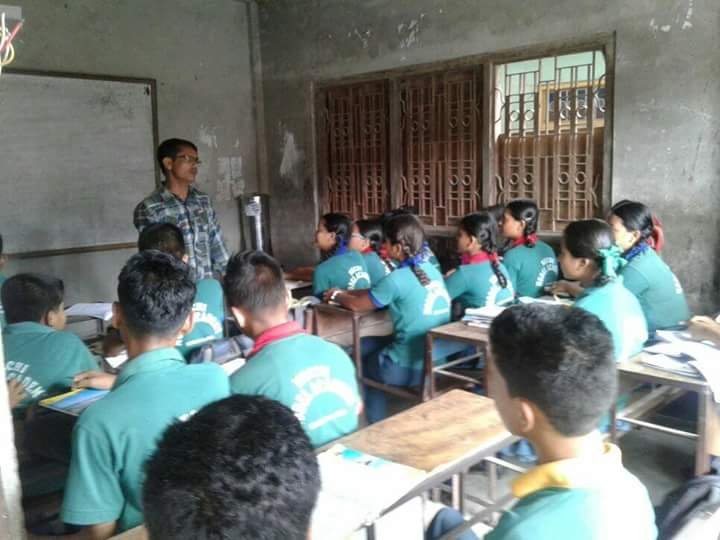 Mechi Model Academy of Jhapa lies in plain Terai region of Nepal. Like in most of the places of Terai, the school has tubewell as the only source of drinking water. The school has around 300 students but depends on only 2 tubewells for drinking purpose.
Realizing the problem, ECCA first conducted water quality test (Coliform test) in the school. During this test, positive test results were found (i.e. occurrence of disease causing Fecal coliform and E.coli bacteria). According to the teachers, no water disinfection techniques were used till now. "This could be the cause for previous water-related health cases in the school. Lack of storage tank has also led us to drink the water directly from the tubewell", they revealed.
ECCA provided 15 pcs. of water filters (along with 30 water bottles) in this school. These stainless steel body water filters have been fitted with nano-silver treated ceramic candle, which can remove bacteria, turbidity and protozoa. After the distribution of these water filters, it is now expected that water related diseases will reduce.
Now, each classroom (including teacher's room) has a water filter. Both students and teachers are now provided better access to safe drinking water. Also, facility of drinking water within the classroom has helped the classes to go smoother as the trend of going out (from classroom) for drinking water during classes have lessened.
We are glad we could help being a change in this context.Thank you for your help, without which this would not be possible.
Since June 2010, ECCA has been regularly implementing Safe Water for Healthy Nepal project. After the Nepal earthquake of April 2015, ECCA initiated a separate "Earthquake Relief: Providing Safe Drinking Water" project. Now that more than 2 years have passed since the Nepal earthquake, we have decided to retire this specific project and integrate it with our regular Safe Water for Healthy Nepal project.
We look forward for your continous support in the days ahead.