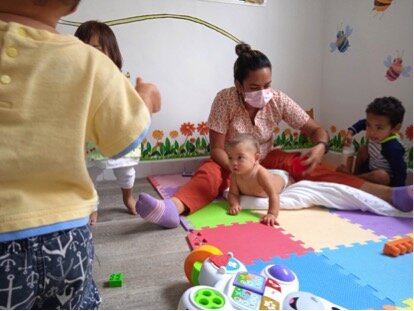 In our pediatric area, we address early childhood development by providing stimulation activities and therapy to help meet developmental milestones, which refers to the set of skills that the child develops, which comes from the maturation of the central nervous system (CNS) and interaction with the environment. These developmental skills are clearly identifiable and mark a new stage in the development of each child, through play and exploration.
Early stimulation goals:
Maintaining motor functions such as joint amplitudes, muscle tone, gross and fine motor skills, and functional use of the hand.
Maintaining or integrating sensory functioning: body schema, visual-spatial relationship, body integration, reflexes and sensitivity.
Cognitive functions: by exploring the environment and objects.
Affective / social relationships, with peers and caregiver.
Stimulation through play is fundamental for the evolution of the children's development.
In the period from February to September 2021, occupational therapy was performed in an individualized manner to the children at Hogar Bambi, with each session lasting 45 minutes for each child. Specifically: 15 boys and 19 girls.