Given the measures decreed by the government, the community library "Nueva Visión" in La Guacamaya (EL Progreso, Yoro) offers as "emotional therapy for stress and anxiety" that the confinement of the quarantine generates. The Community Library has started a garden which It is aimed at promoting crops that come to help the food crisis and cultivate solidarity.
The community of La Guacamaya, is located south of the city of El Progreso (Yoro, Honduras). It has approximately 1600 families, in which 6 out of 10 live in conditions of extreme poverty, including single mothers, older adults, disintegrated families, and at least 200 families have a relative with a disability.
Given the need what it entails to be in quarantine, the Library volunteer teams organized with the purpose of promoting solidarity. Also due to this lack of food, women leaders from 11 neighborhoods organized a committee to manage humanitarian aid. mainly families that are in food crisis.
This is how this experience in the community, organized youth and women has been active, taking into account biosecurity measures. Some programs that have been developed due to the current situation of pandemic: reading at home, the pot of sharing; which is about cooking the food grown from the library gardens to their homes.
More than 30 families are now planting from their own possibilities in their homes and youth learn a life experience that has allowed them to discover the importance of cultivating the land, and to know that there are ways of cultivation more ecological.
The Riecken model library let community answers in moments of crises: this is why libraries have always been identified as a fundamental pillar within the community since its beginning, for the support it provides at all times to families, youth and children in general.
With support from USAID/ASHA (American Schools and Hospitals Abroad) to upgrade books, technology and furniture, and building renovations, Riecken community libraries will continue to help transform a single building block -- a community library with free computers, internet, print resources and programs -- into a springboard for democracy building, local leadership development, women's empowerment, civic engagement and social justice in Honduras and Guatemala. Riecken community Libraries are a demonstration and promotion American principles of inclusiveness and equality, civic engagement, free expression and independent inquiry. Together with the USAID / ASHA program, we will give a concrete response to promote community cohesion, so damaged by the current situation.
We are proud to see the flexibility of the Riecken Community Library sustainability model in action, allowing for relevant local response to this worldwide calamity.
Riecken Community Libraries are a social platform and an essential space for the social cohesion present in 65 communities in Honduras and Guatemala.
Learn more about the work of the Riecken Foundation and its network of community libraries in Honduras.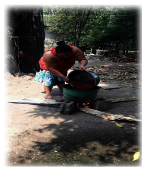 Links: