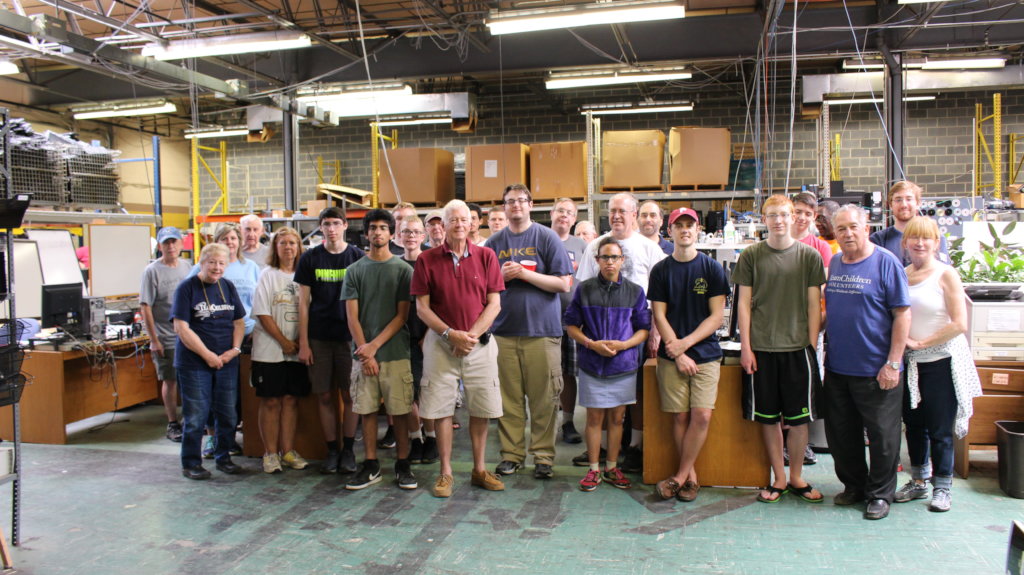 Imagine if every parent had the tools, training and technology to teach their babies and children reading, math, music and encyclopedic knowledge by the time they were two.
Imagine early child education if kids started school already proficient in reading, math etc.
In this country, we have the ability to do that. What is missing is the will.
If we accepted the inevitability of cancer and knee pain and stopped looking for cures where would we be today.
In about 6 weeks I will be having knee replacement surgery.
Here is a brief summary of the advancement of the field
The first total condylar knee replacement. Hospital for Special Surgery's John N. Insall, MD, Chitranjan Ranawat, MD, and Allan E. Inglis, MD, along with biomechanical engineer Peter Walker, PhD, developed the modern knee replacement and implanted it in the first patient in 1974. The first total knee replacement was performed in 1968, but the implant wasn't reliable and the HSS team aimed to create a better option for patients with knee arthritis than pain medication. Their implant was designed to recreate how real knees work and became a game-changer in the field. It was the first implant to address all anatomically shaped parts in the knee. With this implant as the foundation, surgeons and developers have advanced the field immensely. Now knee replacements are standard-of-care procedures and new patient-specific technology is built on the anatomical principles the HSS surgeons studied.
Mickey Mantle's first knee surgery in 1951. We consider Mickey Mantle a baseball legend today, but in 1951 he was a New York Yankees rookie that spent part of the season in the team's farm system and was trying to prove himself in his first World Series when an injury during game two forced him to watch the rest of the series from the sideline. He was attempting to catch a ball when his cleat spike hit a rubber drain or sprinkler and caused the first knee injury of his career. Mantle subsequently underwent knee surgery — and several surgeries throughout his career — yet still managed to become one of the most well-regarded baseball players in history. However, according to a New York Times, the injury and surgeries prevented him from becoming one of the greatest statistical performers in history.
First knee arthroscopy. Dr. Severin Nordentof, a physician in Denmark, is credited with using the first endoscope to look inside of a knee joint in 1912. He used the Jacobaeus Laparoscope, to examine the interior of knees and discussed his findings at the 41st Congress of the German Surgical Society in Berlin. However, without evidence of surgical intervention, he is not considered to have performed the first knee arthroscopy. Forty-three years later, renowned Japanese surgeon Masaki Watanabe, MD — known for his development of arthroscopy instrumentation — performed the first recorded operative procedure under arthroscopic control. He removed a solitary giant cell tumor from a knee joint during the procedure, and then in 1962 performed the first partial meniscectomy under endoscopic control. Dr. Watanabe was also considered a great teacher and shared his knowledge freely. He authored the Atlas of Arthroscopy, published in English in 1957, and his research became the basis of modern minimally invasive knee surgery today.
Adrian Peterson's 2011 knee surgery and amazing recovery. Adrian Peterson was in the running for the National Football League's 2012 most valuable player and noted Hall of Fame prospect for the Minnesota Vikings when he tore his anterior cruciate ligament in December 2011. The injury was gruesome and would have left many athletes on the sideline for months — if not the rest of their career. However, Peterson called on renowned knee surgeon James Andrews, MD, noted for his work with elite athletes and returning them to play. Mr Peterson not only underwent the surgery six days after injury but also completed a rigorous rehabilitation schedule and then returned to start for the Vikings week one of the 2012 season — just nine months after surgery, according to Bleacher Report he continued to put up outstanding numbers post-injury and threatened to break league records. Peterson's recovery has now become a benchmark for other athletes suffering ACL tears — fairly or not — as he raised the bar for future knee surgery recovery.
Dwayne Wade's 2002 knee replacement surgery. Nearly a decade before he became part of the Miami Heat's "Big Three," Dwayne Wade underwent his first knee surgery to remove the meniscus from his left knee. He was a Marquette college basketball player and decided to undergo the procedure to return to play. While Wade still became a superstar in the National Basketball League, he battled chronic knee pain and issues throughout his career, leading toward a second knee surgery in 2012. In a 2013 interview with ESPN, Wade said he regretted that first knee surgery — technology was less advanced than it is today, and he wasn't thinking about having a long-term career. He was more focused on returning to play in the short term. Wade helped lead the Miami Heat to several championship games, even winning two championship rings, but his injuries may have prevented him from achieving even more. The Heat lost the championship series in 2014 and the key member of Miami's "Big Three" — LeBron James — left the team for the Cleveland Cavaliers. Wade continues to play for the Heat, but without that first knee surgery he may have made more significant contributions to the game and changed basketball history forever.
Bill Clinton's 1997 knee surgery. In the midst of his second term as president, Bill Clinton injured his knee during a fall at Golfing Pro Greg Norman's estate. The president tore a tendon and his subsequent procedure was performed by the chief of orthopaedic surgery at Bethesda Naval Hospital David P. Adkison, MD. The procedure put the president on crutches for eight weeks and caused then-First Lady Hilary Rodham Clinton to postpone a two-week, six-nation tour of Africa, according to the Baltimore Sun. While the procedure didn't immediately hamper the President's legacy, life with an improperly healed torn tendon would have inhibited President Clinton for years. Since finishing his second term, President Clinton has made a huge impact on global affairs with the philanthropic Clinton Global Initiative — which made nearly 2,500 commitments valued at $87.9 billion, according to Forbs. He also campaigned for President Barack Obama in the 2010 and 2014 campaigns and is considered one of the reasons why the president was elected. His philanthropic work and campaigning would have been impossible — or at least much more painful — with an injured knee.
We have to apply the same knowledge and commitment to transforming early childhood education, your contribution can make the difference.
Links:
Attachments: