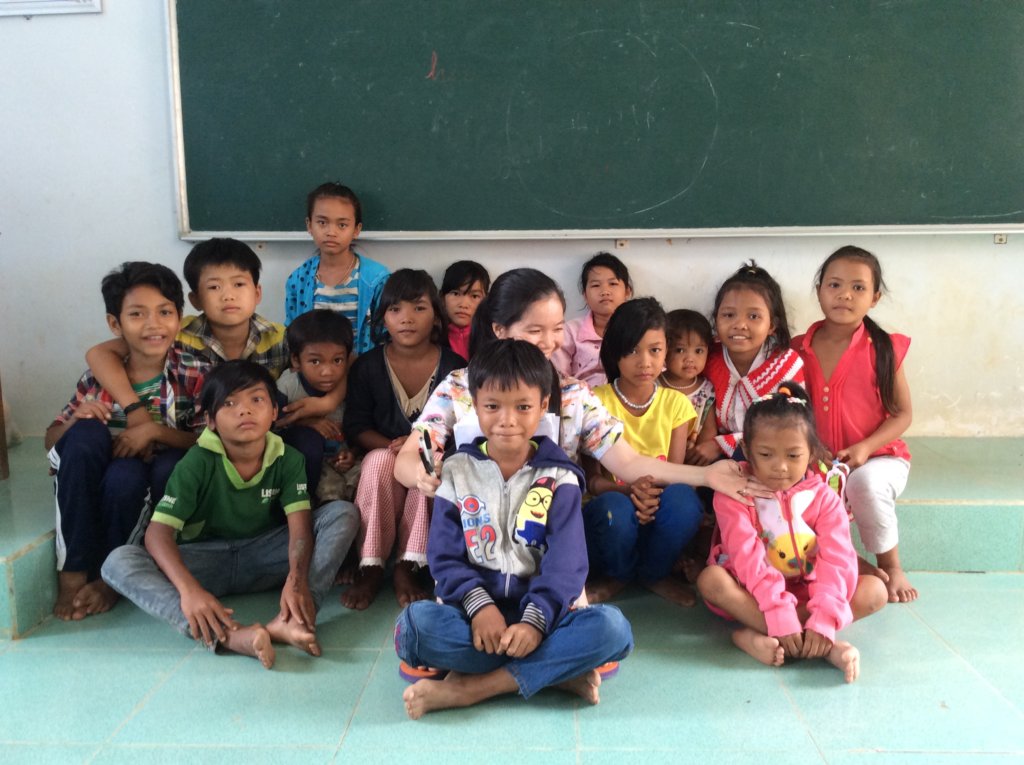 "There is only one thing that makes a dream impossible to achieve: the fear of failure." - Paulo Coelho, Brazil
As a relatively new organization, with only three years under our belts, we are learning quickly what works in a program and what doesn't, through failing on some things and forward achieving and improving our knowledge through those failures. As a partner member on the GlobalGiving community platform, we are constantly learning through their trainings and guidance, and most importantly adopting their core values to, "Listen, Act, Learn, Repeat" when working with the communities that we support in Vietnam.
As a young organization, we have definitely been more in the "Acting" and "Learning" modes than the "Listening" mode over these first few years. In some countries like Vietnam, this is almost unavoidable because in order to be able to receive our license to work in the country, we had to initiate and document lots of immediate activity so that we could demonstrate to the government that we had funding and could make programs work. In Vietnam an NGO (non-governmental organization) has to be licensed at all levels of the government; national, provincial, district and individual villages. In order to apply for our license, the "Acting" part of the "Listen, Act, Learn, Repeat" cycle had to happen quickly with little listening up front to the youth and families that we would be serving.
Although this should not be the exact order and process for establishing our programs, we should have been listening to the needs of the youth we serve and develop our programs based on what learn from these conversations, we have been lucky in that the programs we have developed have been very successful. We started with the dream that we could bring art and music classes to poor communities, and hire wonderful, fun, caring teachers, who would give kids the opportunity to freely express their creativity in a safe, encouraging, and open atmosphere. This does not exist in the very restrictive, government run school system in Vietnam. We believed that by providing small hands-on, one-on-one and group classes in the arts, along with close mentoring by our teachers, that our students would build confidence in themselves, form close bonds among each other, create a network of peer-to-peer mentoring, and eventually be inspired to excel in their pursuit of education. So far our programs have been flourishing with few bumps in the road, and we now support 90 kids, each attending classes two-three days a week after school, and during the summers. Evidence of our success started to appear this year, when our first high school student was accepted into a highly competitive University, where she will study art and architecture.
So what about our failures so far? We have definitely had a few failures, and continue to learn from them, but one in particular deals with a complicated, broad-based community problem that we never imagined would make us stop and rethink everything. To start, we are learning that sticking to one program model and trying to fit it into different communities, is definitely destined to fail. As an example, two years ago we opened our art program that had been successful in two other communities, in a small, ethnic minority village called Son Tan. This community is one of the many racially segregated ethnic minority communities in Vietnam. Most of the families live below the poverty level of $1.00 a day, often feeding 5-9 family members on that income. We started working in Son Tan after giving bikes there as part of our Bikes for Girls Program, and while we were there, we noticed that none of kids at the school had uniforms or good shoes, so we provided them to the children--this is how our relationship with the small school began.
That year we opened our art and summer camp programs there, but it is clear to us now, that through observing for these few years in the community, that we have failed by not incorporating the value of "listening" in our program implementation and decision making, and that perhaps this continues to kept us from having a much greater impact on the lives of the children there. It's not that our art and camp programs have failed necessarily, they have been something the kids wait for on the weekends and all year, but we've failed as an organization in not meeting the mission of our program in Son Tan. If our students are destined simply not to succeed because of racism and segregation from main stream society, severe poverty and the lack of educational opportunities beyond the fifth grade, and we have made no impact on their lives, we have definitely failed. It's just not enough to mentor kids after school, if the school dead ends for them after five years and if they suffer from malnourishment, poor living conditions, and broken homes.
In Vietnam, it is very hard to get information from people and to have them discuss their needs openly, most likely an outcome of a society that continues to not support free speech. Observing what is happening in the village and at the school, how people continue to live, die and struggle daily and seeing very little change occur, has led us to believe that our program will ultimately fail and not have much impact overall for students. So, we have started to "fail forward" in this case and make changes, and recently started to get answers to some of our questions.
Why hasn't the school opened to students beyond fifth grade if the government built an extra wing on the school with more classrooms a year ago? If a student wants to continue their education beyond the fifth grade, what do they have to do? How many students in the village are being educated beyond the fifth grade? How does this ethnic minority school differ from the main stream schools in Vietnam? If kids from the village are allowed to go to the main stream schools, why don't they?
So here is what we've learned and where we are headed. We learned that although the government built a new wing on the existing school, they refuse to support teachers until the community can raise enough money to provide a lunch program for the kids. Unfortunately the community can't afford this. We learned that right now, students who want to be educated beyond the fifth grade must go to a school for ethnic minorities that is over two hours away from the village. The kids have to stay in poor, boarding house conditions away from their families in order to complete school. We learned that the kids have to pay for their transportation to and from the village, so often drop out very quickly, or just can't go. We learned that yes, students can attend one of the main stream schools, but are fearful of being bullied by other kids and mistreated by teachers there.
So from stepping back and starting to listen we are developing a new program plan that we hope to raise funding for this year. In addition to continuing and expanding our art program in the village to include more kids, we hope to support the school lunch program with the agreement that the government brings in the new teachers to expand the school to 9th grade. We will continue to provide adult mentoring and support to the kids through our after school arts programs, with the establishment of a broader mentoring program to include students from schools outside of the village. We will be establishing an internship program with a local main stream high school, and recruiting students willing to act as tutors in math and English for the kids in Son Tan. The Son Tan kids will be tutored for one-two hours and then be able to have free, creative time in our art program on the weekends. We hope that not only will the kids in the village learn from the high school students, but that the high school students will become better aware of the conditions in the village, create strong bonds with the kids and hopefully, eventually create change by carrying a voice for ethnic minorities outside of the village. Although these steps seem small, with bigger ideas and dreams, there is of course a great deal of work to be done in the village to improve living conditions overall, but we know that nothing can change if the kids there never have the opportunity to be educated and integrated into Vietnamese society as a whole.
Thanks to all of you for supporting our program!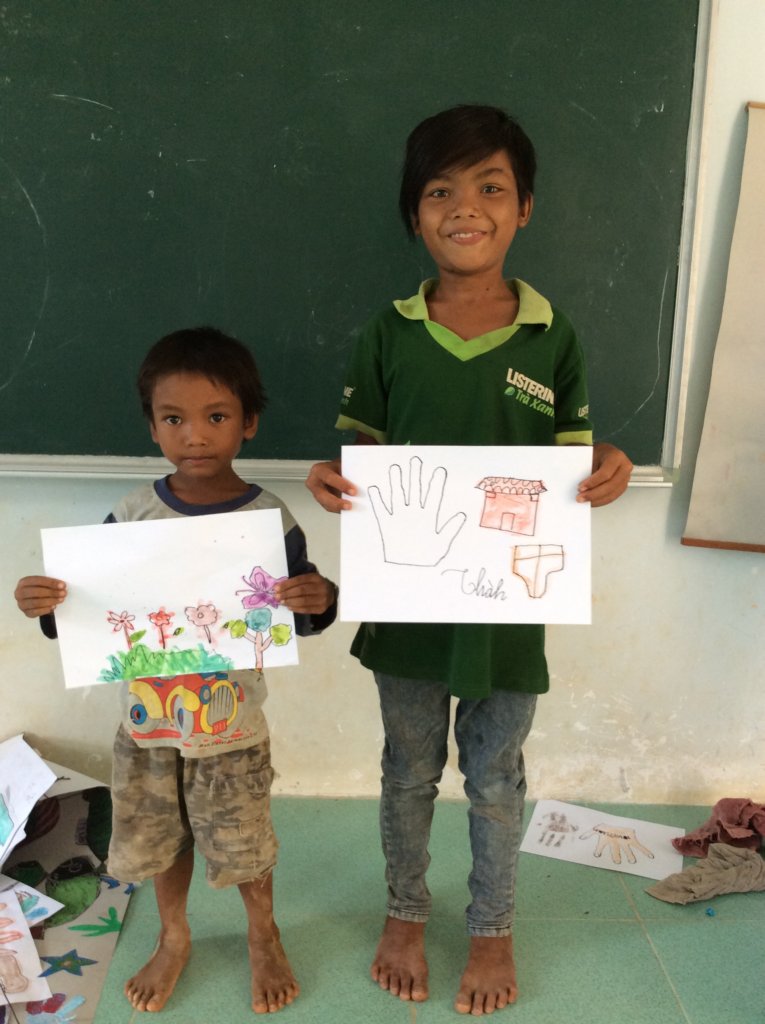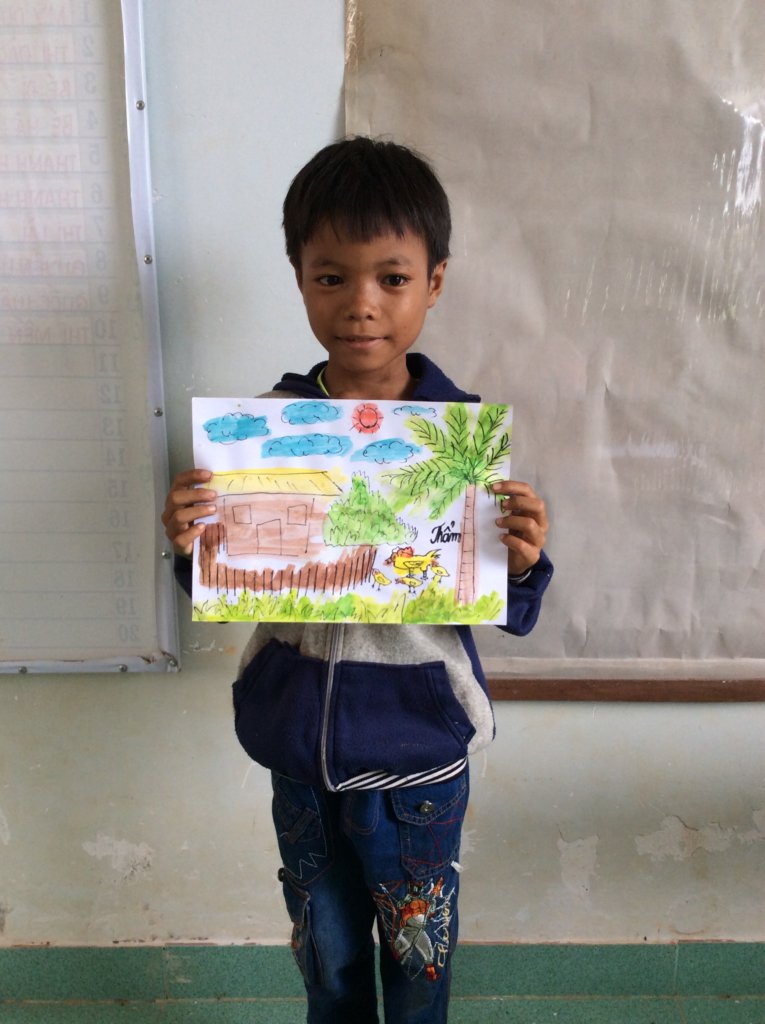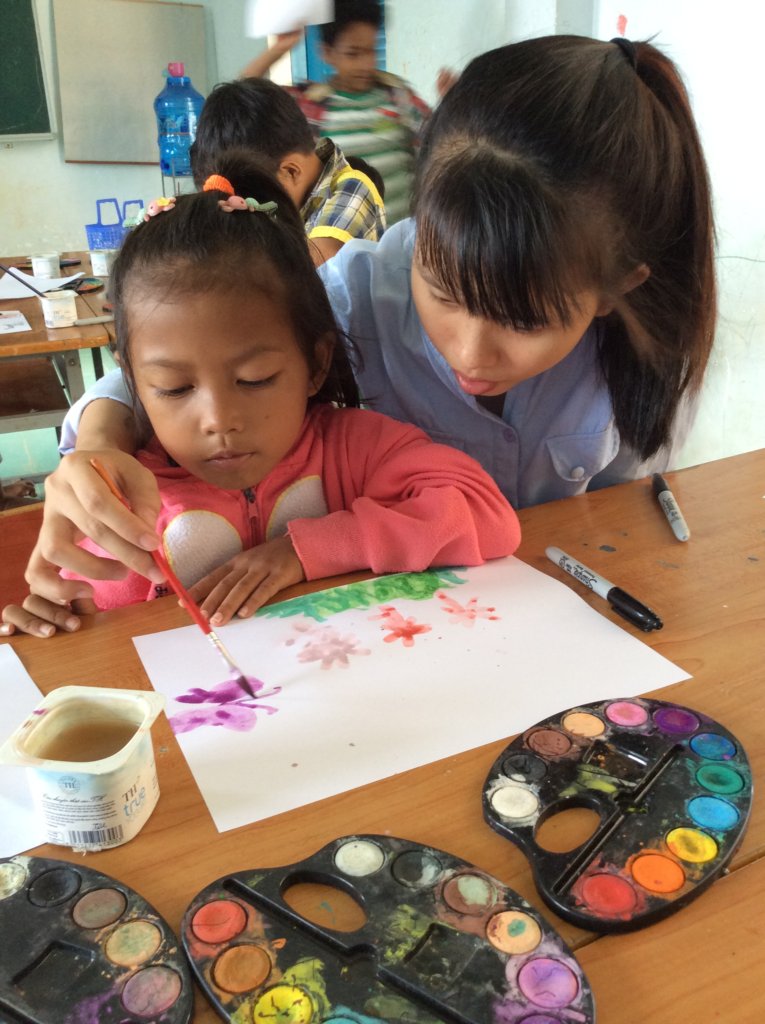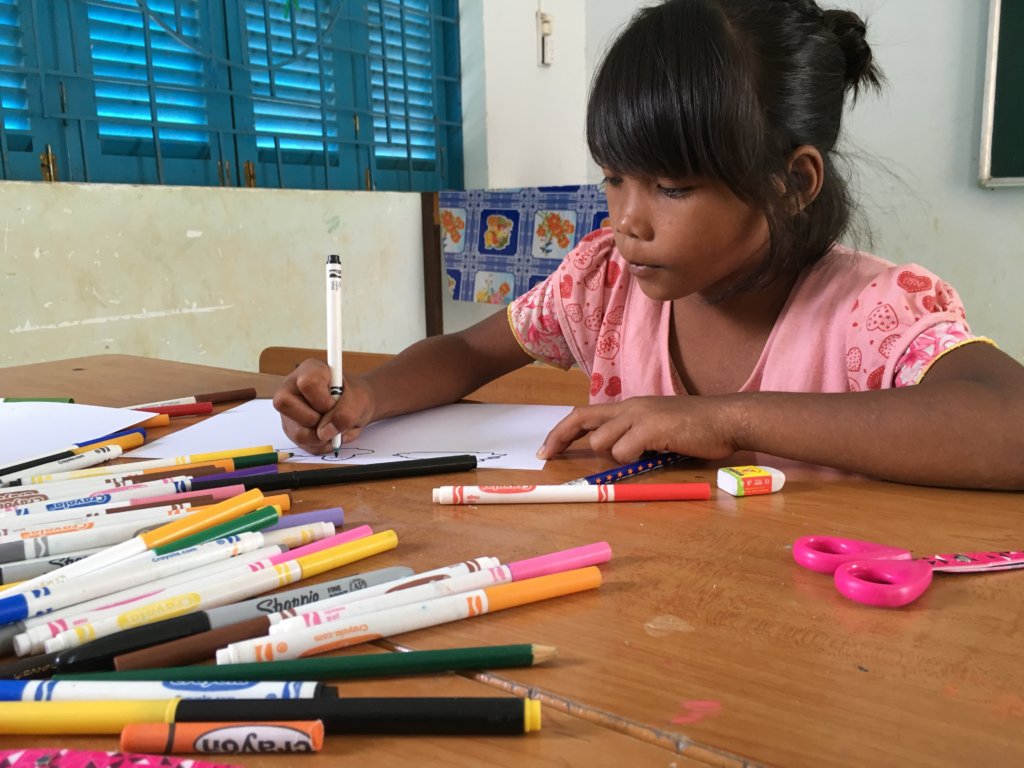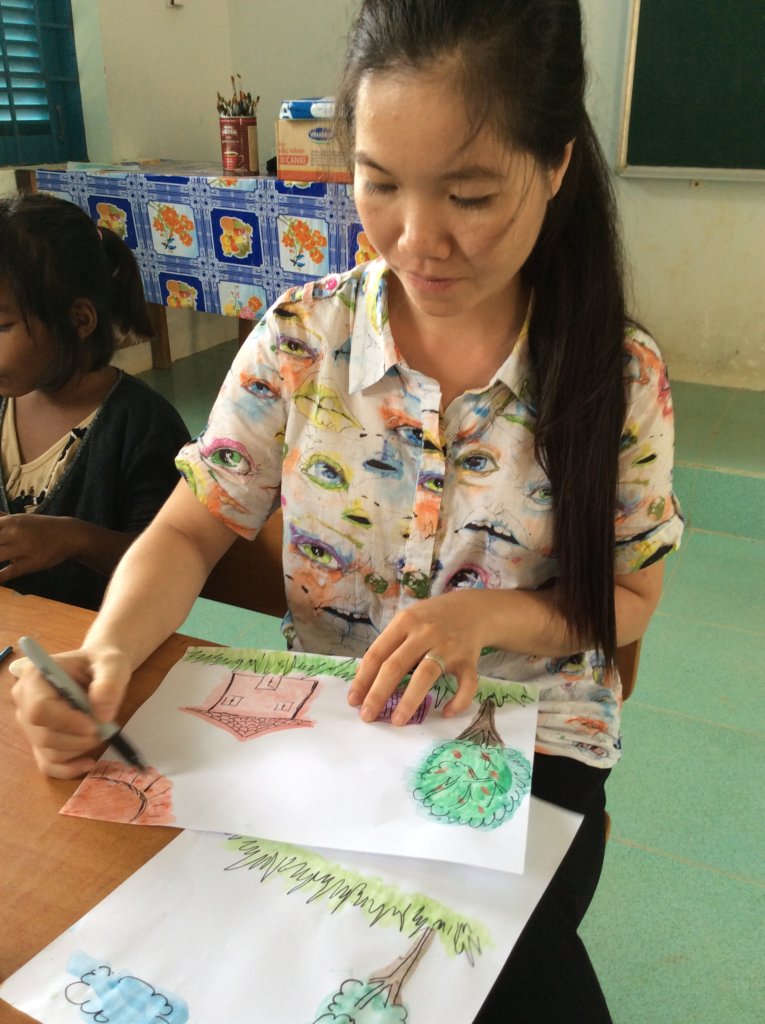 Links: