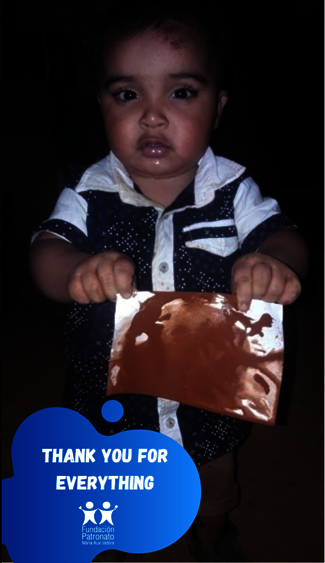 Dear friend of Patronato Foundation,
I hope both you and your family and friends are healthy and well.
In this report, we want to share with you the progress of Jhoan, one of the children who benefited from the wonderful donation you made to this project. Jhoan is 2 years old, lives with his parents and brothers in a rural area near the city of Medellín, in Colombia. Jhoan is a happy boy, he likes to paint and play with toy cars and balls.
From an early age Jhoan requires frequent medical attention because he has metabolism disorders, developmental disorders, and abnormal weight loss. He is part of the Government subsidized healthcare because his family has a very low income (verified by home visits by our Foundation).
Because he is in this subsidized regime, and because his diagnosis is so complex, the Government healthcare did not give him the therapies and services he needed, and for this he was referred by an allied foundation. Metabolism disorders make Jhoan feel constantly tired, nauseated, without appetite, with convulsions; all of this hinders all the activities that Jhoan likes to do, like painting.
Thanks to your kindness, the Patronato Foundation supports Jhoan with specialized consultations on endocrinology, gastroenterology, genetics, pulmonology, neurology, nutrition, ophthalmology, pediatrics, psychology, and laboratory tests.
Thanks to your compassion, Jhoan's quality of life has improved noticeably, his diagnoses have been clearer and due to this, follow-up measures have been taken with specialists so that his treatments are more constant and timely. Thanks to you, Jhoan has gained weight, and is already a more energetic kid and already plays more with his toys.
Eternally grateful,
Natalia
_______________________________________________________________________
Querido/a amigo/a del Patronato,
Espero que tanto tu como tu familia y amigos estén sanos y bien.
En este reporte, te queremos contar los avances de Jhoan, uno de los niños beneficiados por la gran donación que hiciste a este proyecto. Jhoan tiene 2 años, vive con sus padres y hermanos en una zona rural cercana a la ciudad de Medellín, en Colombia. Jhoan es un niño alegre, le gusta pintar y jugar con carritos de juguete y balones.
Desde temprana edad Jhoan requiere atención médica frecuente como tratamiento preventivo de su condición de salud ya que tiene trastornos especificados del metabolismo, trastornos del desarrollo y pérdida anormal de peso. Él hace parte del régimen subsidiado de salud del estado por ser su familia de muy bajos recursos (constatado por visita domiciliaria por parte de nuestra Fundación).
Por estar en este régimen subsidiado (el equivalente a estar en "Welfare") y por ser tan complejo su diagnóstico, la salud estatal no le daba las terapias y servicios que necesitaba, y por esto fue remitido por una fundación aliada. Los transtornos del metabolismo hacen que Jhoan se sienta constantemente cansado, con náuseas, sin apetito, con convulsiones; todo esto dificulta todas las actividades que le gustan a hacer Jhoan, como pintar.
Gracias a tu amabilidad la Fundación Patronato apoya a Jhoan con consultas especializadas de endocrinología, gastroenterología, genética, neumología, neurología, nutrición, oftalmología, pediatría, psicología y exámenes de laboratorio.
Gracias a tu compasión la calidad de vida de Jhoan ha sido muy notoria, sus diagnósticos han sido más claros y, debido a esto, se han podido tomar medidas de seguimiento con los especialistas para que sus tratamientos sean más constantes y oportunos. Gracias a ti, Jhoan ha ganado peso, y ya es un niño más enérgico y ya juega más con sus juguetes.
Eternamente agradecida,
Natalia
Links: