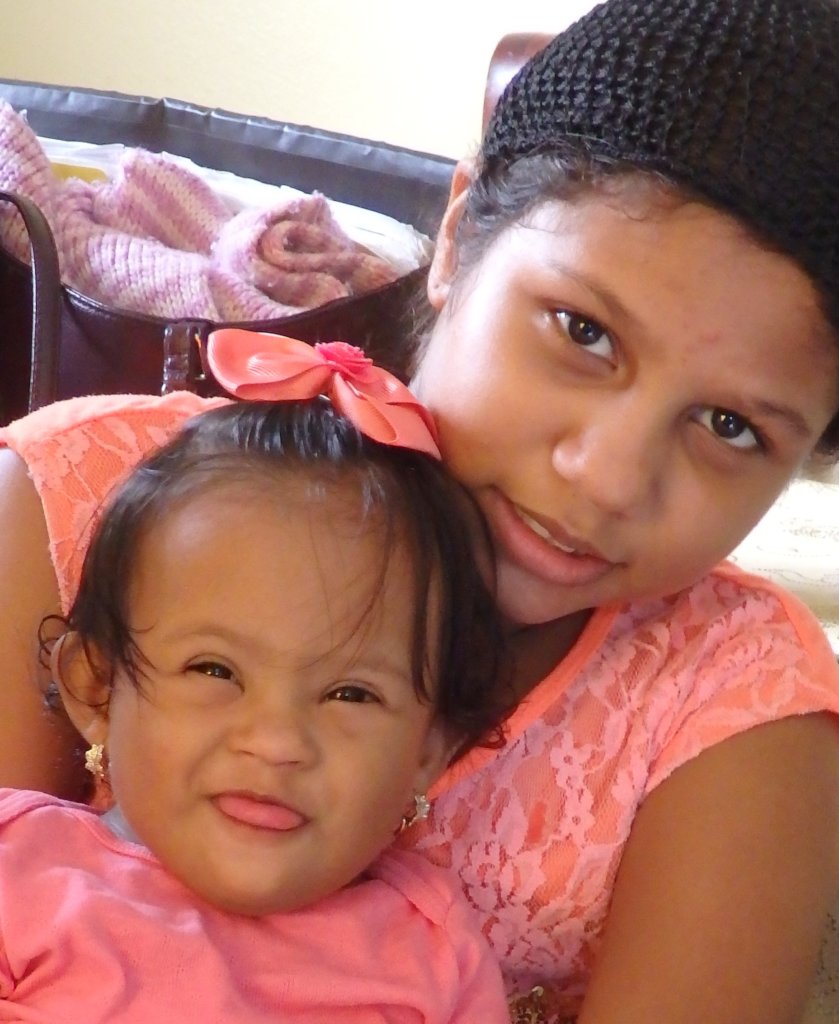 Amanda
Amanda was born with Down's Syndrome in November 2018 and her parents did not recieve any orientation about how to stimulate her development for 8 months. Then her mother was referrred to our Foundation by another parent in the program and enrolled in the home visiting program. The home visitor Mella started to work with her mother once per week, explaining about the Down's Syndrome condition and all the additional problems it can bring along, therefore she advised the parents to go for a medical consult and keep following up. At the same time Mella started to evaluate Amanda and show her mother every week a specific activity to stimulate Amanda in different developmental areas. Amanda was a very floppy little girl, did not make any sound, did not even roll over and had no head control.
Now after being in the program only 5 months, Amanda has good head control, can roll over and even sit up by herself, is repeating syllables, says even a few words, indicates her likes and dislikes and even applauds! The next thing her mother is teaching her is to wave gooodbye with ther little hand.
Good progress thanks to the Portage program, the mother's stimulation and Mella's guidance in this process!
A triplet tells her story
Hello my name is Lizyermi. I was born in December 2010 with my two triplet sisters Lizyersi and Lizyenni. My brother Yelson was at that time receiving home visits from aunty Joselin, but already finishing the program when we were 4 years and 10 months old. It was Mummy who asked the supervisor to evaluate our development at the end of 2015, because she observed that we did not act like other children of our age. According to the evaluation I had the developmental level of a 2 1/2 year old child, instead f that of my real age. But that did not interest me really, I just had fun with my sisters. But Mummy was concerned that we did not know our colors, count, or put on our clothes and our vocabulary was very poor.
We live in a rural area, an lucky for us opposite a school. Aunty Joselín made sure Mummy made us go to school and aunty Joselin started visiting and playing with us every week and left homework for our mother to continue to play with us the same way. We did not always cooperate, but Joselin and Mummy tried to make it a lot of fun and we started to enjoy the activities and games more and more and we started to pay also more attention at school and understand more about what the teacher was talking about. But we still had us repeat two grades twice.
Thanks to the dedication of my Mummy and Joselin, two of us we have by now achieved all the objectives of the Portage program that goes until the age of 6 years. LizYersi has already finished and I will soon finish. It was really aunty Joselin and Mummy that taught us to read and write, because the teacher at school did not have enough time to sit with us.
Now in 2020, aunty Joselin will continue visiting to help LizYenni who is still struggling with her letters and some other things.
===============================
I hope you enjoyed reading the stories of the 4 girls above and we from the Fundación Cuidado Infantil Dominicano would like to thank you for your support of our programs! It is very much appreciated!!