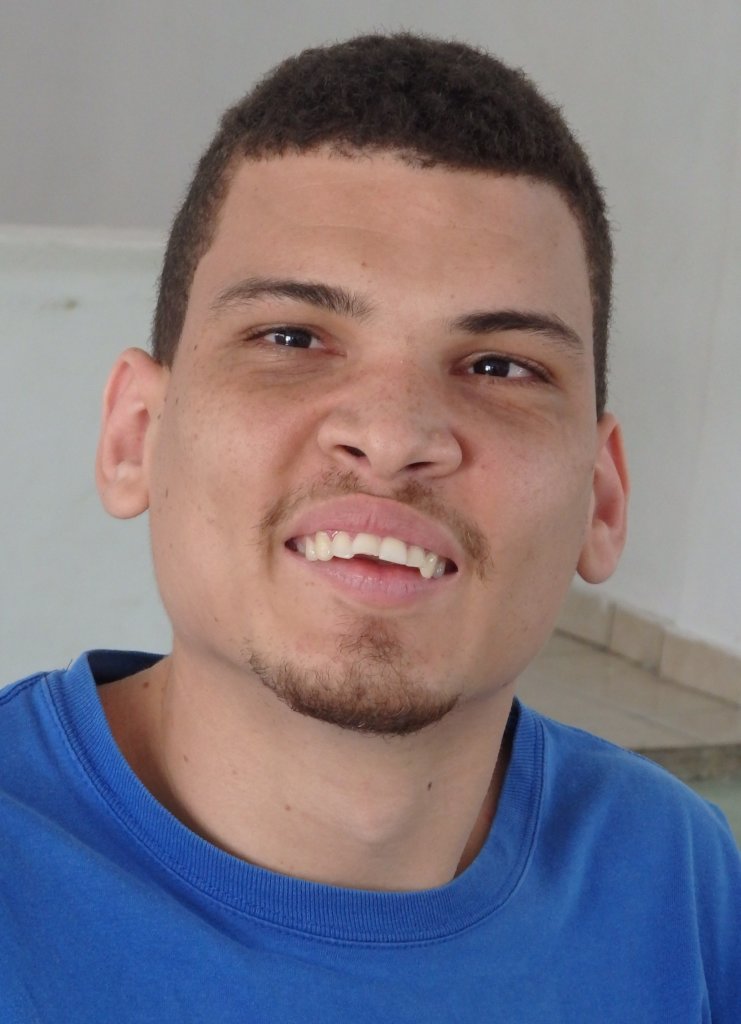 Cesar was born with mild to moderate cerebral palsy. He went to special education for 7 years, but as there was no other place for him to go afterwards, he just stayed at home without doing anything at all. Thus Cesar and his parents were very happy to learn of the group for adolescents and young adults with disabilities that our foundation started up in 2016 just around the corner. Cesar was 20 when he joined the group. He had already learned to read and write a little and to communicate with rather unclear speech. He was a very shy young man and would not move from his seat or place where he was standing unless you literally would take him by the hand and lead him to the next place and tell him what to do. Now, after being at the group for 3 years, he will go and greet everyone in the group when he arrives! He is a more social active young man, contributing more with the group and with his work. He is dynamic and imitates the activities of his teammates, dances, sings and plays ball, although with difficulty, but he still joins in with all the group activities and all the others in the group cheer him on.
Junior was 16 when he joined the same adolescent group as Cesar in 2016. He is living in a group home from the Lutheran church, and with 3 more of the young people living in the home he attends the group. His left arm is paralyzed, his left leg a little affected and he has no speech, but that has not held him back doing work for which he needs both hands, he tries and tries!. He loves coloring which he does very nicely within the lines. He was also very timid when he joined the group and it was hard for him to make friends. But ever since he has learned to communicate more with his peers, in a way they understand, he has become an active group member. Above all, he loves to play basketball and soccer. He is very cooperative, kind and always smiles.
As we are coming up to the Christmas season, both Cesar and Junior are looking forward to the yearly rehearsal of the drama of Christ's birth. You can see them in the picture below: Cesar is the tall shepherd in the front and Junior is the (gray) donkey in the back.
We would like to thank you for your continuous support that helps young people with disabilities like Cesar and Junior become useful members of the Dominican society.
Wishing you a wonderful Christmas season and celebration, good health and many blessings.