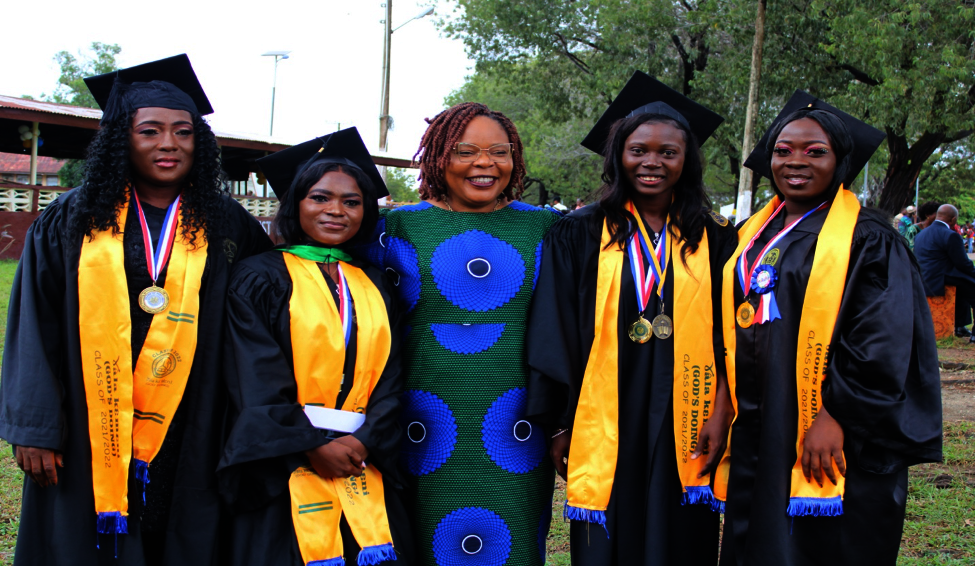 IMPACTING THE LIVES OF WOMEN AND YOUTH TRHOUGH OUR THREE (3) PROGRAMS
1.0 EDUCATION FOR PEACE AND DEVELOPMENT
Gbowee Peace Foundation Africa's scholarship program is proud to announce once again an additional nine (9) female students who graduated from Cuttington University on June 17, 2022 with Baccalaureate degrees in their respective field of studies: Economics, Biology, Natural Resource Management (Agriculture) and International Relations.
As more students graduate and transition into becoming useful citizens, it provides an opportunity for new students to be recruited. However, in the midst of huge economic challenges, the number of those applying for our undergraduate scholarship this year is more than 180 students. Presently, we have 112 students on our 360-degree Scholarship in the following categories: High School=56, Local Universities=50 and International Universities=6. The 360-degree scholarship is our wholistic approach to providing scholarship which include; tuition, medical assistance, feeding, accommodation, transportation and leadership opportunities to our recipients..
2.0 LEADERSHIP
GPFA's seventh annual Peace Through Fair Play Youth Camp hosted the total of fifty (50) campers between 10-16 years of diverse backgrounds from Margibi from August 7-12, 2022 in Kakata, Margibi County. The theme of the camp was: "Inspiring the Future Leaders". Participants were selected regardless of their religion, financial status, and physical or mental disability, amongst others.
The goal of the camp is to promote respect, tolerance, non-violence, integrity and accountability as basis for fostering peace among youths in Liberia. The campers spent five days interacting with key actors sharing ideas, listening and learning from panel's discussions. During the session with the Chief Justice one of our visually impaired participants asked, "Why is it that people with disability are not treated equally under the law or is the law only meant for people who can hear, talk, see, or walk?"
3.0 DRIVING INNOVATION THROUGH COMMUNITY EMPOWERMENT
The Feminist Lecture Series "HerStory" is a Gbowee Peace Foundation Africa event that creates an intellectual environment for women and men to discuss issues affecting society's peace and security. It creates a platform where women tell stories of how politics and injustice disrupt women's peace and security in various communities.
The 11th edition of the Feminist Lecture Series - "HerStory" was held on July 8, 2022 and featured current and former women Representatives and Senatorial aspirants who discussed the dynamics of women and politics. More than one hundred women and men attended this edition of the Feminist Lecture Series in Monrovia. They included representatives from Government and Non-Governmental organizations and private citizens.
The forum aims to stimulate women's intellectual growth and capacity to be socially and politically active in society. It also enhances women's leadership capacity to advocate for all forms of violence against women and create an environment where women, men, and youth can dialogue on policies and support issues of gender concerns.
THANKS TO ALL OUR DONORS WHO CONTINUE TO SUPPORT THE WORK WE DO AT THE GBOWEE PEACE FOUNDATION AFRICA THROUGH OUR DOLLAR FOR PEACE CAMPAIGN.