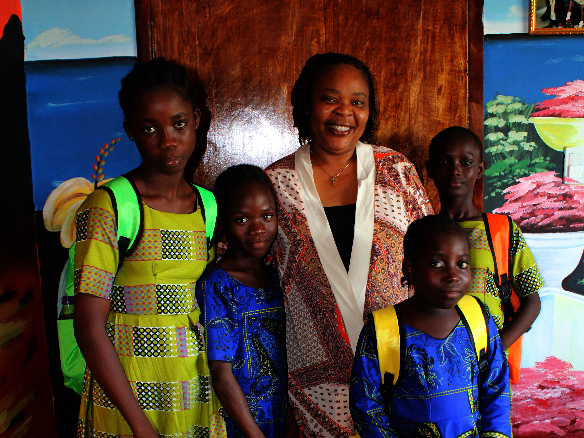 GPFA starts 2022 with 114 scholarship recipients, with 62 university students and 52 high school students.. The new school year started in Liberia in November. It's a busy time of year, with celebrations of Liberian Thanksgiving coinciding with the hustle and bustle of getting young people off to school. GPFA's scholarship program offers 360-degree support to students in Liberia, which means that the Programs Team spend November and December ensuring that each student's housing, food, school supplies and uniforms, and health care is taken care of, as well as transporting students from their home communities to their school or university.
Each year, just before school goes back, GPFA undertakes a Book Bag Drive which rewards high performing students across Liberia with a book bag, school supplies and a uniform stipend. While the demand for our scholarships is so high that we can't possibly give a scholarship to every deserving student we meet, the Book Bag Drive is one of the ways that we fill the gap so that we are supporting a culture of academic excellence, and acknowledging the significant financial barriers that young people in Liberia face when returning to school. The Book Bag Drive has recognized the perseverance and achievement of more than 3,000 young Liberians since it started.
Unfortunately, the COVID19 pandemic has stopped our annual Peace Through Fair Play children's peacebuilding camp the past two years. We are hopeful that we can update and reconvene this program this year as a way to teach practical conflict resolution skills, community building and civics to the next generation of Liberian leaders.
We continue to train young people in Liberia to be committed to democracy and the peaceful transformation of their communities through our PeaceJam Liberia program. In December, we hosted a PeaceJam Slam, which brought together a total of three hundred and thirty (330) people including students, adult advisors/teachers, mentors, mentor volunteers, volunteers (power house members) workshop facilitators and guests. This years' service-learning project presentation was on the 16-Days of Activism against Sexual & Gender-Based Violence (SGBV) awareness campaign that the PeaceJammers had carried out from November 25 to December 10, 2021.
We continue to work with the women of Liberia to build peace and security for women across the country. Through our Sustain the Peace initiative, we have supported and trained one hundred fifty (150) Peace Brigades from communities in Montserrado, Lofa and Grand Gedeh. The members of the Peace Brigades includes women drawn from all sectors of society: traditional leaders, teachers, health practitioners, civil society actors, traders, farmers, and civil servants. The 150 peace brigades reached out to 5380 women and girls. Peace Brigades conducted weekly door-to-door outreach in one hundred (100) violent-prone communities in Lofa, Montserrado and Grand Gedeh counties. Women created early warning systems by sharing information of any conflict to prevent it from developing into serious violence. The youth were targeted and engaged in discussions about sustaining Liberia's peace. They hosted massive awareness in their respective communities and encouraged partisans from Liberia's leading political parties to have a talk about political differences, while they preached peace messages. The political environment in Liberia is increasingly tense, and it's more important than ever that women and youth have the skills and networks to promote peace and security.
COVID19 prevention and awareness continues to be necessary. GPFA staff, students and volunteers undertook a massive public awareness campaign, speaking to community members about the symptoms of COVID and the health protocols to keep communities safe. The team also distributed thousands of face masks and hand sanitizers.
Thank you to all donors and supporters. We couldn't do this work without you. Thank you for your committment to raising the next generation of peacebuilders and democratic leaders -- for Liberia and for the world!