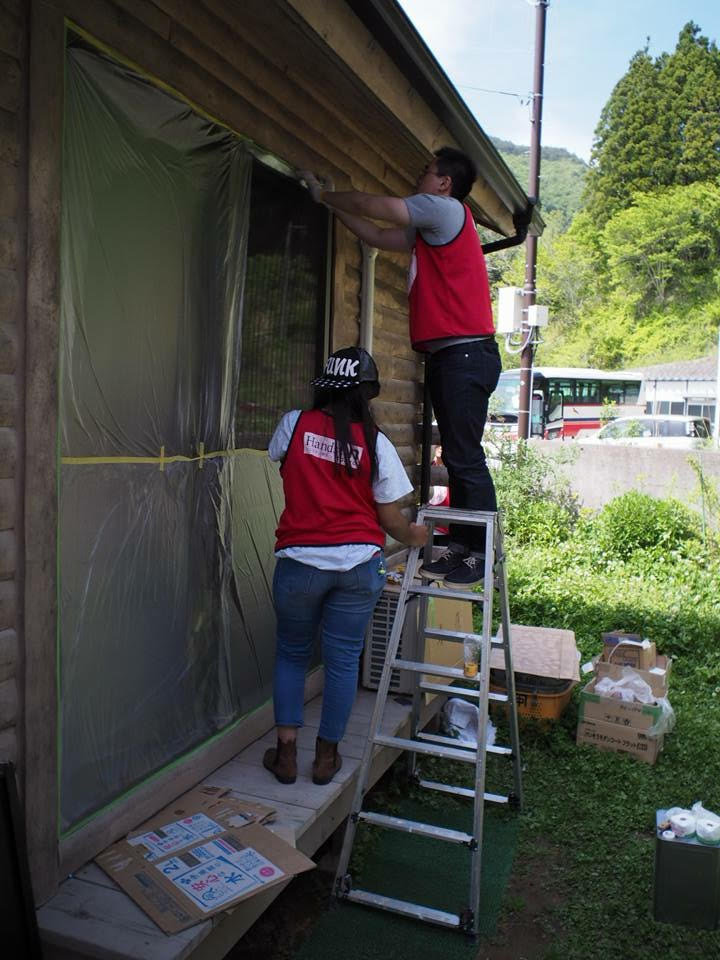 Spring is a very busy time for farmers. They must work very hard to prepare for this year's growing season. Labor shortages continue to make it very hard for local farmers in Tohoku to run their farms and grow their businesses and in turn to further rebuild their lives. Growing rice, vegetables and fruit is very labor intensive and the local farmers cannot do all the work by themselves. With the labor shortages, they need the continued support of volunteers.
With your generous donations, Hands On Tokyo volunteers have been able to continue to support local farmers, Saito-san and his wife, and the New Rice Center (NRC) in Yamamoto-cho in Miyagi Prefecture. The NRC is an agricultural association of local farmers who produce and promote local rice and local produce.
In March, 13 Hands On Tokyo volunteers helped Saito-san and his wife clear hothouses by removing clips and stakes and by pulling out old paprika plants in preparation for this year's growing season.
In April, we took 22 members of the Hands On
Tokyo Club at the American School in Japan (ASIJ). The students helped Saito-san, his wife and the NRC prepare for this year's rice growing season by gathering rice seedlings and setting them up in hothouses so that the rice seedlings can grow a bit before they are planted in the rice fields.
Saito-san and his wife always ask us to convey to everyone who supports our volunteer activities in Tohoku just how much they and the NRC appreciate all the support. What Hands On Tokyo volunteers are able to accomplish in a day would take Saito-san and his wife and other local farmers days to complete.
With your generous support, we will continue to organize volunteer trips to further support Saito-san and his wife, the NRC and others in Tohoku as they continue to work very hard to further rebuild their lives.
This spring we also made three trips to Ogatsu in Miyagi Prefecture. Ogatsu was completely devastated by the tsunami and is where we built the first new permanent building -- the O-link House -- with your generous support and the generous support of the Major League Baseball Players Association and others. The 0-link House is a community center and plays a very important role in connecting and keeping the Ogatsu community together while the infrastructure is still being rebuilt. Former Ogatsu residents regularly travel to Ogatsu to use the O-link House to meet their friends and to hold meetings and classes. It also is a place where local artists can hold exhibits.
In March, 13 Hands On Tokyo volunteers helped weed and plant flowers at the Ogatsu Rose Garden Factory.
The volunteers also helped make 1,000 slate pieces from slate that was salvaged after the tsunami. The slate pieces are being used in an art installation project aimed at conveying the vibrancy and resilience of the Ogatsu community. In April, 22 members of the ASIJ Hands On Tokyo Club helped further prepare the slate pieces for this art installation project.
Now there are only approximately 1,000 people who are part of the local community after factoring in all those who tragically perished in the tsunami and all those who have since moved away. Prior the tsunami, Ogatsu was famous for its slate and slate-making crafts. Each remaining community member is being asked to paint a piece of slate and, once all the pieces are painted, the pieces will be arranged in an art installation conveying the continued strength of the local Ogatsu community. We are very happy to be able to support this project.
A local resident (who founded the Ogatsu Rose Garden Factory after the tsunami so that former residents and visitors would once again see beauty when they first enter the Ogatsu area) kindly conducted a disaster preparedness class for our volunteers who traveled to Ogatsu in March and April.
In May, 11 Hands On Tokyo volunteers helped maintain the O-link House by weeding the lawn and by painting the community center. Being located near the ocean, the O-link House needs to be painted every two years. The volunteers were very happy to be able to paint the O-Link House and the fresh paint provides great encouragement to all members of the Ogatsu community. We are planning to bring more volunteers to Ogatsu over the summer.
In May, the volunteers also made goody bags and decorated baskets filled with cookies handmade and beautifully decorated by volunteers from Moody's Japan in Tokyo. We then delivered the cookie-filled baskets to the Ogatsu Elementary and Middle School Parent Teachers Association so that the PTA could distribute the cookies to all the Ogatsu elementary and middle school children who are waiting for their schools to be rebuilt in Ogatsu.
With your generous support, we will also continue to hold cafes and other events at temporary housing sites and evacuation centers in Tohoku and neighboring areas so long as people are still living in such places.
There is still so much to be done and there are still so many people in need of support and encouragement. Thank you very much in advance for your continued support and for touching the hearts and souls of so many people in Tohoku.