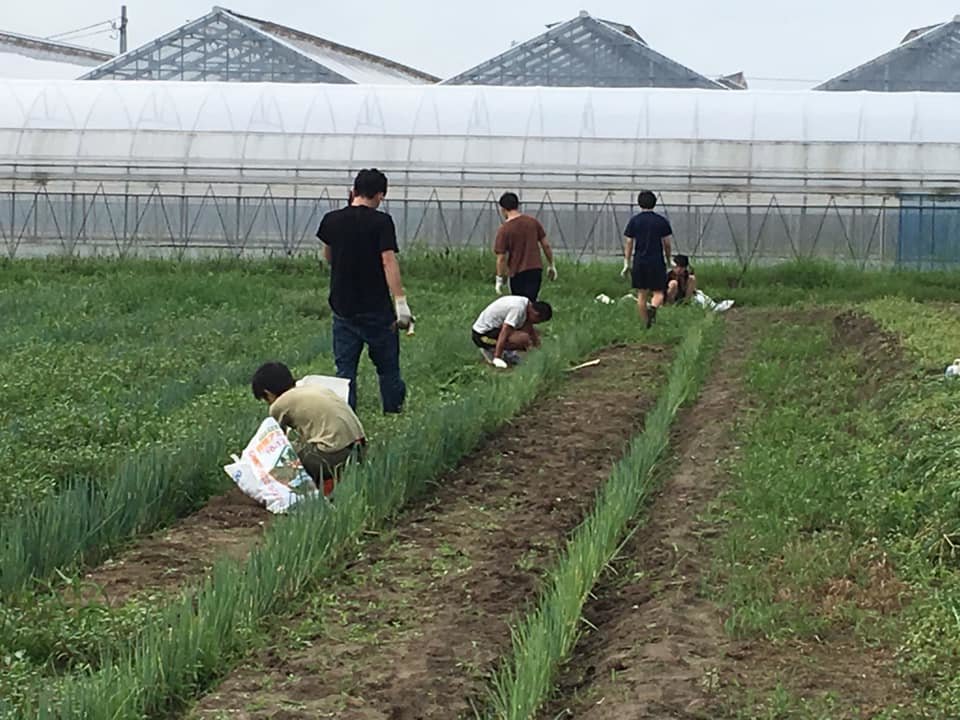 September Greetings!
It is hard to believe that it has been eight and a half years since the devastating earthquake and tsunami along the Tohoku Coastline in Japan. You have helped us assure people in Tohoku that they have not been forgotten as they continue to overcome daily challenges in further rebuilding their lives. Recovery and rebuilding take many years. People are still living in what was originally intended to be temporary housing and there are still significant housing, infrastructure, labor and other shortages in the region. In addition, with the passage of time and the occurrence of devastating natural disasters in other parts of Japan, the number of volunteers going to and the amount of charitable donations being made for Tohoku continue to drop.
Labor shortages throughout Japan continue to make it very hard for local farmers in Tohoku to run their farms and in turn to further rebuild their lives. Many of the local farms are family run with one, two or three family members doing all the work themselves. Growing rice, vegetables and fruit sufficient enough to earn a modest livelihood and to repay the significant debts they incurred after the earthquake and tsunami is very labor intensive and the local farmers cannot do all the work by themselves. They need the continued support of volunteers.
The local farmers always ask us to convey to everyone who supports our volunteer activities in Tohoku just how much they appreciate all the support. What Hands On Tokyo volunteers are able to accomplish in a single day would take the local farmers and their families many days to complete.
Since our last report, we have taken three groups of junior and senior high school students to Tohoku. In August, we made two trips, taking 14 teenage boys and three of their caregivers and 18 junior and senior high school boys and girls and six of their caregivers, from two different Tokyo Area children's homes, to Miyagi Prefecture by bus for three days to volunteer, gain greater confidence and receive natural disaster awareness and preparedness training. Earlier this month, we took 30 senior high school boys and girls and one teacher from a Tokyo Area international school to Miyagi Prefecture by bus for two days to volunteer.
Each group helped Saito-san and his wife in Yamamoto-Cho (Miyagi Prefecture) pull weeds from two negi (Japanese long onion) fields. At first there were so many weeds one could barely see the negi, but gradually one could see more and more negi as the weeds were pulled away. The September trip was just before a powerful typhoon day so the high school students were able to help Saito-san as he built further ground support for the negi.
Ogatsu in Miyagi Prefecture was completely devastated by the tsunami and is still far from being ready for reconstruction and redevelopment.
A local resident built a Rose Garden near the land where her mother perished in the tsunami to calm the souls of those who perished in the tsunami and so that former residents and visitors can once again see beauty when they first enter Ogatsu. It is also a place where families go to grieve the loss of their loved ones in the tsunami. The garden keeps growing every year and now includes a grove of olive trees and a small cafe selling ice cream and homemade baked goods and herbal drinks. The founder now wants to create jobs at the garden through the olive grove and the cafe so that young people will want to work and live in the Ogatsu Area. The garden cannot be maintained without the support of volunteers.
Earlier this month, the 30 senior high school students volunteered at the rose garden by weeding the mounds around each olive tree and by planting hydrangea plants.
The children from the Tokyo Area children's homes also received natural disaster awareness and preparedness training. Saito-san shared his experiences during the tsunami and stressed the importance of taking action to protect oneself by going to the nearest highest ground no matter what others may say. The first group of 14 teenage boys visited Ishinomaki and the Kadonowakicho Area, which had over 4,250 residents prior to the tsunami and was completely washed away by the tsunami. The second group of 18 junior and senior high school students visited Arahama Elementary School near Sendai where the elementary school students, their teachers and some local residents took refuge on the roof of the school while the tsunami tragically washed away the surrounding community. All of the children learned the importance of knowing where to go in the case of an emergency and to take refuge immediately.
Children living in children's homes do not get to enjoy summer holidays with their families like their classmates at school. When Hands On Tokyo takes children from Tokyo Area children's homes to Tohoku for volunteering during the summer holidays, we also include some fun activities for the children. The first group of 14 teenage boys visited Matsushima, one of the three most scenic places in Japan, where they rode a boat around Matsushima Bay, painted wooden kokeshi dolls and played retro games at a local museum. In the evening, at their request, they were able to enjoy fireworks. The second group of 18 children learned a lot about the fishing industry in Ogatsu from local fishermen and the fishermen and their wives taught the children how to prepare sashimi from different types of fish. Then everyone enjoyed a delicious BBQ together. After visiting Arahama Elementary School, the children were also able to enjoy a nearby beach before returning to Tokyo.
These volunteer trips are very impactful on the children and their caregivers. For the children who are the beneficiaries of volunteer activities at their children's homes, these volunteer trips are an opportunity to experience volunteering themselves, to gain new experiences and life skills, and to gain further self confidence. The children greatly appreciate the opportunity and are still benefiting from all that they learned and experienced. Many want to volunteer again and they have encouraged others in their group homes to volunteer in the future. These volunteer trips are also an important opportunity for the caretakers to better understand each child's fullest potential.
There is still so much to be done and there are still many people in need of encouragement and support in Tohoku. With your generous support, we will continue to organize volunteer trips to help farmers and others in Tohoku as they continue to work hard to further rebuild their lives. Before the end of this year, we will organize at least four more of these volunteer trips to Tohoku.
Thank you very much in advance for your continued generosity, for touching the hearts and souls of so many people in Tohoku and for helping provide these life changing volunteer opportunities to so many children living in children's homes, and to other children living, in the Greater Tokyo Area.
Slowly but steadily the road to recovery is being paved.