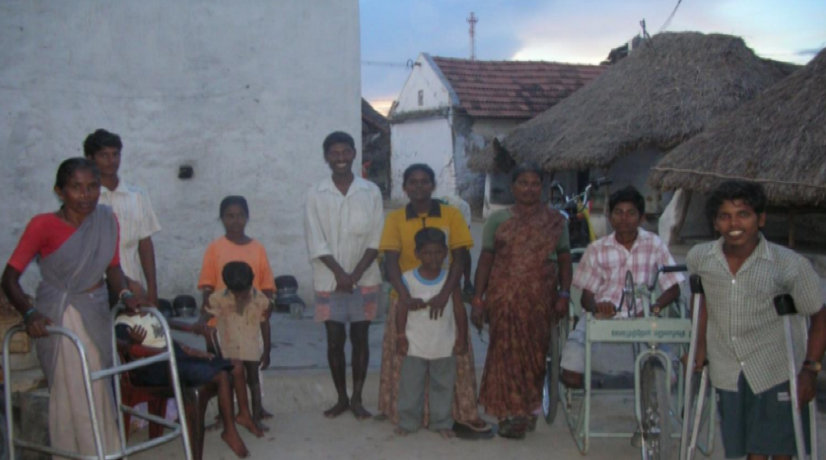 Greetings --
I hope you have been managing ok and staying strong during the pandemic, which has had a devastating effect on Tamil Nadu. Many farmers, roadside vendors and beggars, daily-wage workers -- even sex workers -- have seen their income evaporate, and have been struggling to survive.
Luckily, several generous grants received with the assistance of Friends of the Third World, an awesome response from our GlobalGiving supporters, and the aid of our devoted and heroic volunteers have made it possible for us to provide rice and groceries to feed 900 families in need for a month, and support from local partners further enabled us to provide at least a biscuit and often a hot meal to many more who would have otherwise have had nothing to eat for the day.
For the differently abled and their families, this time has been especially trying, since their options were already severely limited. Because of our outreach efforts to identify these families, our relief efforts were able to include emergency rations for the households of 208 differently abled people in Siruganur, C.R. Palayam, Tirupattur, M.R. Palayam, Sanamangalam, Sridevimangalam, and Maniyakurichi.
Of course there is much left to do, and we have been scrambling to find the funds to do it. Please view our GlobalGiving COVID-19 relief project for more information and an opportunity to donate, if you can.
Although all our staff have been stretched thin trying to keep up, we have not lost sight of problems for the differently abled looming on the horizon. While schools are shut down, children from wealthier families have had the digital resources and parental support to keep from falling too far behind in their studies, but differently abled children from resource-poor families may not have previously even been able to attend school, or had trouble keeping up if they did, widening still further the ever-growing gap between the haves and have-nots.
We know from our outreach that the 120 kids who would be helped by this project -- and in particular the three kids who would be helped by our new microproject -- are just a small fraction of Trichy's differently abled. But helping just one child at a time get ready to attend school when it reopens in the fall is the first step in the never-ending journey towards equal opportunity for all.
We hope you'll join us along the way. Even if you can't do more than just share our project on social media, we are always deeply grateful for whatever help you can offer.
Take care --
Janet Preethi