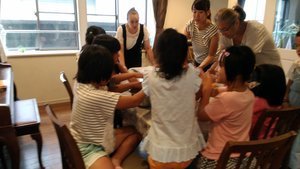 Thank you for your interest in Designing Artists Academy. With your support, we will be offering our 10th anniversary camp for vulnerable children all over Tokyo in August 2019.
Close to 30,000 children live in 603 homes across Japan because they cannot live with their biological parents due to abuse, neglect, poverty, or the inability of parents to financially or emotionally support their children. Due to existing laws that protect the biological parents` rights over their children, adoption in Japan is extremely rare and difficult. For example, in 2016, 3,000 children were separated from their parents. Only 550 children were adopted, while the remaining 2,500 children were assigned to institutions. As a result, most children live in homes their entire lives until they are released from care upon completion of high school. Additionally, once children arrive in the homes, they often are unable to receive as much support as a child who lives in a 2 parent household.
Caregivers within the institutions are incredibly empathetic and have thoroughly invested themselves in their roles. Their tasks range from making meals, staying overnight, helping with homework, and providing support wherever it is needed. However, 1:1 support is very difficult, as most homes have child to staff ratio of 6:1 and frequently higher. As a result of inconsistent support and untreated PTSD, children often experience decreased motivation, lack of confidence, and a distrust of new adults.
To give you a small snapshot, only 15% of institutionalized children complete university course work and they are more susceptible to poverty during adulthood.
In response to these deep societal problems, we founded the Designing Artists Academy 11 years ago. We believe that art is therapeutic, and ultimately leads to a healthy medium to practice self-expression, while working with responsible adult figures.
Through art and unconditionally empathetic mentors, children are introduced to new ways of learning, expression, and most importantly new ways to perceive life. Children are full of potential and we are investing in their development. Throughout the years we have seen visible, immediate impact for the participants.
Using a third-person perspective in conversations has helped some children tremendously. For example, children who initially refused to talk, begin communicating through puppetry and drawings. Other children find comfort in yoga, dancing, storytelling, painting, and cookery. All of these activities and more will be included in this year's camp. As one of the one home staff said,
"The children were able to enjoy various workshops in a relaxing atmosphere, and it was a good experience for us staff members, because through those workshops, we were able to observe the unique character of each of our children."
The 8-day camp will provide artistic workshops for approximately 40 children from 9:00am to 3:00pm. Each session will have a designated mentor who will support and inspire children to challenge themselves in small groups. Every day, children will try new art mediums in the morning, followed by lunch, and in the afternoon they will self-select a session. The camp culminates in an art exhibition open to the public with the theme `Stories of Tokyo: kids exhibit the heART of their city', giving children a chance to showcase their accomplishments over the 8-day camp.
We hope that you consider an investment in Designing Artists Academy 2019. Your donation will directly influence vulnerable children`s education and emotional development. We look forward to posting more information as planning comes into full swing, and thank you for your consideration and support.