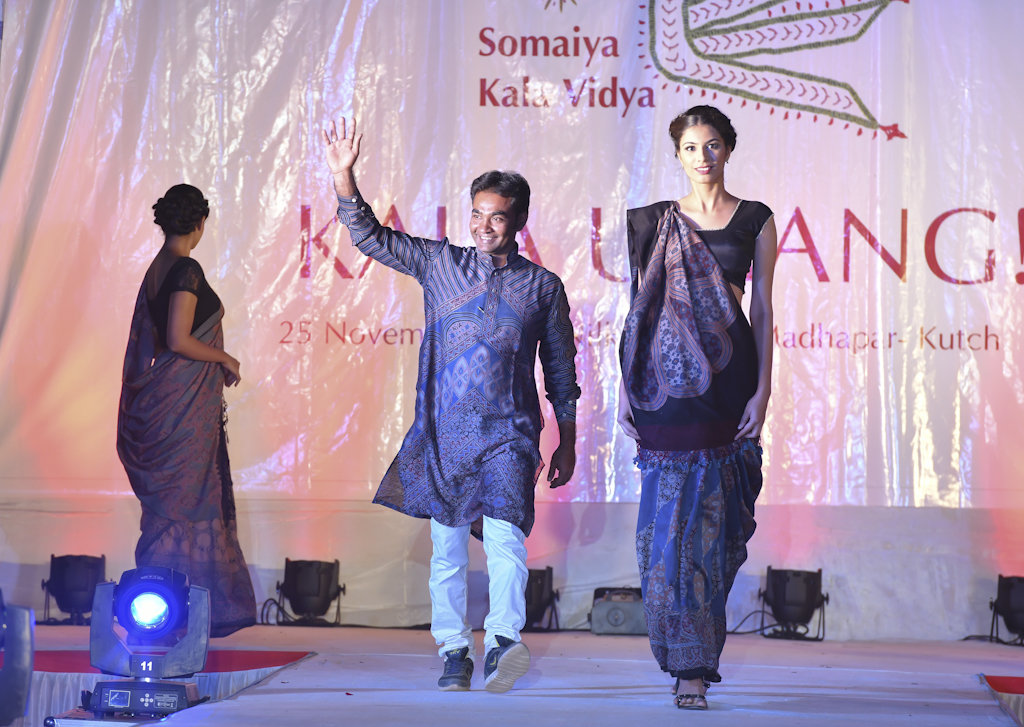 SOMAIYA KALA VIDYA
PROJECT REPORT
17 SEPTEMBER- 15 DECEMBER 2017
Somaiya Kala Vidya is an institution for traditional artisans of Kutch, India. Combining over fifty years' experience of Somaiya Vidyavihar with ten years of design education for artisans, it offers sustained, coherent programs in design and business to provide effective, relevant and practical education. SKV honors and incorporates existing traditions. Its advisors are Master Artisans. Its faculty includes national and international educators. SKV offers workshops to the world and courses in craft traditions taught by artisan designers. Artisan-to-Artisan outreach programs demonstrate the importance of education for artisans, and generate awareness and motivation to build a movement of Design Craft.
EDUCATION FOR ARTISANS
DESIGN FOR ARTISANS COURSE 2017
Education for artisans is SKV's reason for being. The class of 2017 completed their design education journey on 25 November 2017. Ten weavers, Ajrakh printers and bandhani artisans made huge strides toward creation of hand crafted products of excellent quality in design and technique. During this period, the artisan designers tested their new collections in the Ahmedabad market- with shining success! Despite concern over newly imposed tax regulations, the sales were high and customers much appreciated the fresh designs.
The students analyzed their experience in a two-day workshop, and graduated with grace, presenting their collections in of the best fashion shows ever.
KALA UMANG! 2017
The Somaiya Kala Vidya Convocation and Fashion show
SKV Trustees and Advisors inaugurated this year's event, generously sponsored by Tata Trusts, Good Earth, Somaiya Vidyavihar and K.J. Somaiya Gujarat Trust. Governing Council member Irfan Khatri and BMA graduate Tulsi Puvar were among speakers.
Chief Guest William Bissell, Managing Director of Fabindia, presented student certificates. Three of this year's awards went to Khalid Usman Khatri- Best Collection, Best Student and Highest sales in Ahmedabad. Dilip Dahyalal Kudecha received the award for Most Marketable Collection. Zaeem Mustakahmad Khatri was awarded for Best Presentation. Mitesh Manji Sanjot received the award for Most Promising Artisan. Shyamji Dhanji Mangaria received a jury Special Mention award for his excellence in weaving.
Mr. Bissell gave the keynote address, and also inaugurated the fashion show.
The collections were styled by this year's MSU interns, as well as Governing Council Member Lokesh Ghai and his students from NIFT Gandhinagar. Creatively draped and simply stitched garments exemplified sustainable craft-based fashion. Mr. Bissell was impressed with where craft had reached under SKV direction!
OUTREACH -BHUJODI TO BAGALKOT/ FARADI TO LUCKNOW
Somaiya Kala Vidya Artisan-to-Artisan outreach programs share the benefits of artisan education. Artisan Designer graduates work with artisans in less exposed areas- as a kick-start to demonstrate that innovation in traditions, and design education are beneficial. The Bagalkot team, after a successful exhibition in Chennai in September, is confidently venturing into markets on their own. Their collection and those of mentors Niteshbhai and Puroshottambhai, were showcased in the Kala Umang! fashion show.
INSTITUTIONAL DEVELOPMENT & CO-DESIGN
SKV is happy to be at the forefront in developing co-design, a concept gaining interest in mainstream design institutes. The second phase of the SKV- University of Wisconsin Madison collaboration, launched on 14 September 2017, culminated in a collection of co-designed stoles. Each participating SKV artisan designer showcased one stole in Kala Umang! The collection will be presented at a fashion show at UW Madison in April as well.
SKV WORKSHOPS, COURSES,
--AND NOW OPEN STUDIO TOURS TO THE WORLD
Since its inception, SKV has been raising awareness and value for artisans' traditional knowledge and skills by conducting workshops and courses taught by artisan designer faculty. Immediately following the convocation, graduate Khalid Usman taught visitors from Netherlands the nuances of block printing with natural dyes. On 4 December, Somaiya Kala Vidya coordinated a workshop for 23 students and 2 faculty from Srishti Institute of Art, Design and Technology, taught by Khalid Usman, Irfan Anwar, Soyab AKT, and Khalid Amin. All participants were delighted with what they learned in a day.
In November SKV launched Open Studio Tours in Bhujodi and Ajrakhpur. The tours provide visitors with an in-depth glimpse of not only a tradition, but also the range of individual interpretations and innovations. Open Studio Tours have been listed for an Outlook award in Responsible Tourism.
Participants in workshops, courses and tours learn the richness of living traditions. And proceeds support SKV programs, insuring financial as well as cultural sustainability.
Workshops and courses can be arranged on demand. Open Studio Tours for 2018 are on 5-6 January and 9-10 February 2018
For more information contact judy.kalavidya@somaiya.org.
STAFF AND ALUMNI NEWS
In November, SKV Founder Director Judy Frater was invited to speak at Tinkuy, a gathering of weavers in Cusco, Peru, on the topic, Empowerment of Artisans through Design Education. The focus was on women, and as one of our shining examples of women empowerment is Zakiyaben Khatri, Frater nominated Zakiyaben to speak as well. Zakiya stole the show, bringing a spontaneous round of applause when she said, "Education is everything." The audience of weavers from Latin America and beyond, listening to simultaneous translations of talks by other artisans as well as renowned scholars was inspiring. The trip was a wonderful chance to connect to new cultures and experience an amazing environment.
SKV IN PRINT, OUTLOUD AND ONLINE
In November 2017 Meher Castelino published the article, "From Artisans to Brands," in Fibre2Fashion online Magazine. Meher was a member of this year's final jury.
Browse the SKV website.
Learn more about our work on our facebook page.
For a discussion on issues of art and artisan, follow Judy Frater's blog
DESIGN CRAFT
The Somaiya Agencies's innovative business to complement SKV's educational programs, Design Craft, offers a juried selection of artisan designed and created textiles, bringing the best in contemporary craft to one platform. It provides artisan designers with a great opportunity to present their brands, under their own labels, and it will fund SKV's education for traditional artisans with the profits from sales. Currently, 56 artisan designers are represented.
You can meet the Design Craft artisans on the SKV website. We welcome you to log onto www.somaiya-kalavidya.org. Under Design Craft you will find a map, and profiles of each of the artisan designers. A work of art in itself, the map with artisan designer logos is also available in hard copy.
Design Craft's flagship shop is located in Somaiya Bhavan, 45-47, Mahatma Gandhi Road, Post Box No.384, Fort, Mumbai. Phone : +91-22 61702273.
DATES FOR YOUR DIARY
11-22 January- meet the class of 2017 at Dastkar's Design Fair, New Delhi
15 January 2018- launch of the SKV Design Class of 2018
SKV GOVERNING COUNCIL AND ADVISORS
SKV's Governing Council includes Shri Samir Somaiya, Amritaben Somaiya, Mitenbhai Sachade, Judy Frater, Anjana Somany, Lokesh Ghai, and Irfan Anwar Khatri.
The institute is also advised by a team of visionary Master Artisans, who guide us in honouring and nurturing textile traditions: Ali Mohammed Isha -bandhani artist, Bhuj, Umar Farouk Khatri- bandhani artist, Bhadli, Dr. Ismail Mohammed Khatri - block printer, Ajrakhpur, Gulam Hussain Umar -bandhani artist, Bhuj, and Shyamji Vishramji Siju- weaver, Bhujodi.
THANKS TO GLOBALGIVING!
On 13 March 2017 SKV posted a project on GlobalGiving. GlobalGiving makes donation easy. To kick off our project, we met a challenge by raising US$ 6,563 from 43 donors, in March. This greatly encouraged Somaiya Kala Vidya and also increased our visibility immensely. This November, for Giving Tuesday, we raised nearly $2,000-- two scholarships for this sincere and talented artisan students.
LOOKING AHEAD
The class of 2017 is now busily producing collections for the prestigious Dastkar Design Fair in Delhi in January. Our artisan designer ambassadors will help to demonstrate that design education makes a difference, and to develop the value of artisan design. And as this report goes to press, a record number of applicants for the class of 2018 are waiting in the wings.
Opportunities are coming to SKV, and with them responsibilities. We now look to insuring that there will be an appropriate market to showcase the higher level of craft that our graduates have achieved in order to create a sustainable future for craft traditions.
"Be the change that you wish to see in the world."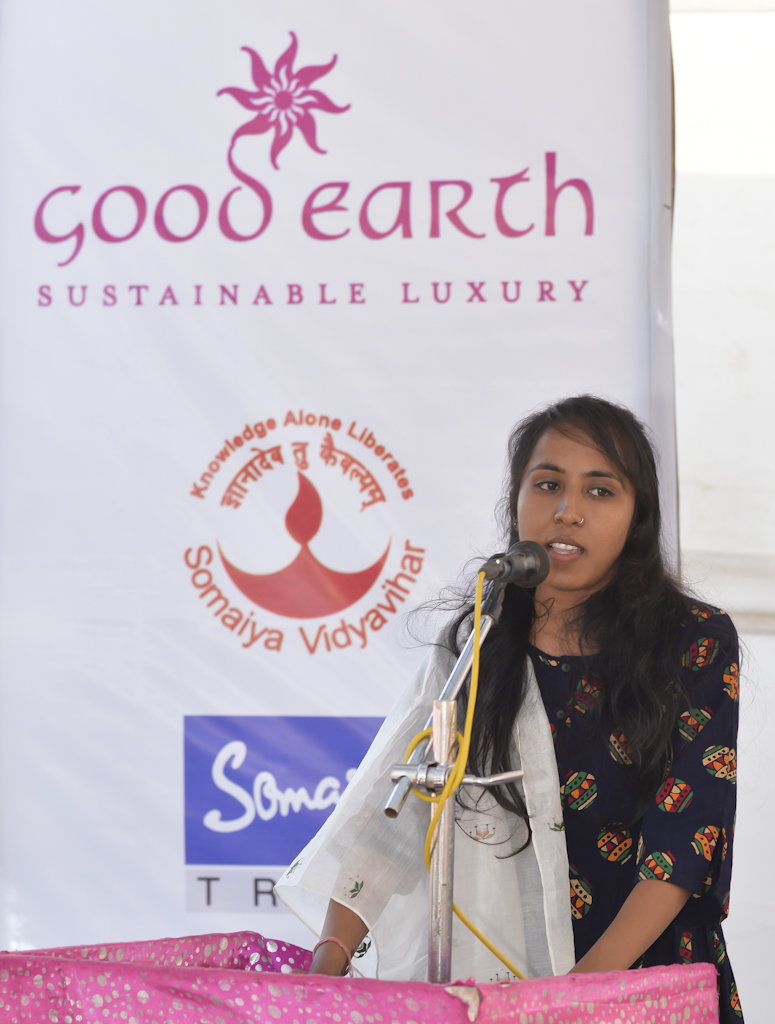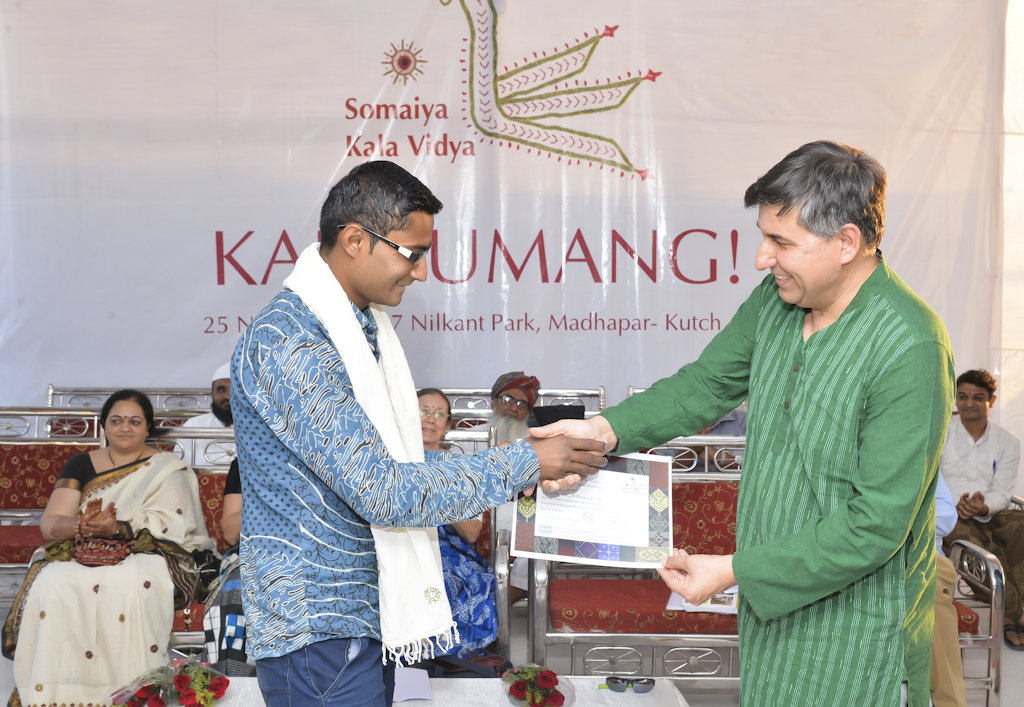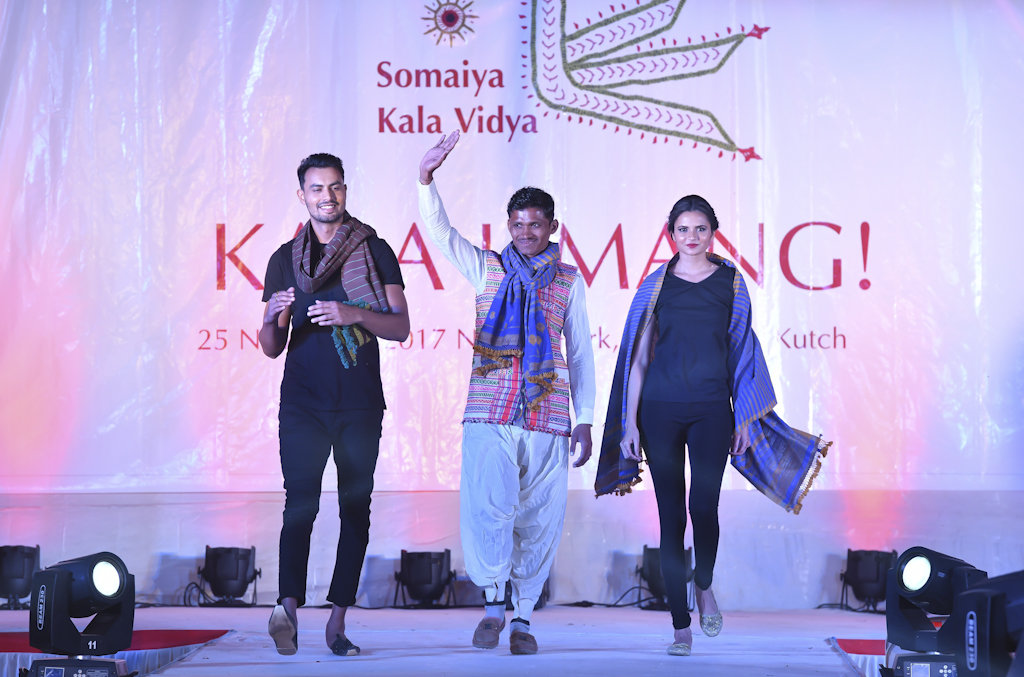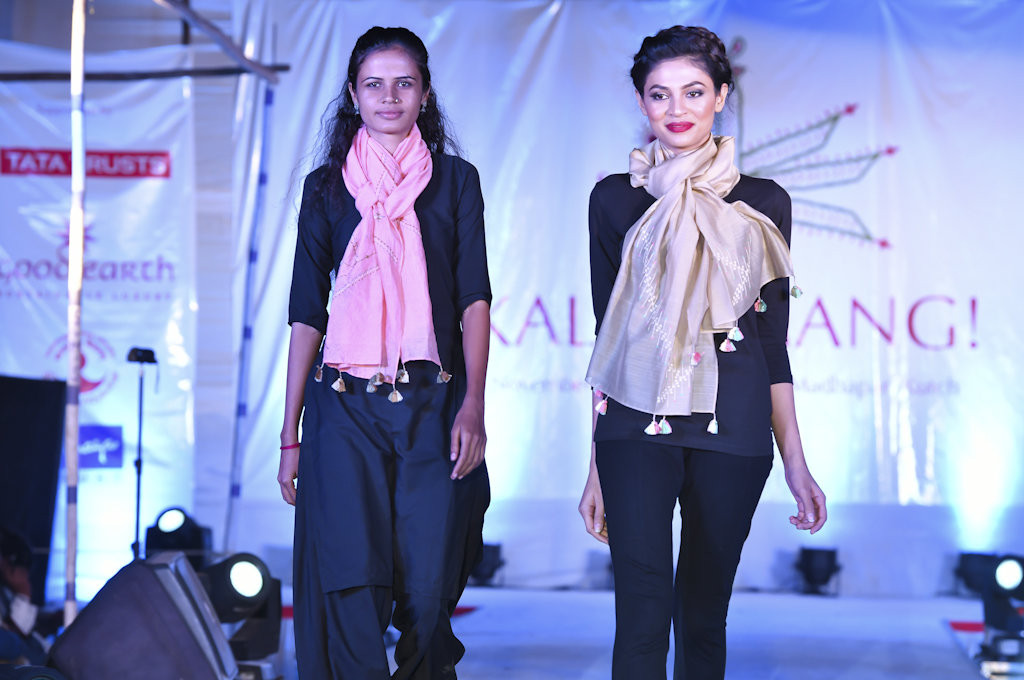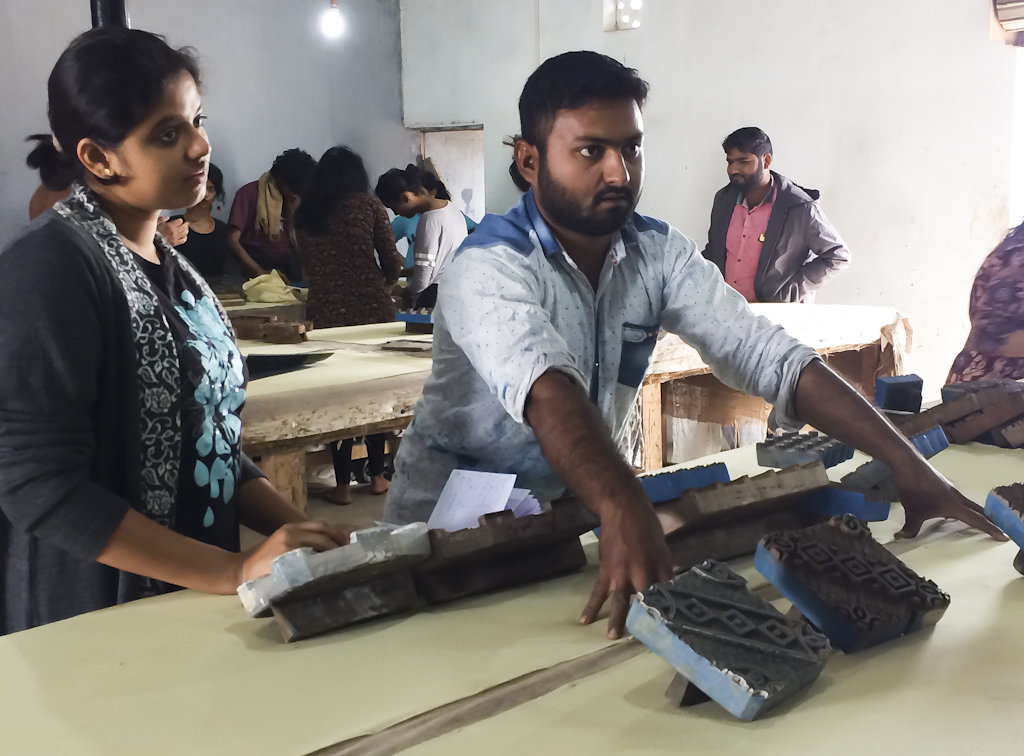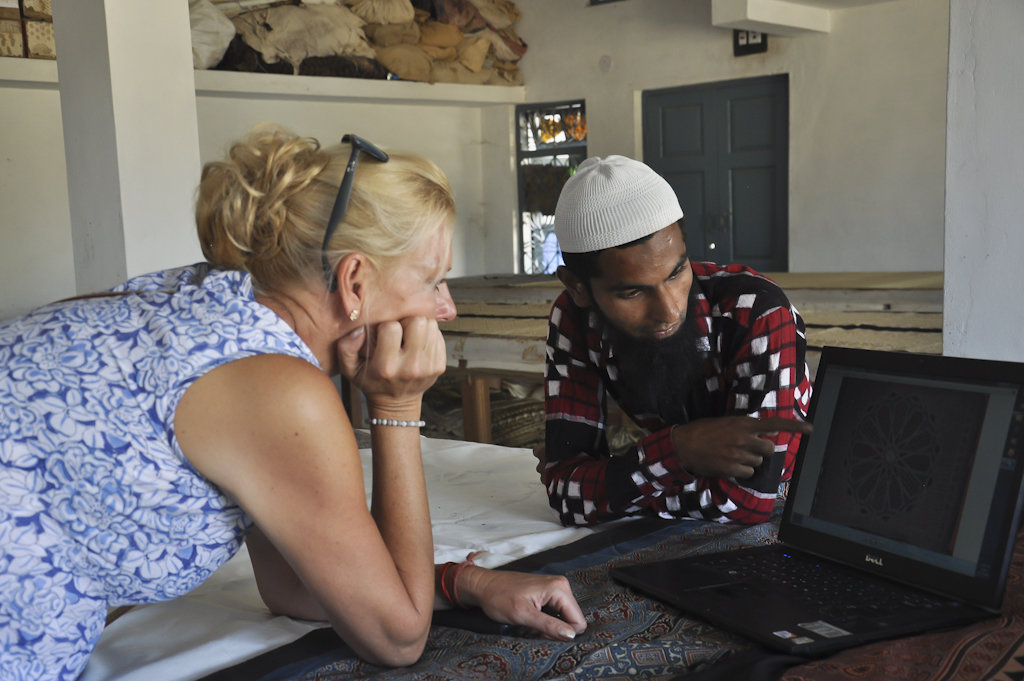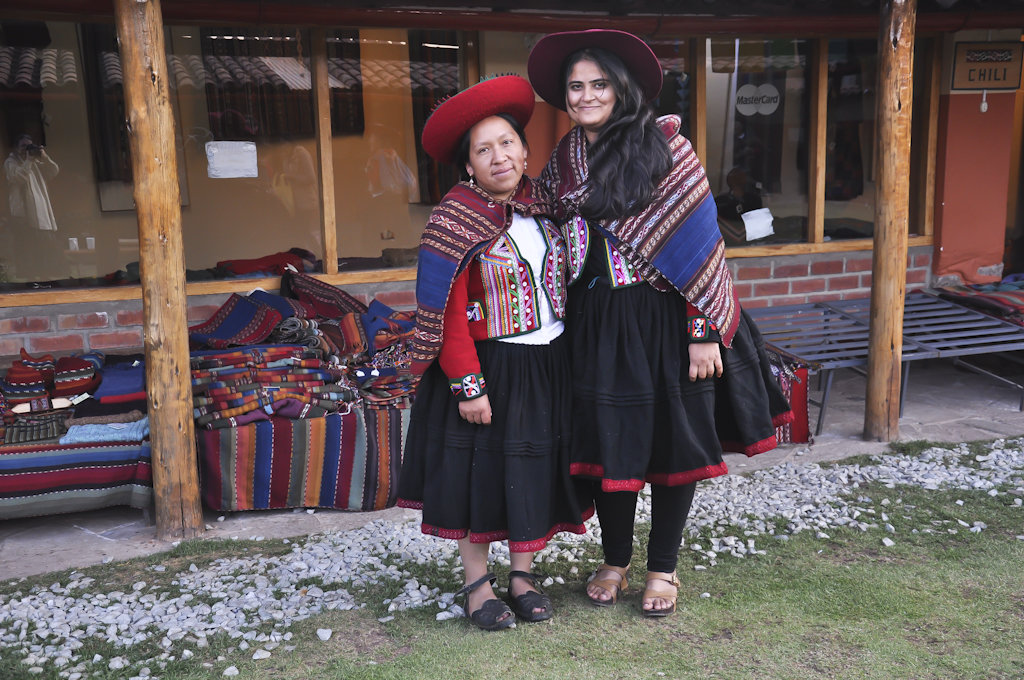 Links:
Attachments: