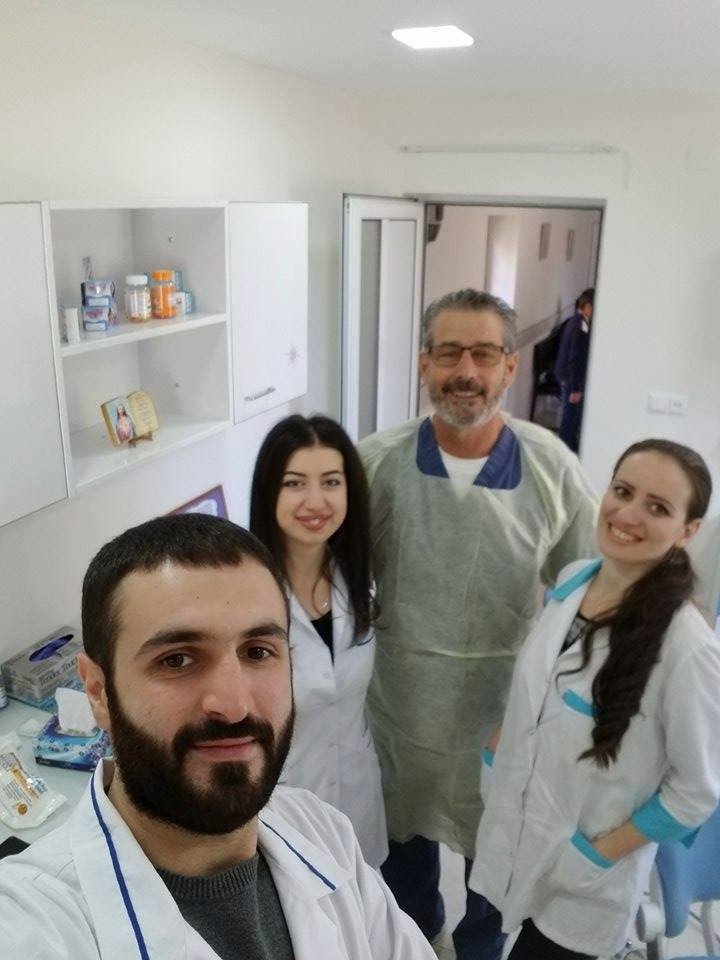 Dental Professionals from Fresno and Armenia Volunteer at SOAR Dental Care Clinics and Provide Much Needed Support and Services.
Providing quality dental care to the institutionalized and otherwise underprivileged children is at the heart of SOAR's dental campaign!
Submitted by Kohar Mardirossian Pelter and George Yacoubian Jr. -Project leaders
In a recent speech, super star and human rights advocate, Angelina Jolie said: "Nothing would mean anything if I didn't have a life of use to others."
Arpine Petrosyan was diagnosed with cerebral palsy at birth. She cannot speak or communicate. She is one of the 4 children to a single mother, Narine, who struggles to take care of Arpine and her other children. They live in a village in Armenia, in severely poor conditions, where dental services are non-existent. With poor dental health, Arpine, like many children throughout Armenia, is at a very high risk of extensive health problems, malnutrition, infections, and a wide spectrum of debilitating illnesses. Arpine and her siblings are young and full of hope. However, the dim reality of their lives awakens them to pain, suffering, and extreme poverty. Under the grip of destitution live many children and families in Gyumri and across Armenia. Struggling to find food, water, and medicine, oral hygiene is nonexistent for them.
Such stories form the norm of the population. Many Armenians live in makeshift homes and "domiks," metal houses. In the outskirts of Gyumri, Arpine lives a very harsh life, with no running water, no electricity, and dental health care.
Recognizing these conditions are so prevalent, SOAR built a Dental Clinic in Gyumri (Spitak region), Kharberd orphanage (near Yerevan), and at the Our Lady of Armenia (OLA) summer camp (in Tsaghgadzor) to provide free dental care to all of its community members. Thanks to Global Giving Campaigns and its kind supporters, that dream came true in March of 2016. Providing quality dental care to the institutionalized and otherwise underprivileged children is at the heart of SOAR's dental campaign. At the SOAR dental clinic in Gyumri, hundreds of patients receive free care by licensed dentists, interns, and hygienists.
In October 2017, SOAR-Fresno cooperated with two dentists who travelled to Armenia to provide dental care at the SOAR-supported clinics. More than 150 children with special needs in "Children's Home of Gyumri" and "Emil Aregak" were assisted by Ronald Sani, D.D.S. , Liza Mkrtchyan and Arman Gevorgyan, students of Yerevan State Medical University Dental Department volunteered to assist the dentists while at the same time gaining added training in dental care.
Arpine and her family were ecstatic about the care! Their mother, Narine, was very thankful for this unique opportunity. This is "handful kindness" to my kids provided by SOAR.
Throughout the summer, more than 820 children received dental services at the Tsaghgadzor camp.
Another dentist, Dr. Vache Vasilyan, visited Kharberd Orphanage where SOAR has previously constructed a dental suite and examined children with disabilities. More than 44 kids in Kharberd residential care facility received corresponding cavity and teeth treatment.
In addition to providing services, the volunteers raised funds and brought dental instruments with them to the SOAR Dental Clinic in Gyumri and Kharberd Dental Suite.
In the footsteps of inspiring acts of advocacy and giving, like Angelina Jolie, let's make our lives meaningful by making a greater impact on the lives of others. We are grateful for generous donors like you. Together, we are making a difference!
Your support has made it possible for Armenia's orphans and elderly to receive regular, oral health screenings and treatment by qualified dental health professionals. Your support realized the dental care in Gyumri, Kharberd, Tsaghgadzor, and remote regions of Armenia! During this Holiday Season, give what you can to relieve pain and suffering and to foster a smile on the faces of the less fortunate.
Your tax-deductible donations are accepted through the Global Giving Dental Care Campaign for Orphans (https://www.globalgiving.org/projects/dental-care-clinics-for-orphans-in-armenia). No amount is too small. Imagine what your continued support can bring to the poorest populations in Armenia!
Thank you!