Project Report

| Aug 20, 2015
Our Lady of Armenia (OLA) Dental Clinic for Orphans Progress Report
By Kohar Pelter and George Yacoubian Jr | Project Leader and SOAR Executive Chairman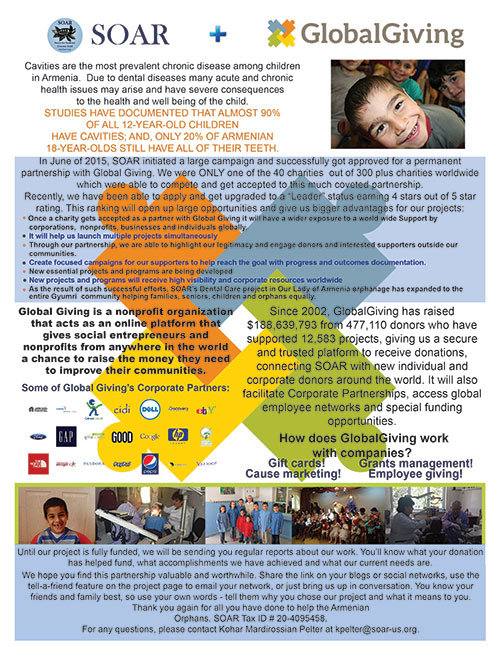 Global Giving Progress Report – August 2015
The Our Lady of Armenia (OLA) Center Dental Clinic for Orphans and Gyumri Community at Large
Cavities are the most prevalent chronic disease among children in Armenia. Almost 90% of all 12-year-old children in Armenia have cavities, and only 20% of Armenian 18-year-olds still have all of their teeth.
In June of 2015, SOAR initiated an application to enter the Global Giving June challenge and became a permanent partner, raising approximately $6,000 through Global Giving Dental Care campaign to support the construction of a dental clinic at the Our Lady of Armenia (OLA) Center in Gyumri, Armenia. Since then, SOAR has been upgraded from partner to leader status by Global Giving.
The OLA Center is a private orphanage in Gyumri, Armenia, housing approximately 45 girls between the ages of 6 and 18. The Center is operated by the Armenian Sisters of the Immaculate Conception, a religious order of nuns established in 1847. The Superior of the Center is Sister Arousiag Sajonian. "For nearly 25 years Gyumri has been burdened by an insufficient investment in dental care. Today, with the help of a joint effort by the Society for Orphaned Armenian Relief (SOAR), and Global Giving, we can soon offer sustained dental services to the most vulnerable citizens of Gyumri: orphaned children, senior citizens, and the poor," says Sister Arousiag.
SOAR is taking a comprehensive approach for the construction and maintenance of the Dental Clinic in Gyumri by:
Developing an informational flyer to educate SOAR supporters and donors on Global Giving and our partnership.
Identifying the location of the dental clinic on site at OLA. The Dental Clinic will be constructed on OLA Center grounds in Gyumri and will serve approximately 2,000 patients annually.
The orphaned children at the OLA center;
The orphaned and otherwise at-risk children from other institutions in Gyumri: Children's Home of Gyumri; Gyumri Social Childcare Center; the orphanage of Fridtjof Nansen, and Terchoonian Home.
The elderly who receive services through the OLA Senior Center; and,
The greater Gyumri community. With a population of approximately 125,000, Gyumri is the second largest city in Armenia

and the capital of the Shirak province

in the northwestern part of the country. Once a thriving center of art and culture, the earthquake of 1988 had a disastrous impact on the city. To this day, Gyumri has not recovered, with a majority of residents living in relative poverty.
3. Forming an advisory group of dentists and dental professionals to oversee the project and advise the personnel
at OLA. They will coordinate all volunteer professionals traveling to man the clinic.
4. Establishing a timeline for project completion:
August 2015: Beginning phases of construction
September-October 2015: Construction and renovation
October 2015: Dedication ceremony
5. Executing a contract for construction (see attached).
Attachments: Informational flyer for donors and SOAR supporters
Photos of the future clinic site
Photos of children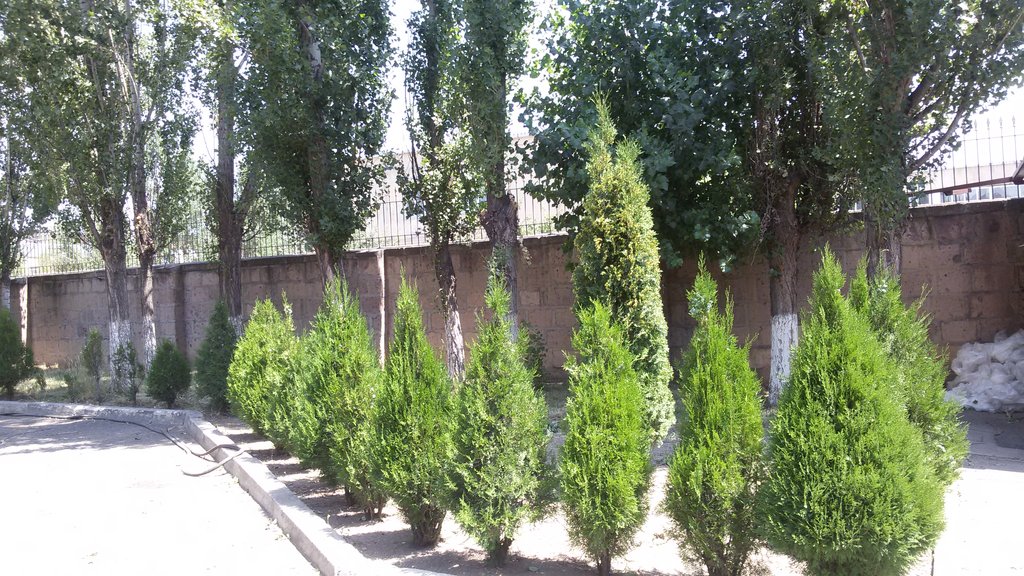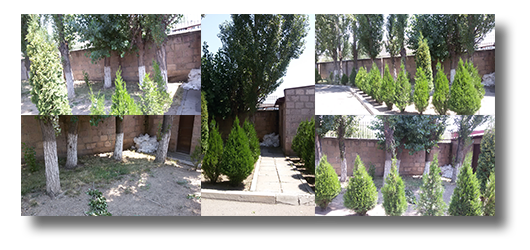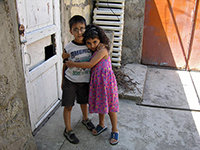 Links: