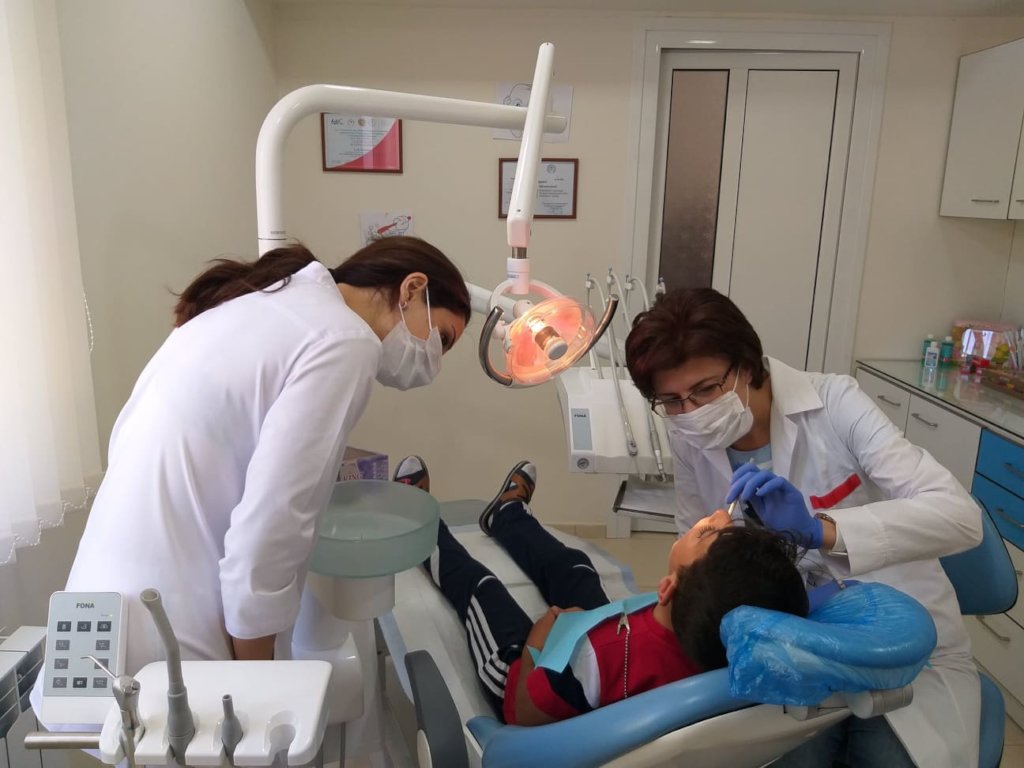 Cavities are the most prevalent chronic disease among children in Armenia. Empirical studies have documented that: 1) the average 5-year old child in Armenia has eight decayed, missing or filled primary teeth; 2) between the ages of 14 and 17 years old, the average child continues to experience dental decay at the rate of one permanent tooth per year; 3) almost 90% of all 12-year-old children in Armenia have cavities; and, 4) only 20% of Armenian 18-year-olds still have all of their teeth. Unquestionably, dental hygiene problems are more problematic among institutionalized children.
To address these dental issues, SOAR's Dental Fund was created in September 2015 and is overseen by a team of dental experts. The Fund has three primary components:
1. Dental clinic construction. SOAR constructs and outfits dental suites and clinics to offer the orphaned children in Armenia consistent and quality access to dental care. A dental suite was renovated at Kharberd Orphanage and a dental clinic was constructed at the Our Lady of Armenia (OLA) Center in Gyumri. The Gyumri Clinic provides free dental services to the elderly and all orphaned children free of charge.
2. Recruiting dental professionals to volunteer at the OLA Summer Camp. The OLA Camp is held in Tsaghgadzor annually for approximately 12 weeks. During each of four (4) 16-day sessions, approximately 200 orphaned and otherwise underprivileged children visit the Camp. Overseen by SOAR-Detroit, we actively seek dentists and dental assistants who are able to volunteer for at least one week each summer.
3. Procure dental supplies. Our Dental Fund experts identify outlets for humanitarian donations of dental supplies. When appropriate, these goods are procured and shipped to Armenia.
Between September and November 2019, SOAR's Dental Clinic in Gyumri provided services to 202 children from Gyumri Social Childcare Center, Little Prince, the Our Lady of Armenia Center, Orphanage of Fridtjof Nansen, and the greater Gyumri community. A relative even distribution of patients by gender was appreciated. Most of the children were seen for basic treatments (cleanings), although there were also several extractions.
Links: