By Kohar M. Pelter and George Yacoubian, Jr, | Project Leaders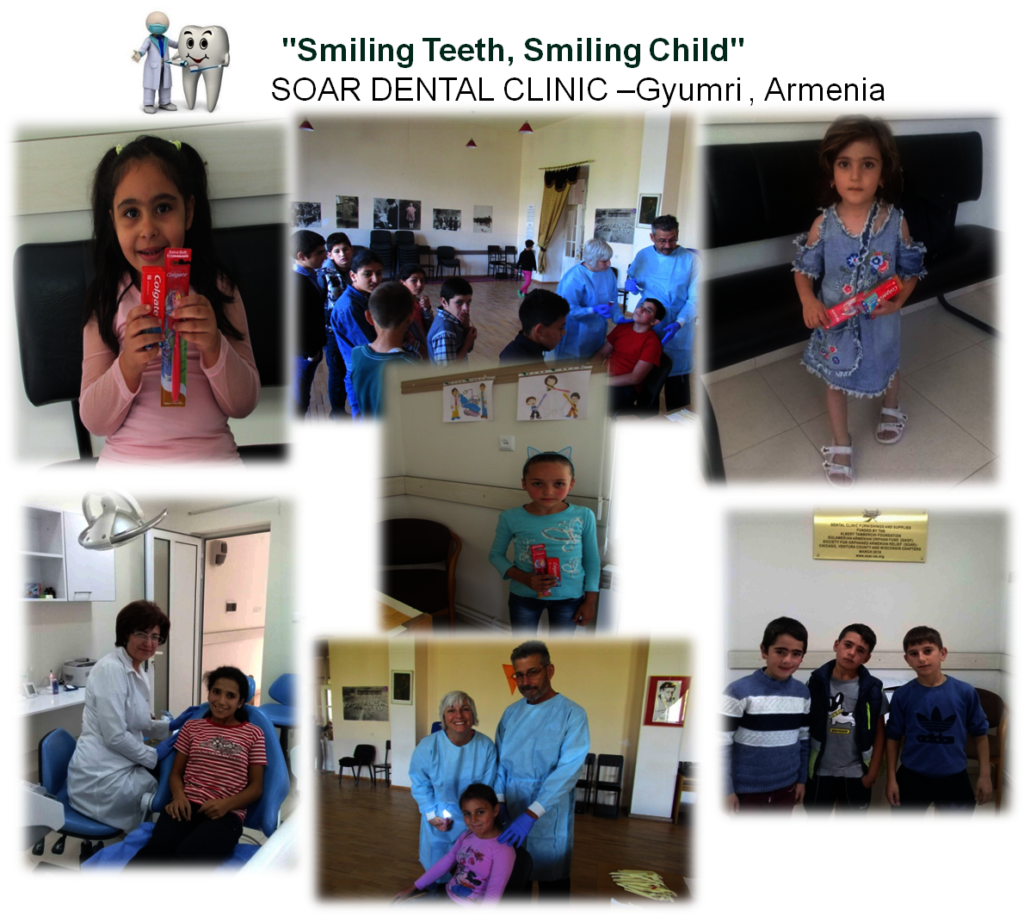 "Smiling Teeth, Smiling Child"
SOAR DENTAL CLINIC THANKS YOU FOR MAKING A DIFFERENCE IN THE HEALTH OF THE CHILDREN IN ARMENIA!
Providing quality dental care to the institutionalized and otherwise underprivileged children is at the heart of SOAR's dental campaign.
In the footsteps of inspiring acts of advocacy and giving, let's make our lives meaningful by making a greater impact on the lives of others.
Submitted by Kohar Mardirossian Pelter and George Yacoubian Jr. -Project leaders
Throughout 2018, SOAR Dental Care program at OLA, in Gyumri, continued to provide preventative and therapeutic dental care to impoverished and orphaned children of Gyumri and the surrounding communities and institutions. Providing dental care program sends a message that oral health is very important for health and well beign and it is to be valued.
Taking into consideration that State-supported dental service is no longer free of charge for kids, the role of SOAR dental clinic in the community is of the utmost importance in providing primary care and in keeping the children's teeth healthy. It is also essential in the prevention and/ or treatment of early onset of tooth decay, tooth loss, and subsequent gum and oral diseases. The dental clinic, as needed, also provides toothbrush and toothpaste, necessary vitamins that help kids to have healthy tooth and gums. The main component of the program is the education of the public and children on their oral hygiene, how to clean their teeth and for regular check-ups by the dentist.
In September 2018, the SOAR Dental Care staff conducted visits to remote village areas, organized examination of the children's teeth for dental problems and set up appointments. Also, a preliminary visit to "Trchunyan Home" orphanage was carried out resulting in the creation of a schedule of dental care visits to that facility. Since the facility is about 8 km away from the Dental clinic, SOAR will also provide full transportation to the children for their regular visits.
SOAR Dental Clinic also hosted, in its ongoing partnership with Fresno Medical Mission Armenia Program, Dr. Ronald Sunny and his wife Michel Sunny from October 1 to October 4 of 2018.
SOAR Dental Care program has had a great impact for the children of Armenia. The total number for children treated in 2018 is 617 children from orphanages, child protection services, day care institutions and impoverished families at risk. The program's target population of the clinic is children from Gyumri social centers, boarding schools and orphanages but because the other clinics are private and people cannot afford the cost of dental care, SOAR has also treated many children from different communities, schools and surrounding villages. These children are from families who receive monthly government support and poverty benefits.
In 2019, SOAR Dental Care program will also reach out to the most vulnerable neighboring villages where there is no dental care available for the population.The first targeted villages will include: Akhurik, Arapi, Voskehask, Haykavan and Gharibjanyan.
In addition, there has been an urgent need to treat children with special needs (Down syndrome, cerebral palsy etc.) who would require general anesthesia for any dental procedures and treatments. However, since SOAR dental clinic does not provide general anesthesia in its clinic, an agreement has been reached with "Beglarian Dental Service" in Yerevan and with Dr. Astine Hakobyan to refer these children for evaluation and treatments.
Visiting dentists who have volunteered at the clinic, offer the children the chance to have all the dental treatment they need – including cleanings, x-rays and filling (for cavities), provision of vitamins and supplements necessary for gum and enamel health. However, with the increased number of children and families seeking to receive treatments at the clinic, there has been the overwhelming need for a permanent dentist to provide professional services at the clinic. This makes the role of "SOAR Dental Care Program" Armenia's institutions and villages, very crucial for the most disadvantaged children and families in these communities! To continue our efforts in reaching out to the poor and the orphaned children, WE NEED YOUR HELP! You can help make a difference and change the course of this endemic crisis! The funds will be used to obtain equipment, materials and other much needed operational items.
We THANK YOU from the bottom of our hearts for your past support of 2018 and which has made it possible for Armenia's orphans to receive regular, oral health screenings and treatment by qualified dental health professionals. You made it possible to build and operate the dental clinics in Gyumri, Tsaghgadzor, and remote regions of Armenia!
We are grateful for generous donors like you. No amount is too small. Imagine what your continued support can bring to the poorest populations in Armenia!
In this Holiday Season, give what you can to relieve pain and suffering and to foster a smile on the faces of the less fortunate!Together, we are making a difference! Your tax-deductible donations are accepted through the Global Giving Dental Care Campaign for Orphans (https://www.globalgiving.org/projects/dental-care-clinics-for-orphans-in-armenia).