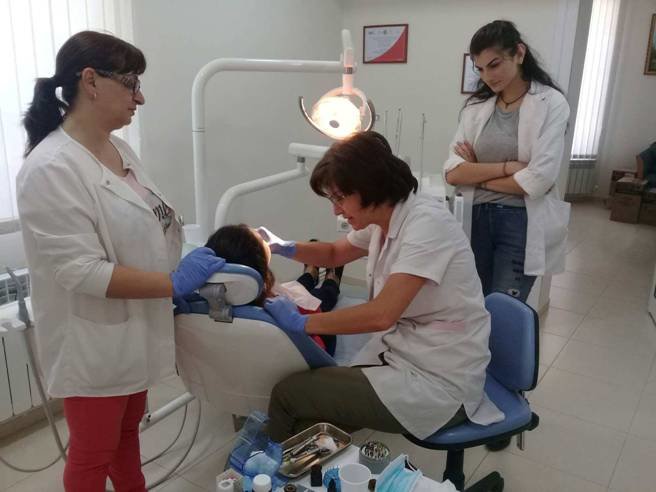 "Smiling Teeth, Smiling Child"
SOAR DENTAL CLINIC: Gyumri, Ani District & OLA Tsaghgadzor Summer Camp August, 2018
Providing quality dental care to the institutionalized and otherwise underprivileged children is at the heart of SOAR's dental campaign.
In the footsteps of inspiring acts of advocacy and giving, let's make our lives meaningful by making a greater impact on the lives of others.
Submitted by Kohar Mardirossian Pelter and George Yacoubian Jr. -Project leaders
On July 15, 2018, Our Lady of Armenia summer camp in Tsaghgadzor celebrated its 25 years of helping orphaned, needy and destitute children in physical, psychosocial and education needs. But it was in 2016 that thanks to SOAR sponsored dental clinic much awareness was raised and support for the dental care for the children; an aspect of healthcare that has not been in focus has been provided.
"SOAR Dental Care Program" was extended in 2016, to the Our Lady of Armenia summer camp in the Tsaghgadzor mountains where each year from July till end of September over 815 children are gathered from the poorest villages and regions of Armenia, the Republic of Nagorno-Karabakh (Artsakh) and Southern Georgia (Javakh) to receive adequate nutrition, hygiene, medicine and medical exams (including vaccinations), summer recreational activities, rest and especially dental care. In 2017, 95 children from the Tashir region which is one of the poorest regions in Armenia were also brought to Tsaghgadzor to receive SOAR dental care. Dental services have been offered by the caring and professional work of volunteer dentists from Paris-UMAF (France) and SOAR (USA). These special volunteers worked tirelessly to treat the children who come to the camp or to the OLA based clinics to get dental screening, and treatments.
Taking into consideration that State-supported dental service is no longer free of charge for kids, the role of SOAR dental clinic in the community is of the utmost importance in providing primary care and in keeping the children's teeth healthy. It is also essential in the prevention and/ or treatment of early onset tooth decay, tooth loss, and subsequent gum and oral diseases. This summer, 330 children attending the OLA camp have received dental health screening, care and education by dentists who volunteered at the camp from different international and local medical institutions.
The professional team from France UMAF consisted of dentists: Drs. Georges Aboulian, Georges Mosditchian, Jean-Michel Bonvarlet, Jean-Pierre Kibarian, Emmanuel Boyadjian and Apraham Garabedian. This is the 3rd year that they volunteering at the camp and providing best dental care for the camp children who are coming from various residential institutions and vulnerable families all over Armenia.
Also, joining the international team were two new young dentists from "Astghik" medical center in Yerevan are Drs. Anahit Vardanyan and Aram Avetisyan, who came to volunteer at the camp.
OLA Gyumri clinic continued to provide dental care from June- August, recessing for the Tsaghgadzor summer camp. 53 children received dental support at the Gyumri Dental care clinic. The children were mainly from day care centers and disadvantaged families of the community.
In July, 2018, Satenik Hovhannisyan, a student from Kanaker Center who is specializing in Erebuni Dental College was awarded a tuition sponsorship through SOAR sponsorship program started to practice in Gyumri clinic. The new working session of SOAR Gyumri dental clinic will start in the middle of September, when children are back to boarding facilities, center and institutions. The dental nurse will set up individual appointments with institutions and follow with the list of appointments.
In addition, another plan has been developed to start in September 2018. Gyumri dental staff will conduct visits to remote village areas, to organize examination of the children's dental problems and organize appointments for them.
Visiting dentists who have volunteered at the clinic, offer the children the chance to have all the dental treatment they need – including cleanings, x-rays and filling (for cavities), provision of vitamins and supplements necessary for gum and enamel health. However, with the increased number of children and families seeking to receive treatments at the clinic, there has been the overwhelming need for a permanent dentist to provide professional services at the clinic. This makes the role of "SOAR Dental Care Program" in Tsaghgadzor and Gyumri very crucial for the most disadvantaged children and families in these communities! To continue our efforts in reaching out to the poor and the orphaned children, WE NEED YOUR HELP! You can help make a difference and change the course of this endemic crisis! The funds will be used to obtain equipment, materials and other much needed operational items.
Your past support has made it possible for Armenia's orphans and elderly to receive regular, oral health screenings and treatment by qualified dental health professionals. You made it possible to build and operate the dental clinics in Gyumri, Tsaghgadzor, and remote regions of Armenia!
We are grateful for generous donors like you. No amount is too small. Imagine what your continued support can bring to the poorest populations in Armenia! Give what you can to relieve pain and suffering and to foster a smile on the faces of the less fortunate!
Together, we are making a difference!
Your tax-deductible donations are accepted through the Global Giving Dental Care Campaign for Orphans. (http://www.globalgiving.org/projects/dental-care-clinics-for-orphans-in-armenia).