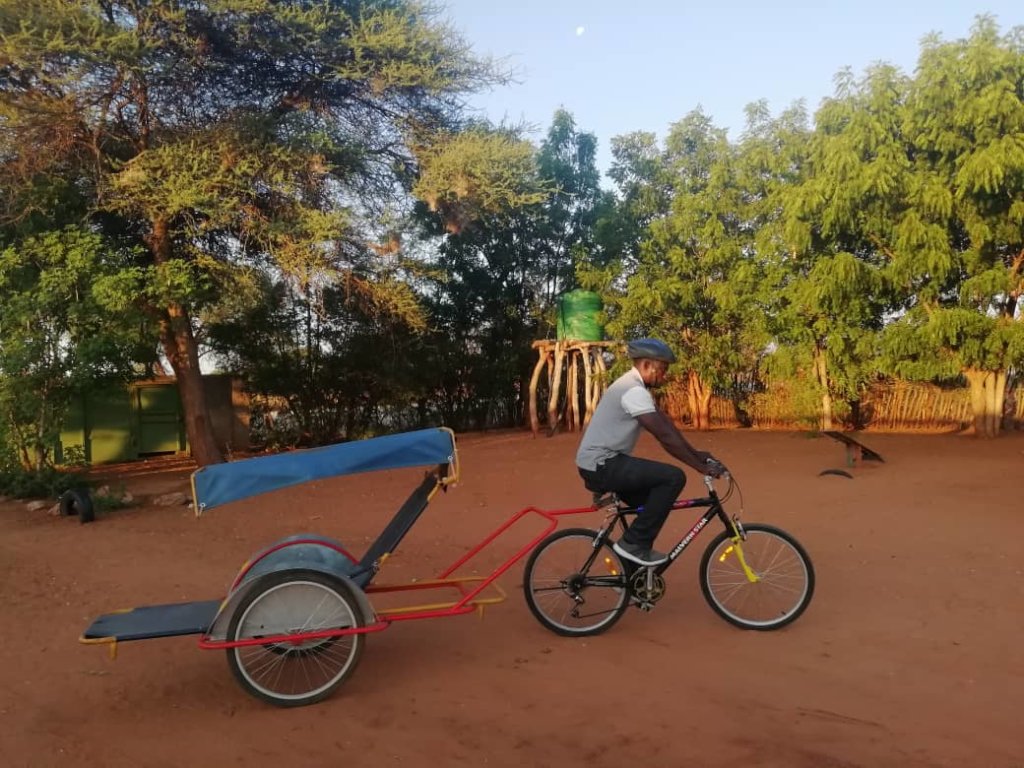 We have been quiet about progress with our next batch of solar electric ambulance deliveries recently, and that's because we're a little embarrassed about being behind on delivery. We have switched to a new supplier for the manufacture of the ambulances, and some of the detail on the fabrication has taken a lot of back and forth to sort out.
At the same time, a shipment of motors, control equipment and solar charging gear has taken an eternity to leave China. Happily, it finally shipped last Friday and we're hopeful that it will arrive in port by mid-July, when we will also have the last details of the ambulance manufacturing ironed out.
Despite these challenges, we haven't been idle with project planning. In finalising locations for these and other e-ambulances, we have been monitoring some of the older pedal-only ambulances. We've been glad to find that even years after we ended that programme, there are still ambulances in use that are making a difference. Paulus Shamate, the founder of the Shikenge Child Support Centre, received an ambulance in 2009. Paulus reports that the ambulance is still in regular use, taking sick people from the community of Shikenge village to the nearest clinic, 10km away. As is clear from the photo Paulus shared with us, the ambulance is still in immaculate condition due to careful care and maintenance.
While the pedal-only ambulance has more than proved its worth in transporting patients from pregnant women to children with malaria, the 10km trip is tiring for the operator. There are also occasions when the clinic is closed and the hospital is the best option, but the 30km trip is beyond the practical limits of a pedal-only ambulance.

Given Paulus's sterling record of maintaining his first ambulance and long history of use, we have agreed to send him a new solar electric bicycle ambulance when our next batch is complete. This will mean quicker trips to the clinic, and also that the trip to the hospital is no longer out of the question.
As always, thank you for your continued support for our project, your contributions and your faith in our work means a great deal to me and the rest of our team.
Michael Linke