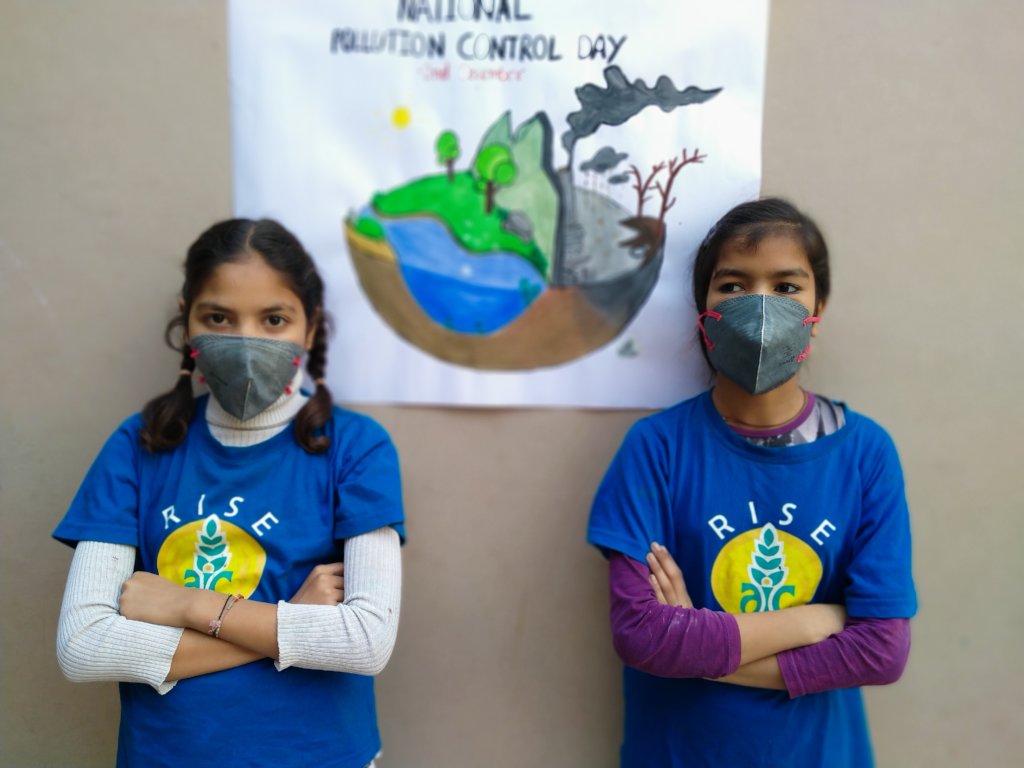 Cultivating successful mindsets!
RISE, on its journey to achieve quality education for all irrespective of their socio-economic background has brought accessible education to those who need it the most. As part of their Remedial Education Programme AROH aims to provide holistic development which extends beyond the classroom. All interventions are planned to achieve that it is necessary to incorporate the celebration of days of remembrance, acknowledgement and awareness in the lives of children who otherwise are not privileged enough to have such exposure. Children by engaging in these celebrations & activities often find a sense of belongingness that provides them a chance to move beyond and widen their horizons.
The months through December till February hold special cluster of festivals and celebrations in the Indian context. These celebrations not only provide them a chance to celebrate their own culture but rather allows them to open themselves to the Cultural Dynamism that India boasts. In the past three months, RISE centres have celebrated various National and International days of importance. National Pollution Control Day to commemorate the victims of Bhopal Gas Leak. The main objective was to make people aware, spread awareness in the industries that cause various pollution like water, air, soil, noise and affect the environment and obviously health. On 14th of December the World Energy Conservation Day was celebrated to instil a lifelong habit of energy minimalism. Similarly, the National Mathematics day was to celebrate the birth of great Indian Mathematician Srinivasa Ramanujan. The beloved holiday of Christmas was a celebration of giving, receiving and the essence of community which is co-dependency. A celebration of New Year was done through best out of waste. With an ideology to teach students how to overcome shortcomings in life by making the best out of the adverse situations. The Punjabi festival of Lohri marks the beginning of harvest season and a celebration of abundance and prosperity.
RISE centres celebrated this Republic with focus on exchange of knowledge in different forms. A speech about the fundamental rights and duties of the citizens of India was explained to the students by one of our RISE educators. The celebration of Indian diversity through the means of art, music and dance brought the vibrance of Indian tri-coloured flag inside the centres. Vasant Panchmi marking the arrival of spring and a relief from the harsh winters was experienced. By worshipping the deity of education Saraswati, students prayed for wisdom and education. On the day of National Deworming the children were taught about the STH infections and were got checked by Aam Aadmi Mohalla Clinic Doctors. India in its fight against malnutrition launched National Deworming Day in 2015. RISE in order to generate awareness upon this day conducted workshops across all RISE centres.
Mr Kumar inhabitant of one such community is son of Mr Ramprakash who works as a driver at a factory. Mr Kumar came at RISE centre when he was in 3rd grade, a shy kid in the past 2 years of his journey evolved into an avid reader. He recently performed a heart-felt poem about the love for his nation written by him on Republic Day celebration. The shy child who was too scared to interact even in the class have had changed into a completely new person. He later presented a thank you speech to all the teachers and is often found at the front lines of all celebrations at his centre. Mr Kumar has evolved into a social person at his school as well and is now confident to ask question in his class. This has improved his academic performance as well. Now, he wants to grow up to be an engineer at his baba's factory, so that he doesn't have to drive anymore.
With a vision to bridge the gap between education and knowledge RISE is working to ensure meaningful education to those who need it the most. While RISE is working to improve the lives of more than 500 children, it would not have been possible without our donors. We send out our gratitude to all our donors and ask them for their support throughout this long, fulfilling journey. See you until next time!