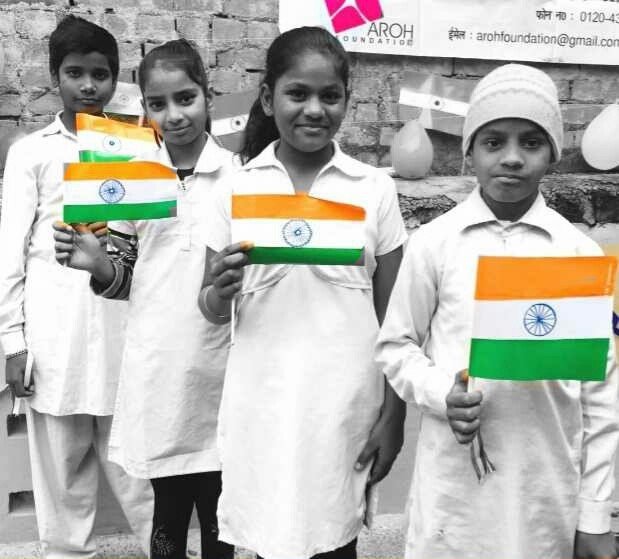 As the year 2018 dusks, the festive atmosphere never really settles and RISE centers starts gearing up for Christmas and New Year celebrations, which causes high SPIRITS in everyone. RISE resolve to make this year more productive and helpful for our under-privileged kids as the aim of it is not only to provide quality of knowledge to the children but also to develop good habits, skills & attitude in every kid. AROH thus believes and helps in the "eradication" of gender inequality & "empowering" effect of education. The ethical responsibility of RISE is to consider, promote, balance and respond to all aspects of the student, including their physical, social, emotional, academic and spiritual needs.
To set a perfect example of secularism, we at RISE celebrate all the festivals. Over the past month, in classrooms throughout RISE, all educators & students of all the centers have been working on special activities focused on promoting student understanding about Christmas Day & New Year and showcasing their own interpretations of these celebrations by organizing class parties, dance sessions, fun and sports activities. Children had so much of joy while celebrating both of the festivals this time.
As the New Year Celebration ends, another auspicious occasion of Lohri was celebrated with fervor. Students dressed in traditional Punjabi attires & performed on songs around the bonfire. In RISE the festive atmosphere never really settles and thus festivals keep on falling in continuation. The students of RISE celebrated Republic Day with patriotic fervor and pride and gave a benevolent touch to the entire celebration by sharing their joy. Adding more good impacts to this month, a free "Medical Health Check-up" was organized for the students of RISE. Children went under Health Check-up programme and got themselves treated and awared towards various health threats and its treatment.
Furthermore, RISE specifies that 'one action' can affect the child in multiple dimensions and thus we believe 'Development is Multi-dimensional'. Multi-dimensional measures deepen and broaden our understanding of child well-being and inform us of areas of neglect. Let's take up an example of a child named as Meena. Meena is an empowered child today who has a spark in her eyes. She, along with her family, moved from Maharashtra to Delhi when her father lost his job last year. She was enrolled in a Government school, but her education started suffering due to language and cultural differences in the new city. Meena's parents could not afford private tuition due to poor family condition. Once, Meena met one of the educators at RISE center, and she was thrilled when our educator took her to meet other RISE children. "Now Meena is a bright student in her class and spends time in studies at home too", says her mother. Before coming to RISE, Meena was an introvert and thus fears while reading and taking part in any kind of activity happened in the class. Various extra-curricular activities and engagement with children helped her in bridging the cultural differences and Meena quickly started performing better in her class at her formal school. She dances and draws beautifully. She actively participated in NGO Mela Contest, in dance and poster making competitions. She also has started learning things herself and her family is very much satisfied and happy to see the progress. They even got enrolled their other daughters in RISE. Meena and her family are very happy and thank RISE and thus they want their all children to stay connected with RISE.
RISE considers that there is a story behind every child. There is story of misery and drudgery, but dreams of a better future! We firmly believe that a small help goes a long way in giving someone a chance in life! Giving a child his childhood and his future! We would like to offer our sincere gratitude to you for your generosity and commitment to helping build our children's future. We hope that your support to these kids would keep flowing to help us shape their future and give them a better life. Once again, thanks a lot for all your support. We hope you to continue investing in the future of global development.