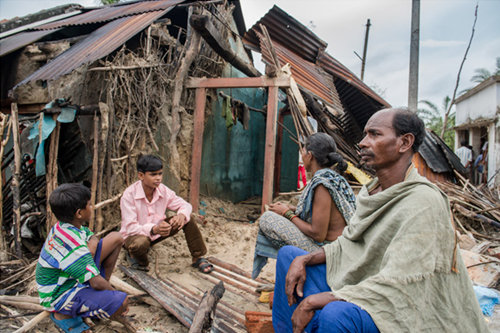 In October 2013, Cyclone Phailin was the second-strongest storm ever to hit India. Cyclone Phailin took the lives of 45 people and displaced 1.1 million, while also destroying 230,000 homes. Natural disasters are an unfortunate and uncontrollable part of life, but it is with your generosity that we are alleviating the suffering that they cause. Thanks to GlobalGiving donors we have been able to raise almost $10,000! We provide this money directly to our partners Save the Children and International Medical Corps. In the time since the disaster, relief work has been focused on providing clean water, preventing malnutrition, and fighting disease.
Here is just a brief part of what our great partners are doing:
The Indian state Odisha was in the direct path of Phailin and the most heavily damaged.
In the small village K Badapur getting clean water before the storm was a hassle, after it is nearly impossible. The villagers take a two-mile walk to their neighboring village 2-3 times a day just to get the few gallons of water they need a day to survive. The village head, Basu Das, 50, lost his home and cropland due to the devastating 125 mph winds and flooding. Thankfully, he, his wife, and two sons remain unharmed but are still displaced in a community center with other families in the same position. Save the Children distributed essential supplies to Basu Das's family and thousands more children and families affected by Cyclone Phailin. Hygiene items, household supplies and food baskets have been distributed to stave off malnutrition and disease.
Because of the funds raised through GlobalGiving, Save the Children will provide 100 disaster relief kits to children in need!
International Medical Corps was among the first responders after Phailin, with field workers in the affected areas within 24 hours. In partnership with the Chief District Medical Officers and local health authorities, International Medical Corps' Emergency Response Team deployed mobile medical units to more than 38 villages marooned by the cyclone in Balasore and Mayurbhanj and provided more than 10,500 critically-needed primary healthcare consultations. International Medical Corps also distributed hygiene kits that included sanitary items, such as soap, laundry detergent, mosquito nets and water containers, in local communities to prevent the spread of communicable disease. Currently International Medical Corps, and its local partner Unnayan, are focusing on reducing future disaster risks by fixing destroyed water sources, constructing hygiene facilities, and stockpiling hygiene supplies and hygiene education.
The impact you have already made on many lives is huge, but their are still hundreds displaced, living in unhealthy conditions with little drinkable water. Your amazing support helps alleviate hardships caused by such an unpreventable disaster. Thank you, GlobalGivers for your continued support!