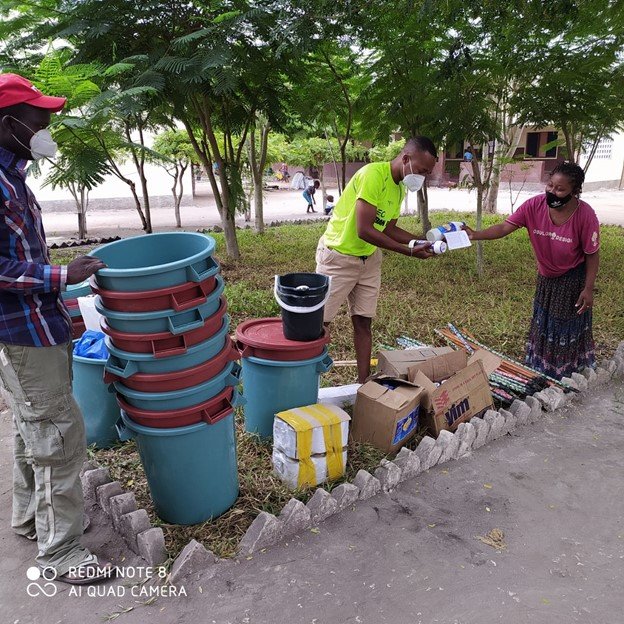 Summary
In front of the COVID-19 pandemic declared by WHO on 10 March 2020, associated with the registration of the first positive case on 22 March 2020 and its evolution in Mozambique, Presidential Decree no. 11/2020 of March 30, which established a State of Emergency to prevent and combat the spread of the new coronavirus pandemic. This Presidential Decree in front of the alert levels of the world and in particular of Mozambique taking into account the possible outbreaks as well as the forms of transmission, the country was at Alert Level 3 against the COVID-19 Pandemic and created restrictions for access to public places, closure of schools and cancellation of face-to-face classes, cancellation of other various services and health professionals during this period felt forced to redouble preventive measures through awareness campaigns either through television channels, radio or community awareness.
This project allowed us to:
Provide protective equipment, cleaning, sanitation and disinfection equipment for the health centers of Estaquinha, Mangunde and Barada as well as for boarding schools, both general and technical schools in Estaquinha, Mangunde, Barada and Machanga;
Provide Medicines for users and means for the full operation of the Health Centers of Estaquinha, Mangunde and Barada;
It also allowed us to increase access to water through the opening and rehabilitation of boreholes, providing psycho-social support for people suffering from chronic diseases, intensifying awareness campaigns on the prevention methods of the new Corona virus through activists and community radio programs.
Challenge
Covid 19 brought with it challenges, associated with a shortage of medicines and a deficient health system, this impacted the way of being of communities that recover from the trauma left by Cyclone Idai.
Around the Missions of Estaquinha, Mangunde and Barada, some communities face challenges to access water, which would make it difficult to adopt preventive measures such as washing hands and vegetables, etc. And in those few sources of drinking water that existed, they became the focus for possible contagions, which would increase the risks for a rapid spread of Sars-Cov2.
The existence of risk groups (patients with HIV, diabetes, asthma, tuberculosis and others) was a challenge since Covid-19 brought with it a financial crisis not only for Governments but also for the citizen, which would in part contribute for the abandonment of treatment due to the food crisis generated by Cyclone Idai last year and which became more acute with the outbreak of Covid-19.
The lockdown established in South Africa that forced many of the young people who were looking for jobs and better living conditions to return to their areas of origin (Buzi, Chibabava and Machanga districts) and with the dissemination of exaggerated information about the lethality of Sars-cov2, panic was installed in the heart of the communities, causing stigma and prejudice towards people returning from that country even without being infected.
With the closure of schools, which consisted of canceling face-to-face classes and adopting online teaching measures, it constituted a challenge in providing full access to class content for rural communities, since many families in rural areas, due to various limitations, since the availability of devices such as computer or cell phone as well as lack of deficient Internet network, most students would be without access to the content to be taught during the emergency period, which would increase the risk of school dropout and premature marriages.
Solution
As the cases of Covid-19 continue to grow in Mozambique, with some companies laying off workers, purchasing power decreasing, communities are fighting for their survival, either preventing themselves from Covid-19 as well as looking for sources of income or means of subsistence. All these events brought with them consequences that impacted the way of being of communities that are recovering from the trauma left by Cyclone Idai.
With the resumption of face-to-face classes coupled with demands imposed by Covid, water was channeled, footbath was built for foot disinfection and hand disinfection basins, cleaning and sanitizing material (soap, buckets with taps, back sprayers) was allocated to the General and technical schools in Estaquinha, protective equipment (Masks and Visors) distributed to teachers and needy students in Estaquinha, Mangunde, Barada and Machanga.
At the Barada Mission, two boreholes were opened and one was rehabilitated in Estaquinha and submersible pumps and water tanks were set up in order to increase the water availability and allow greater hygiene of people, disperse users and reduce the risk of contagion of Covid-19 pandemic at water sources.
Screenings were carried out for people returning from South Africa and patients suspected of being infected with Covid-19;
Provision of medicines (antibiotics), cleaning, disinfection and sanitizing material (soap, alcohol, sodium hypochlorite), acquisition of oxygen concentrators and cylinders, infrared thermometers, buckets with taps, back sprayers for the Health Centers of Estaquinha, Barada and Mangunde as well as for the schools of General education and professional technician of Estaquinha, Mangunde, Barada and Machanga protective equipment (Masks, aprons, Visors, gloves and boots) for health professionals
Conducting training for Activists in combat and prevention materials at Covid-19 as well as retraining in psycho-social support materials for chronically ill patients.
Carrying out home visits to chronic patients suffering from HIV, arterial hypertension, diabetes mellitus, malnutrition, tuberculosis and bronchial asthma;
Conducting awareness campaigns through community activists and radio programs to combat stigma and eliminate prevention measures for Covid-19 in the Districts of Buzi and Chibabava;
Copies of brochures and exercise sheets were made and made available to underprivileged students as a way to guarantee access to content to reduce the risks of school dropouts and premature marriages.
Long-Term Impact
For the period referred to, 233 lectures on prevention of Covid19 were given by professionals from the Health Centers of Estaquinha, Mangunde and Barada, reaching 5,601 beneficiaries;
The opened boreholes and rehabilitated water supply system allowed access to drinking water for approximately 6342 people either for consumption as well as cleaning and prevention of Covid-19;
Provision of medicines, various equipment and materials for health professionals ensured safety and allowed not only the monitoring and assistance for 194 patients screened for suspected Covid-19, of which 3 patients were diagnosed positive, but also the same materials, allowed hygiene and disinfection activities to be carried out in the 3 Health Centers in Estaquinha, Mangunde and Barada, benefiting about 29,409 users of good hygiene conditions and medicines.
The various equipment and materials for teachers and needy students ensured the cleaning and disinfection of premises in 8 schools and 8 boarding schools in the districts of Buzi, Chibabava and Machanga, benefiting from good hygiene conditions about 3800 users among teachers and students