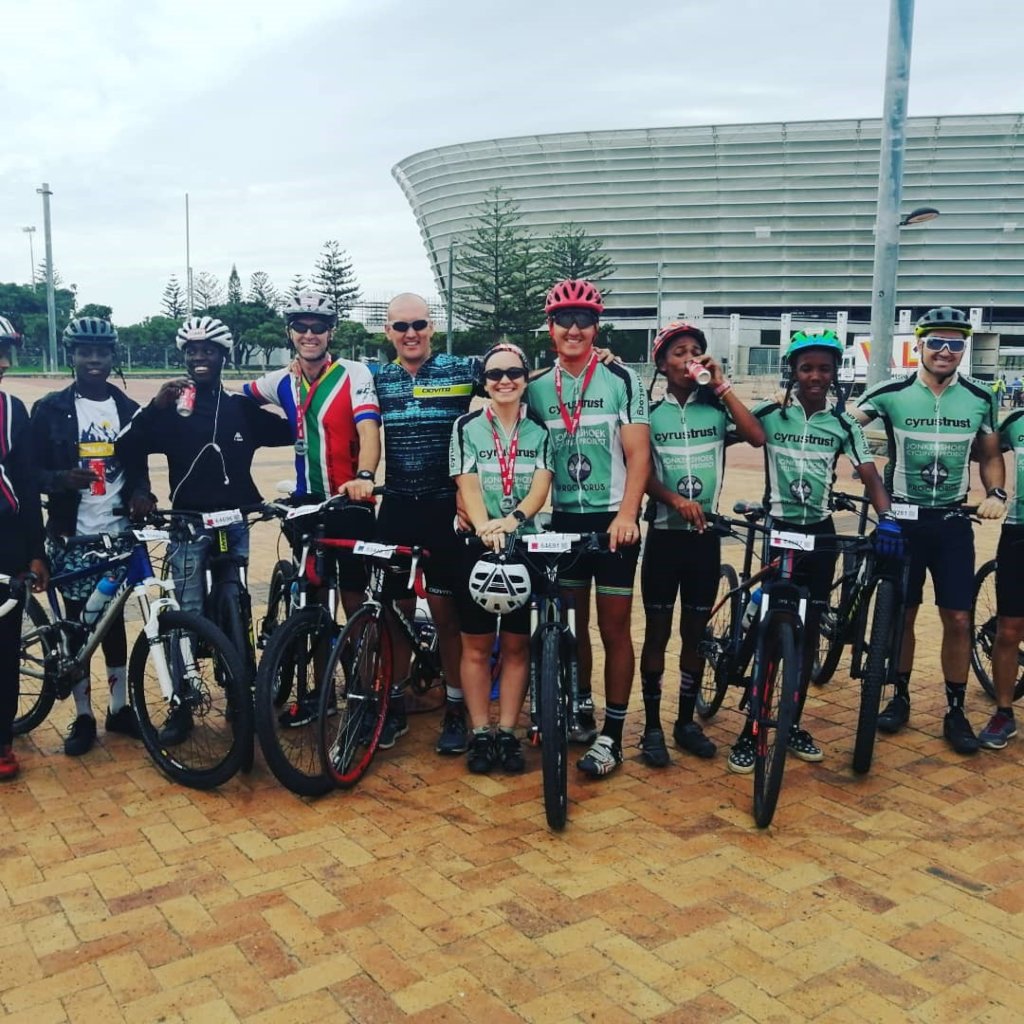 Since our last newsletter, we were fortunate to be able to have two more events with the kids before South Africa was struck with COVID 19 lockdown regulations. These were:
The Hex River Triathlon in Dedoorns
Six of our younger boys took part in a triathlon middle of march March. They did incredibly well, with 3 podium finishes. The Triathlon was designed for younger children to take part and enjoy as not many races cater for the younger age groups. This was a chance for them to experience the race excitement that they have seen with the older boys and to have some friendly competition to get their adrenalin pumping. It was so much fun to watch and see these young sportsmen in a competitive environment.
The Cape Town Cycle Tour
A group of 5 older boys and 6 volunteers took part in the annual Cape Town Cycle tour. This event is definitely one of the favourites. Everyone finished very well, despite the rainy and windy weather conditions. This race has an age restriction, but if it wasn't for that I think all the project boys would have wanted to compete. With almost 40 000 participants each year, we're always grateful at the end when everybody finished without a crash. The event is one of the highlights of the year and we look forward to the next one.
COVID 19
Since COVID 19 lockdown regulations was implimented in South Africa, we've not been able to resume with training rides or even group meetings. At this stage we are hoping regulations will allow us to resume from the beginning of August.
We have been caring for our beneficieries through food parcels and educational support. The educational support is very much needed and will continue to be a high priority for us at least until the end of the year. Up until now we've provided free internet at our aftercare centre. Here they could access the internet from the outside of the building via wifi to connect to the online educational support channels available. We researched and sent through on a Whatsapp group, the websites and various educational support channels available in South Africa. Together with the food parcels we sent to all the beneficiery families, we also sent educational packs, which mostly consisted of grade appropriate worksheets to keep them going and assist in keeping them motivated towards keeping up with schoolwork. Via the Whatsapp groups we also motivated the children to keep studying and not to think they're on a holiday.
Unfortunately, during the time of lockdown, one of the facilities we store our bicycles at was broken into and three bicycles were stolen. Some of our older bicycles are not on insurange due to the high cost, so we were only able to claim for one bike from the insurance. Anybody willing to make a contribution towards buying the other two bicycles are welcome to do so via this platform or contact us for banking details, which is also on our website: www.prochorus.org/jonkershoek
Please pray for the team, they are all also going through challenges during these strange times.