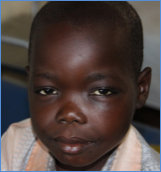 Our hospital, St Mary's Hospital Lacor in Gulu is located in Northern Uganda in sub-Saharan equatorial Africa. One of the most common childhood cancers that we see is Burkitt lymphoma (BL). The incidence of BL is considerably higher in Ugandan children than it is in the USA or Europe. Although BL is a rapidly growing tumor, it responds extremely well to treatment that consists of chemotherapy alone.
In our experience, the vast majority of the families whose children are diagnosed with BL live below the poverty line. Accessing chemotherapy for treatment of this highly curable cancer was once only a dream for these vulnerable families. But, thanks to donors and well-wishers, such as all of the wonderful people who have contributed to this project, the children are able to receive the chemotherapy that they need. And, their families receive support for other necessities such as food during their child's hospitalization.
We wish to share the story of VO who benefited from this project. He was eight years old when he came to St Mary's Hospital. Prior to admission, he had a one month history of swelling in his left jaw that was associated with pain and excessive sweating. The mass in his jaw was so large that the left side of his face appeared to be almost twice the size of the right side of his face – giving him a distorted appearance. Once the diagnosis was confirmed as BL, he was started on chemotherapy. He completed all planned chemotherapy and has been cured of BL for more than two years. In addition, he fully recovered from the disfiguring effects that were once caused by what we would typically call a "Burkitt's face". He has returned to school, enjoys playing with his mates, and looks like a normal child.
One parent whose child also benefited from the treatment program supported by donations coming from this project had this to say, "After my child developed abnormal swelling on the face, I thought it was a demonic power causing this. I wasted time and money seeking the service of a traditional healer in vain. When my child received chemotherapy from Lacor Hospital, the swelling reduced quickly as if the doctors used magic. Besides it was free of charge and now my child is healthy and happy again. God should continue blessing the sponsors of the cancer treatment program''.
In addition to treating children with BL at our hospital, we work with a network of hospitals in our region and their communities in order to ensure that children with suspected BL come to our hospital as soon as possible. Our goal is to make every person, including health care workers, aware of the signs of BL so that treatment is sought earlier and to ensure that not only health workers, but also the public know that our hospital is able to offer chemotherapy free of charge thanks to your generous donations to this project.