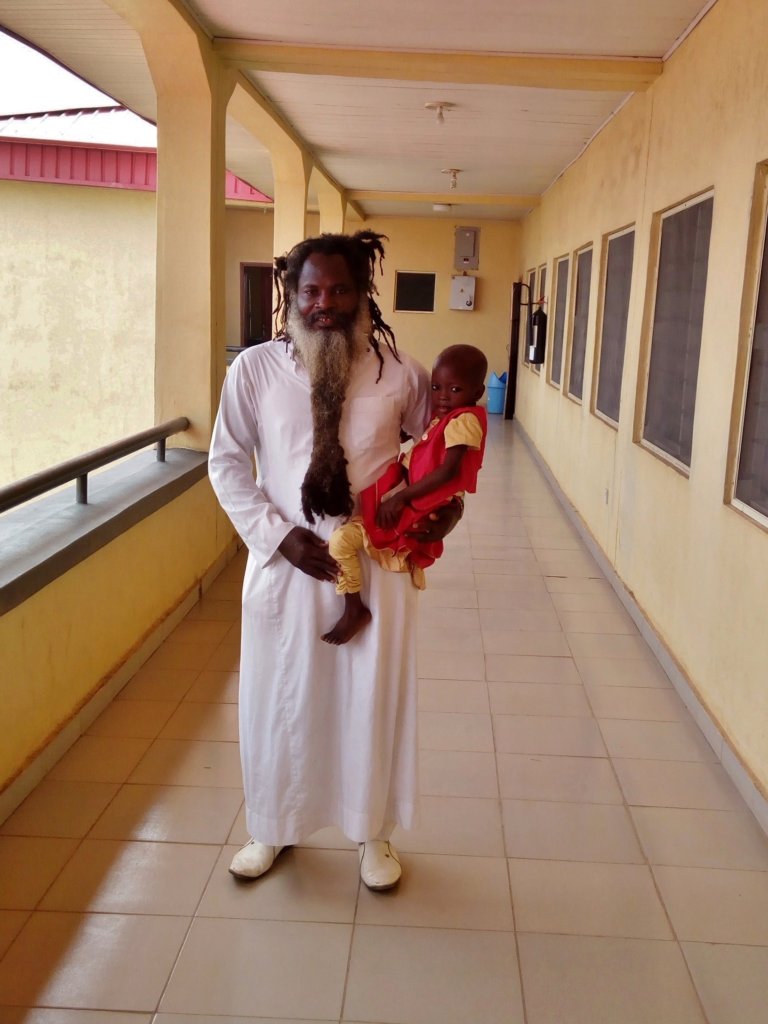 Our patient, Faith, is a 5 year old girl who comes from a remote village located on a riverbank in South Western Nigeria where there is no road network and easy access to a health care facility. A month prior to admission to our hospital, the Obafemi Awolowo University Teaching Hospitals Complex (OAUTHC) in Ile-Ife, Nigeria, Faith became ill with abdominal swelling accompanied by severe pain, weight loss and fever. Her father who is a spiritual healer attempted to treat Faith, but realizing that his efforts were not working, he sought help from the nearest health facility. The family had to take a speed boat on the river to reach this center – a journey that took an hour and a half. She was seen by a pediatrician who suspected that Faith may be suffering from cancer. Because this hospital lacked the necessary expertise and capacity to manage her care, Faith was referred to our hospital. It was fortunate that the referring pediatrician had trained with us and was familiar with the signs of Burkitt lymphoma (BL). Faith was transferred to our hospital immediately – although it took her and her parents some four hours to reach Ile-Ife via public transport from the referring hospital. This was in October, 2016.
When she came to us, Faith was very weak and could not stand on her feet. She was also noted to be grossly anemic, in addition to having the other symptoms as described by the referring doctor and her parents. We also noted that she had fresh scarification ("cutting") marks all over her abdomen – indicating to us that traditional methods of care had been used. Because Faith's father is a spiritual healer, he had been administering local traditional medicines to her in addition to performing the abdominal scarification that we observed. He had hoped that Faith's abdominal swelling would go away and wanted only to help his daughter the best way that he knew how. The use of these traditional approaches along with the family's limited access to any type of health care facility contributed to the delay in receiving medical help.
After Faith was admitted to our hospital, she was quickly evaluated for a suspected diagnosis of BL. Due to severe anemia, we had to administer blood transfusions in order to stabilize her. Once we established that her diagnosis was BL, she was immediately started on chemotherapy. By the end of the first treatment cycle, her condition improved dramatically and her abdominal masses were barely palpable.
Her father – who had never left her side – exclaimed during our ward rounds that the doctors at our hospital were second to God. We believed that this declaration must have been due to the fact that he could not heal his daughter even though he was a known spiritual healer within his local community.
At the time of this report, Faith has completed five of the 6 cycles of therapy she needs to ensure the best possibility of long-term cure for her BL. Her parents, especially her father wishes to express "Modupe" – which in Yoruba, the local language of South Western Nigeria, means, "I am grateful" to the GlobalGiving community of donors whose generosity has provided Faith with the possibility of a bright future – free of cancer and the opportunity to live a normal life.
Our team at OAUTHC also wishes to thank the generous donors who have given to this project. Without your donations, we would not have been able to provide Faith with the necessary drugs and blood transfusions that she needed. More importantly, we, as a team, have been able to change her father's orientation towards health-seeking behaviors. As a result, her father has promised to start educating the people in his community to seek medical assistance early, if they become as ill as Faith. We think that this will help a great deal because Faith's father is believed and respected very much as the local community's spiritual healer.