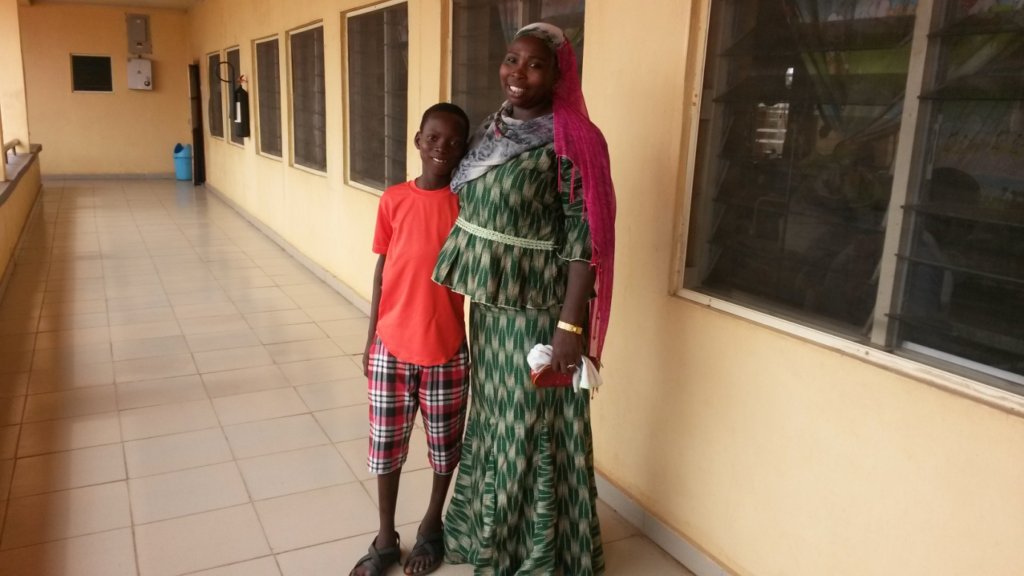 Sordiq was 13 years old when his father brought him to our hospital, the Obafemi Awolowo University Teaching Hospitals Complex (OAUTHC) in Ile-Ife, Nigeria. Three months prior to his admission to our hospital, he had developed a painless swelling of his left jaw. His parents admitted to initially giving their son traditional medicines, but when these failed, they took him to a local health facility near where the family lives. The health facility decided to perform surgery to remove the jaw mass. Following surgery, the doctors placed him on pain medications and antibiotics and assured Sordiq's parents that he had been "cured" of the problem with his jaw. He was then sent home. The family never received a report of what the jaw mass actually was.
Unfortunately, Sordiq's jaw swelling returned. Because his father was so disappointed in the outcome of the surgery, he and Sordiq traveled some 65 kilometers from their home in the town of Ikirun for care at our hospital. At the time Sordiq presented to our institution, he was found to have recurrent left jaw swelling and abdominal masses. We suspected that he had Burkitt lymphoma (BL) due to the classic appearance of his jaw mass along with the presence of abdominal disease. He was quickly evaluated and after the diagnosis of BL was confirmed, he was begun on treatment.
After the 2nd cycle of chemotherapy, his abdominal masses had disappeared and his jaw mass had become much smaller. His parents thought this was a miracle. They were so motivated by this result that they brought him back to complete all planned therapy – something that doesn't always happen in a country such as ours – particularly when parents see a rapid resolution to their child's cancer without understanding that completing all planned therapy ensures their child's best chance for cure. Sordiq's parents ensured that he never missed his appointments and at the end of therapy, he had complete resolution of his abdominal masses and his jaw mass. He has now returned to school and is doing very well.
Sordiq's story highlights three points that need to be made about BL. Traditional medicines, although ineffective in the treatment of BL, are often used. Using these types of medicines delays diagnosis and treatment and thereby can increase the risk of treatment failure. In not getting to a specialized center such as ours, the diagnosis was missed by the initial health facility that he was treated by. Furthermore, surgery alone will not cure BL. Without chemotherapy, tumors removed by surgery will grow back just like in Sordiq's case. And, BL is usually a widespread disease within the body and therefore, not amenable to surgery. BL is one of the cancers that can be cured by chemotherapy alone – making surgery unnecessarily risky and can lead to severe disfigurement and permanent disability.
Sordiq's parents wish to be convey their thanks not only to our team here in Ile-Ife who took care of him, but also to all of you – who through your donations – made it possible for him to have free chemotherapy and the opportunity to live his life like any other teenager his age.