Project Report

| May 25, 2016
Barakat Takes Excellent Care of Little Sister, Ajarat
By Dr. Olufemi Adefehinti | Pediatrician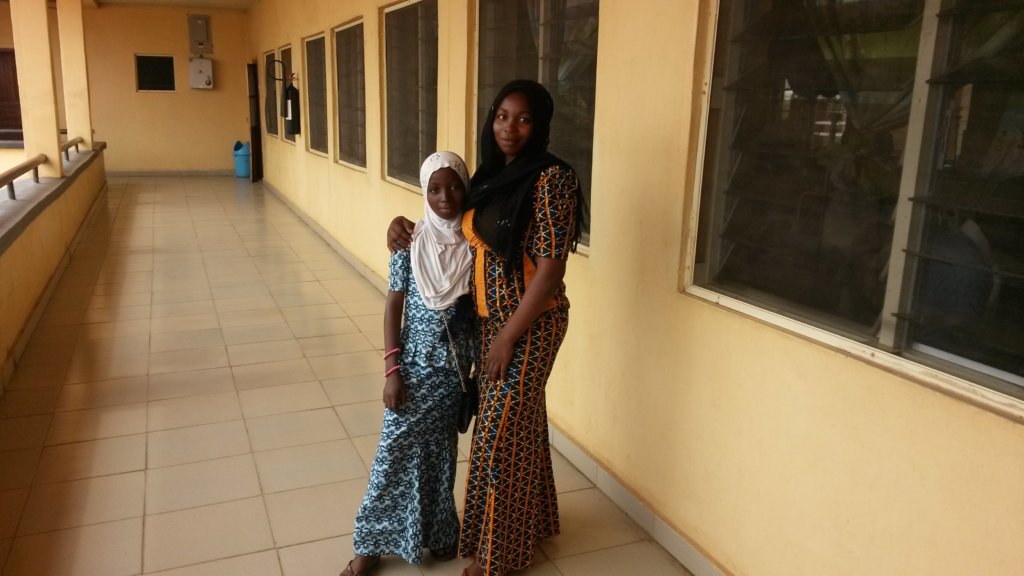 Barakat was 19 years old and Ajarat was 11 when their mother passed away. This left Barakat responsible for the care of her three younger siblings, including little sister, Ajarat, while their father worked some 600 kilometers away from the family home.
When Ajarat was 12 years old, Barakat noticed that Ajarat had a painless swelling of her jaw and loosening of her teeth. This worsened over a two month period. Barakat initially took her little sister to a state hospital. This hospital, in turn, referred them to our hospital for specialized care for what was suspected to be Burkitt lymphoma. Our hospital, the Obafemi Awolowo University Teaching Hospitals Complex in Ile-Ife, Nigeria is located some 80 kilometers away from the state hospital which made this a costly journey for the two sisters to make. It was largely for financial reasons that Ajarat was delayed in reaching our hospital. When she finally arrived, she had advanced disease, not only in her jaw, but also in her abdomen.
After Ajarat was admitted to our hospital, we did all of the necessary investigations and confirmed the diagnosis of Burkitt lymphoma. She was started on treatment and the response was dramatic. Her sister telephoned their father to inform him of the good news. The father was finally able to make his way to our hospital and was impressed by the results of Ajarat's treatment. After counselling, the father promised to ensure that Ajarat completed all of the planned treatment – 6 cycles in total. Ajarat was discharged to home after two cycles of treatment in order to ease the financial burden of the costs of hospitalization and the costs associated with her and Barakat staying far away from home. Barakat was also needed at home by her other siblings and to tend to household matters.
Things went well – with Barakat doing the best that she could to ensure that her sister returned for treatment on time. Sadly, their father died very suddenly at the time of the 5th cycle of treatment. Following the death of their father, Barakat was unable to bring Ajarat back to the hospital to complete treatment because of her increased responsibilities for the care of her family that she then had to shoulder all alone. But, Barakat continues to remain in touch with us to let us know about Ajarat's health. She says that Ajarat has no signs of cancer and is in good health. Ajarat has now returned to school.
Ajarat's story has many messages about how cancer places financial burdens on poor families in Africa. The great distances to one of the few treatment centers capable of diagnosing and treating a cancer such as Burkitt lymphoma often result in delays in starting treatment because travel to such centers is usually very expensive. The loss of a parent means that an elder sibling, like Barakat, becomes responsible for the care of his or her siblings. Parents may be unwilling to use scarce resources on a child with cancer, largely because of the belief that cancer is always fatal. Furthermore, it is often difficult to complete treatment – again because of the finances required to travel to and from the hospital and the costs associated with hospitalization. This can result in a significant loss of income required to sustain a family. Therefore, families of children with Burkitt lymphoma are dependent on the kindness of donors such as you to help cover the costs of the chemotherapy for this highly curable cancer. Ajarat's sister, Barakat, wishes to thank those who gave to this project because she says, "the help you have rendered has been everlasting".