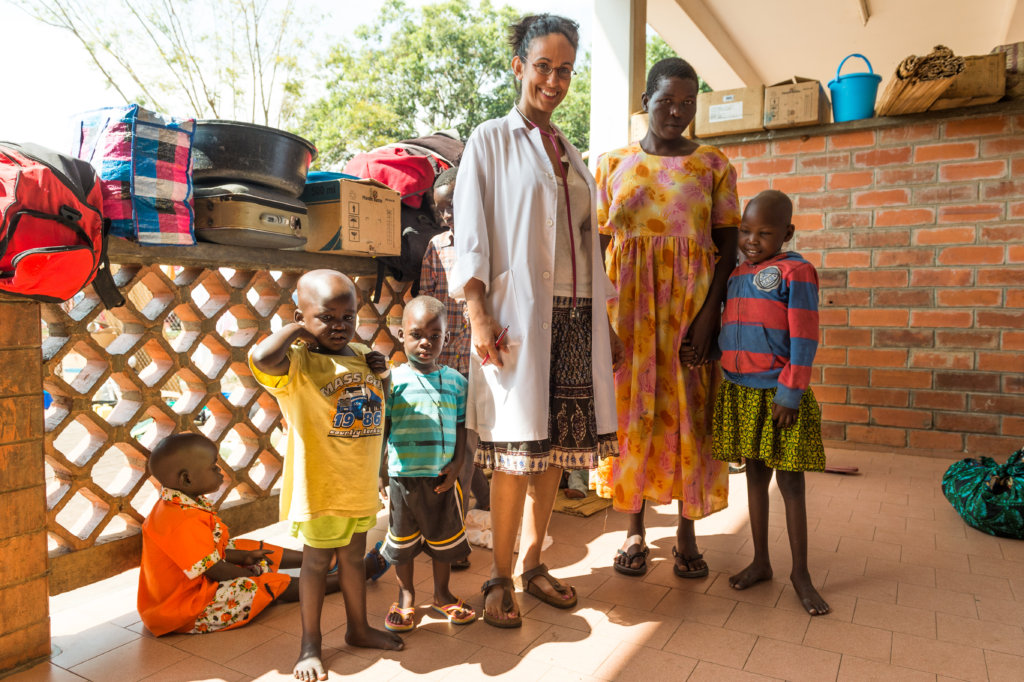 Rebecca was 7 years old when she was referred to our hospital by a distant and small hospital in eastern Uganda. She had lower leg swelling on both sides of her body that had started four months before. And, in the three weeks prior to admission to our hospital, St Mary's Hospital, Lacor, she developed abdominal distention and swelling in her lower jaws.
Before she was able to come to St Mary's, her family had to prepare for the long journey and they had to seek money to sustain not only Rebecca, but her mother and baby brother who was still breast feeding. The family knew from the referring hospital that Rebecca would have to remain far from home during treatment. Unfortunately, just a few days before her departure from the referring hospital, Rebecca developed lower leg weakness and became unable to walk or stand without support. Then, she suddenly became paralyzed.
When she arrived at St Mary's, we felt that she had all of the features of Burkitt lymphoma – especially considering the typical feature of jaw involvement. We did all of the investigations very quickly because we knew that her disease was progressing very rapidly and we wanted to initiate treatment as quickly as possible in order to avoid any permanent damage to her spinal cord because this would result in her never being able to walk again. We performed a biopsy of her abdominal tumor which confirmed our diagnosis – Rebecca had Burkitt lymphoma. By this time, she was very sick and could not sit at all.
Treatment was started as soon as possible after the diagnosis was made. Rebecca improved slowly, but soon after treatment she was able to sit in the bed and feed herself without help from her mother. When she was more stable, physiotherapy was started with passive exercises. Her mother learned to help Rebecca with these exercises. Her mother was also very careful in attending to her – attempting to mobilize her gently in order to try to prevent her from developing bed sores. After the 3rd cycle of treatment, Rebecca's tests showed that she had complete resolution of her tumor.
One morning, during our ward rounds on all of the children, Rebecca gave me a priceless gift. I was examining another little child when she came towards me very slowly walking with just the support of the ward beds to guide her along. She was just a bit unstable because her legs had become so thin. She took five steps all by herself. I was so surprised because I was so used to seeing her in a wheelchair or being carried by her mother. She was smiling at her accomplishment!
Moments like these make working with the children with this cancer so rewarding and professionally meaningful. I was amazed by how much improvement Rebecca had made. This was due to Rebecca and her mother's commitment to treatment because they both never lost hope or belief that Rebecca would walk again.
Seeing Rebecca walk again was also gratifying because many children with this cancer who present with paralysis often remain unable to walk again because they reach us when the cancer is so advanced that it has permanently damaged their spinal cords. Although they can be cured, they are never able to walk again.
We, at St Mary's Hospital thank the people who are so loyal in giving to this project. It helps us to provide free treatment to children with Burkitt lymphoma. With your support, we are often able to give back smiles to parents and to save the lives of children who would otherwise have died. Thank you again for your kind donations!