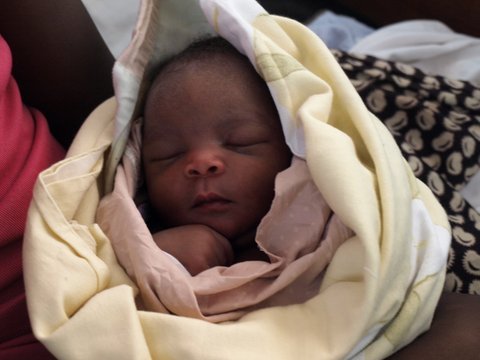 At the age of only 17 years old, Safina developed swelling in both of her breasts. In July of 2012, she sought help at a regional hospital. The doctors suspected that she had advanced breast cancer. They performed a bilateral matectomy and she was discharged home, but without a histological diagnosis. Several weeks later, Safina developed masses in her surgical scars. In October of 2012, she was referred to our hospital- St. Mary's Hospital Lacor- for a biopsy that confirmed the diagnosis of Burkitt lymphoma. This cancer is curable by chemotherapy. Surgery alone is not the correct treatment for this cancer because removal of all tumor by surgery is rarely possible and even if it can be removed, chemotherapy is always needed. While breast involvement is uncommon, it occurs primarily in pubertal girls or pregnant women.
When Safina came to us for her biopsy, her cancer had not only come back in her surgical scars, but was also found in her abdomen. Because our hospital is able to provide free treatment for Burkitt lymphoma, thanks to generous donors who contribute to this project, we started chemotherapy and Safina improved promptly. After three cycles of chemotherapy, Safina wanted to go home for a break at Christmas. Unfortunately, she did not come back to complete the rest of her treatment. We thought that this might be because she could not find the money for transportation or because she felt very well and thought she did not need any more treatment. All of our attempts to contact her failed as the phone number that she gave us was no longer in service.
In July of 2013, Safina returned to us. She was having excessive vomiting and was very weak. We did an ultrasound which revealed that Safina was 28 weeks pregnant, but that her Burkitt lymphoma had returned in her abdomen which was displacing the baby. We did a biopsy of the mass in her abdomen to definitively confirm that her cancer had come back. This was necessary because Safina was expecting a baby and we had to plan carefully how best to treat her.
In a poor resource setting like ours, we could not provide a safe delivery of her baby at this stage in her pregnancy – 28 weeks of gestation. Since the tumor was progressing fast, it was threatening Safina's life and that of her baby. Safina was counseled about receiving chemotherapy during pregnancy – it is safe to give most chemotherapy agents required for treating Burkitt lymphoma in the last trimester of pregnancy. And, we knew we had to start treatment as soon as possible to save both of their lives. We chose effective drugs that would cause as little harm as possible to her unborn baby. Remarkably, Safina responded to treatment and the masses in her abdomen reduced in size.
Safina's baby girl was delivered by Cesarian section at 36 weeks of gestation. The baby was healthy. Safina continued treatment after the birth of her baby. And, we were fortunate to have support to buy costly milk formula for the baby as Safina was unable to breast feed her baby – due to the bilateral mastectomy and also because she was on chemotherapy. Safina stayed in the hospital for the entire duration of her chemotherapy – even after her baby was born.
When Safina came for follow up in January, she brought her baby. We are pleased to say that Safina is in complete remission and that her baby is walking, playing and beginning to talk calling Safina her "Ma Ma".
The story of Safina has taught us once more, how important it is for us to raise awareness and to educate other health care professionals in our region (Northern Uganda) about Burkitt lymphoma so patients can be diagnosed and treated as soon as possible at a hospital like ours. By doing this, we hope that other patients like Safina will never need to undergo unnecessary surgery and will not suffer delays in starting appropriate treatment. Her story also taught us how important it is to sustain our patients by providing free treatment and the necessary social support throughout treatment. We realize that we must continually educate our patients and their families to ensure good adherence to treatment.
Without the donations from the many people who have contributed to this project, it would not have been possible for us to save the lives of both Safina and her baby girl. We at St. Mary's Hospital Lacor who care for the children and adolescents with Burkitt lymphoma wish to express our gratitude and appreciation for your continued support of this project.