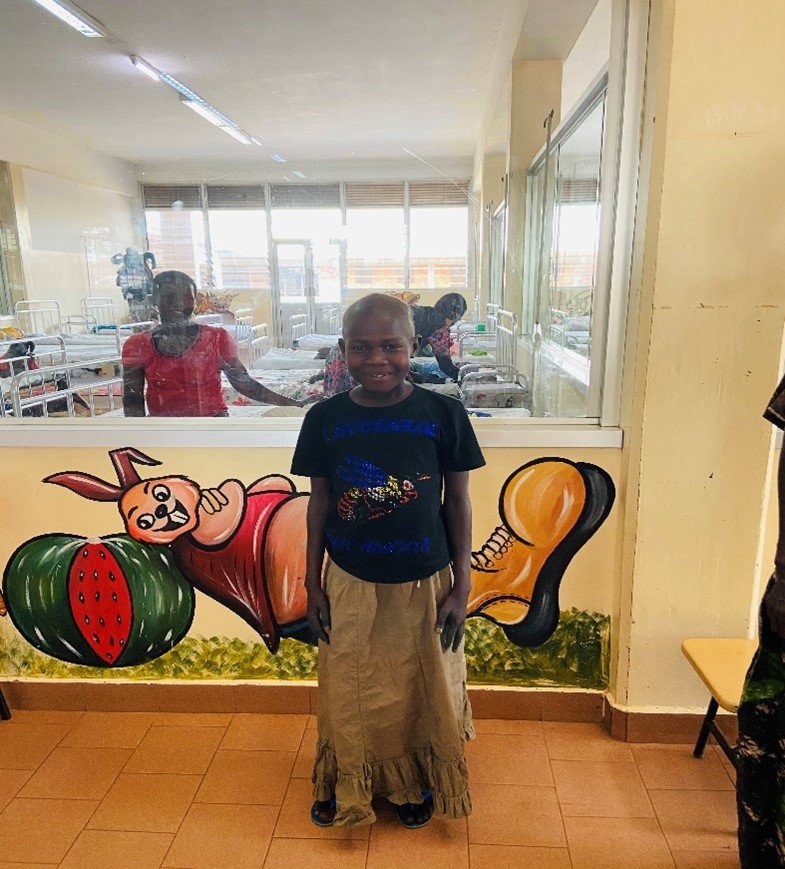 Kalum, aged ten, was brought to St. Mary's Hospital Lacor in Gulu, Uganda by her father in late September of 2020. They travelled 200 kilometers from their village in the Moyo District to come to our hospital. Her mother remained at home to continue her work as a peasant farmer and to care for Kalum's seven siblings.
Approximately six weeks prior to admission, Kalum's father reported that she had a tooth extraction and soon afterwards developed rapidly progressive and painful swelling of her left jaw. Upon examination, we noted that the left side of her face was grossly deformed and that she had a mass protruding from the inside of her mouth. Her abdomen was mildly distended and a mass in the right upper abdominal quadrant was palpable and very tender. She had no other clinical signs of disease.
We performed routine laboratory work as well as other diagnostic tests, including an abdominal ultrasound. The ultrasound showed that she had multiple solid masses in her liver as well as a mass in her right kidney. Her other tests were negative. A biopsy of her jaw mass was taken. The results of the biopsy confirmed that she had Burkitt lymphoma.
Based upon the results of the investigations, it was decided to treat Kalum according to the high-risk arm of the INCTR treatment protocol for Burkitt lymphoma – meaning that she would receive a total of six cycles of chemotherapy with intrathecal therapy to prevent spread of disease to her central nervous system. She was started on treatment as soon as possible.
After two cycles of chemotherapy, she had an excellent response. There was complete resolution of all masses in her abdomen as well as her jaw mass. She recently finished her sixth and last cycle of treatment and tests performed at this time showed that she was in complete remission.
Because treatment cycles for Burkitt lymphoma are given every two weeks and any unnecessary delays in treatment for this particularly aggressive cancer – such a discharge to a home far away from the hospital - can have negative consequences, it was decided that Kalum needed to remain with us for the duration of her treatment. Once she finished all planned therapy, she was very excited to go back home to see her siblings after her long hospital stay!
Your donations to this project support the costs of treatment and gives children with Burkitt lymphoma the opportunity and hope for long-term cure. Your donations also help to support the costs of transportation so that children and their parents can reach a hospital capable of treating this very curable cancer. Transportation costs are all too often unaffordable for families like Kalum's. Thank you again for generosity!