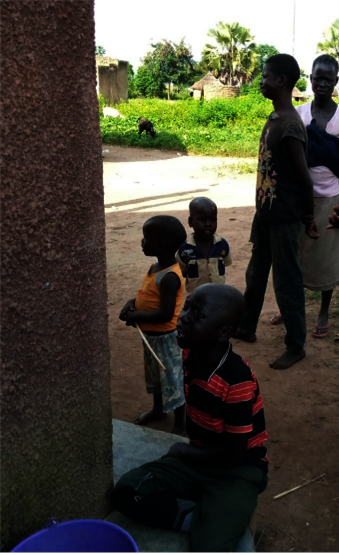 Ronald's grandfather brought him to St Mary's Hospital Lacor in Gulu, Uganda after Ronald experienced a one-month history of progressive painful swelling of his right jaw. They arrived at St Mary's in June amidst the Covid-19 pandemic after a long journey from their home in the north western part of the country.
When ten-year old Ronald was admitted to the hospital, he was a very ill. His face was very deformed due to gross swelling of the jaw and he had a visible mass protruding through his mouth. Ronald had difficulty with speech and eating. He also had loosening of his teeth. He underwent other tests which did not show spread of disease to other parts of his body. His clinical features were classical for Burkitt lymphoma and a biopsy taken of the jaw mass confirmed our suspected diagnosis.
He was then started on first-line chemotherapy according to the INCTR treatment protocol for Burkitt lymphoma. After the first cycle, Ronald's grandfather made the decision to take Ronald home – which is a very long distance from St Mary's Hospital – for financial reasons. The family's income is derived from subsistence farming. Ronald's biological father does not provide financial support for Ronald and his eight siblings. Therefore, Ronald's grandfather and mother must work to feed and care for the family.
Ronald missed his appointment for the next cycle of therapy. After contacting his grandfather, we learned that he had no money to bring Ronald back to St Mary's. Their home district was under lockdown due to Covid-19 and no public transportation was available. The hiring of a driver with a private vehicle was an option. However, this option was both cost-prohibitive and illegal. With the help of a local NGO, St Mary's was able to transport Ronald back to the hospital to continue treatment.
Even though he had a five-week delay after the first cycle of therapy, Ronald did not have any signs of progression of disease when he returned. He completed the second cycle of therapy and is just beginning the third cycle. He is doing well and has had a complete resolution of his jaw tumor. In an aggressive cancer such as Burkitt lymphoma, it is important that all planned treatment is completed and without unnecessary delays so that a child with this cancer has the best chance for cure. Ronald is now staying at the hospital's Family Home to ensure that he completes treatment and avoids delays due to lack of transportation caused by restrictions imposed during the Covid-19 pandemic.
Thanks to your generous donations to this project, poor children from rural villages have access to the necessary treatment for Burkitt lymphoma. Your support provides families and children with the hope of long-lasting cure. Thank you again for your support.