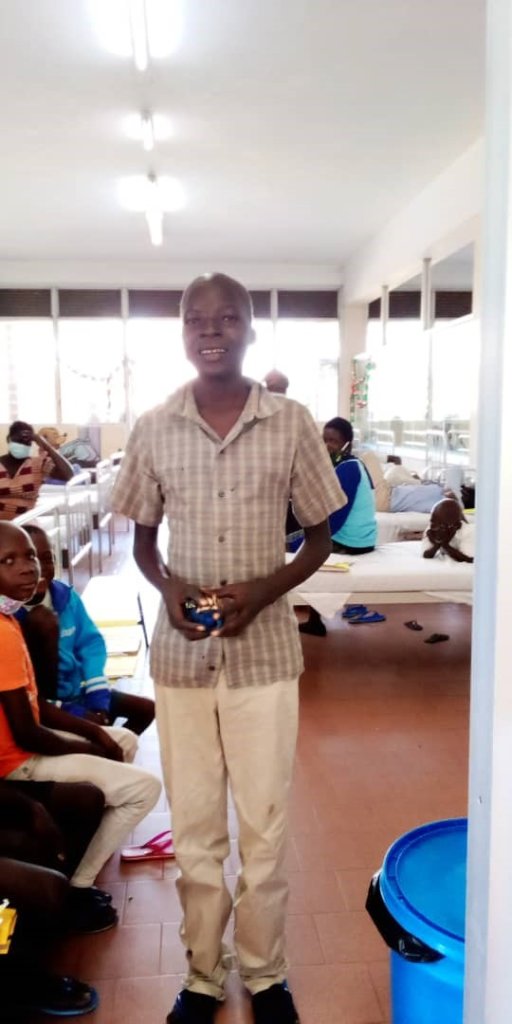 Allan, a 14-year old boy, came to St Mary's Hospital Lacor in January. He was accompanied by his mother. They reported that he had a three-month history of progressive and painful abdominal swelling. He stated that he had also lost weight, particularly in the month prior to admission to St Mary's. On examination, we found him to be very ill and severely malnourished. In addition to the visible abdominal distention, we could easily feel a well-defined mass in his upper right abdomen.
Allan immediately underwent a series of tests that showed that he had disease that was widespread throughout his abdomen. He had multiple masses in his liver and a very large mass within his abdominal cavity. A biopsy taken of the abdominal mass confirmed our suspected diagnosis of Burkitt lymphoma. He promptly began the appropriate treatment for this type of cancer which consists of six cycles of chemotherapy. In addition to chemotherapy, he received nutritional rehabilitation. The first cycle of chemotherapy was a tough one for Allan. Because of the extent of his disease, Allan had to be carefully supported prior to the initiation of the first cycle and monitored closely once treatment began to ensure that his kidneys were working well – especially when his lymphoma began to break down - which can sometimes result in kidney failure and death. After he made it through these first few days, he developed dangerously low levels of infection-fighting white blood cells that also had the potential to be life-threatening. He recovered from the first cycle and went on to complete the rest of his chemotherapy with minimal side effects. All signs of his Burkitt lymphoma disappeared after the first two cycles of therapy.
Before Allan became ill, he lived with his parents and four siblings in the Lira District in northern Uganda. He performed very well in school. He helped his mother in the family's garden to ensure that they had sufficient food to eat. He also helped his mother when she needed to go to the market to buy other food and supplies for the family. During treatment, he was always concerned about his mother because she was the sole provider for the family as sadly, his father was mentally unwell. The hospital staff thought that he was very mature for his age.
Now that he has completed treatment, Allan cannot wait to resume his normal life. He wants to continue to support his mother in whatever ways he can. He also wishes to return to school and complete his education so that one day, he can become a teacher - his big dream for the future.
Thank you to everyone who supports this project. Without your donations, children like Allan would not be able to receive an accurate diagnosis and the appropriate care and treatment for this highly curable cancer. Children with Burkitt lymphoma need to be given the chance for cure – no matter how extensive their tumor may be at the time of diagnosis – so that they, too, can be given hope to fulfill their dreams for the future.