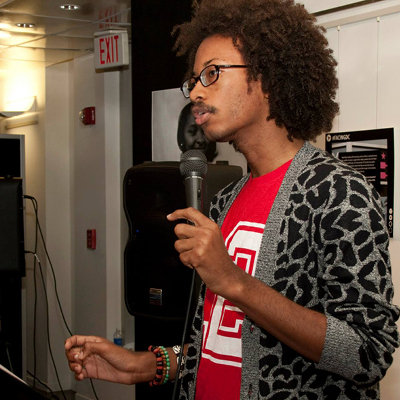 You might know Malik…
Maybe you've seen his powerful photographs documenting challenges D.C. youth face, heard him testify at City Council hearings in support of arts education and effective school discipline policies, watched him speak to a room of over 300 adults, or facilitate Critical Exposure classes for other D.C. youth.
But you might not recognize Malik if you'd known him in 2010…
Before he had a way to cope with the loss of his brother; Before his sister saw one of our fliers and dragged him to our door; Before he knew he had a voice; Before he embodied youth leadership; Before Critical Exposure.
Malik's transformation illustrates the power of Critical Exposure's approach.
"I felt I had a voice that mattered. I used untapped capabilities while being appreciated for them. I think more programs like Critical Exposure should exist where young people have avenues to begin to experience their own power, to work together to make change in their world. Critical Exposure was essential to me becoming the person I am today."
Malik is one of 1,800 students who've learned how to use photography and advocacy skills to become civic leaders, and that they have the right and ability to fight for solutions to the problems they face. In fact, 85% of youth who complete one of our programs believe that by working together they can transform their community.
And that's impressive. In Washington, D.C., only 11% of people with college degrees join civic or service organizations. With a high school degree or less, that drops to 1%. There are lots of explanations, but one big reason is that people don't think they can make a difference.
Imagine what could happen if 85% of people believed that they could transform their community by working together.
Help give more young people like Malik the opportunity and confidence to become change agents. Make your holiday gift in honor of our courageous students.
And Malik? He graduated from high school last June and is now spending a year working for the Gandhi Institute for Nonviolence in Rochester, NY, teaching middle school students how to change their worlds.
This is the Malik we know.
Links: